2013 Seminar: Write of Passage
This was a rewarding professional development event designed to inspire and support librarians, teachers and literacy professionals from all sectors dedicated to promoting literacy for young people.
The event included presentations from:
Pat Flynn (Keynote Speaker) Child's Play: Strategies for Young Writers
Jane-Marie Butler BYWW: Modelling the Bardon Young Writers' Workshop
Lili Hampel & George Jaksic (OzSpell) and Susan Butler (Macquarie Dictionary) Let's Spell it Out: The Spelling Challenge
Tristan Bancks iCreate: Engaging Students and Unleashing Creativity with Digital Tools
Lindsay Williams The Write Stuff - Nurturing Student Success in Literacy in the Australian Curriculum: English
Frances Watts and David Legge Writing with Pictures and Drawing with Words
Cyber Citizenship: Building Responsible Digital Thinkers and Communicators - August, 2012
Our second seminar in 2012 was held on Friday, 10th August at the State Library of Queensland. It was a powerful, unique and engaging seminar designed to support and inform teachers, librarians, educators and student welfare professionals in the care and management of our young people.
With Presentations from:
Delegates' Feedback
I wanted to say how much I appreciated being part of such a thoroughly organised and smooth-running event. You are a real professional with all that you do!
Brisbane Grammar School
Thankyou for today. It was one of the best PDs we've been to. It was very informative, great speakers and has given us a way forward. Much appreciated.
Mt Alvernia College
Just touching base to say how thought-provoking and useful I found Friday's Cyber Citizenship seminar.
Hillbrook Anglican School
The seminar was excellent - very thought-provoking with useful strategies to put in place back at school.
St. Andrew's Lutheran College
Thanks so much for organising the Cyber seminar on Friday. I found all the speakers and their topics useful and informative. I found it very worthwhile.
Woodridge State School
The speakers were excellent and I found it a very productive day. Have spoken about it with a number of people. It was just as rewarding, if not more so, than the reading/writing seminars.
Cleveland District SHS
Friday's Cyber Citizenship seminar was very informative. Thoroughly enjoyed it.
Clayfield College
The PD was extremely useful. I feel that I have an overview of the key issues, as well as having gained knowledge and access to resources to work on whole school, as well as classroom learning and procedures.
Mipera SHS
---
Follow the Reader - May, 2012
The first Speakers Ink Professional Development Seminar of 2012 - Follow the Reader - was a huge success. The day saw 220 teachers, librarians, literacy support professionals and educators attend. Presentations were given by:
James Moloney
Trish Buckley (CBCA)
Brian Falkner
Simon Groth (if:book Australia)
Nick Earls
Jane Cowell (SLQ)
Deborah Abela…and others
Follow the Reader Seminar introduction by Helen Bain, Speakers Ink, May, 2012
"Today a reader, tomorrow, a leader".
We're here to recognise and celebrate 2012 as The National Year of Reading, to explore what becoming a keen reader can mean and what possibilities it can lead to.
Do you need to be well read in order to become a good leader? Do readers make good leaders? And what can becoming a proficient reader lead to?

If you are here today, it's because you already appreciate that literacy is the gateway to all future learning. The acquisition of literacy skills and a habit of reading is critical for an individual's full economic, political and social participation in today's increasingly global society. Research shows us that conversely, low levels of literacy skills usually account for low academic achievement among students. For example, as school texts become more complex with each grade level, children that do not have a strong foundation in reading and writing can easily fall behind.

Too often, we take the skill of reading for granted without fully appreciating the tremendous power and influence of words. The freedom and knowledge gathered from information found in books (in their various printed and electronic forms) is definitely worth celebrating and that is what we have come together today to do. As well as a pleasurable past time, reading enhances thinking. It often presents new ideas and challenges and stirs the imagination. Reading requires mental discipline so it increases the power and depth of concentration. Reading can replace an "entertain me" disposition with a "challenge me" expectation.

When children become independent and lifelong readers, anything is possible. As teachers, librarians and educators, you are in the privileged position of being able to intuitively lead students to stories, to the right book at the right time in the right pair of hands, to influence, guide and shape their ideas. Reading is about lifelong growth, filling memory banks with knowledge, information and ideas and sustaining an informed life.
"A life well read is a life well led".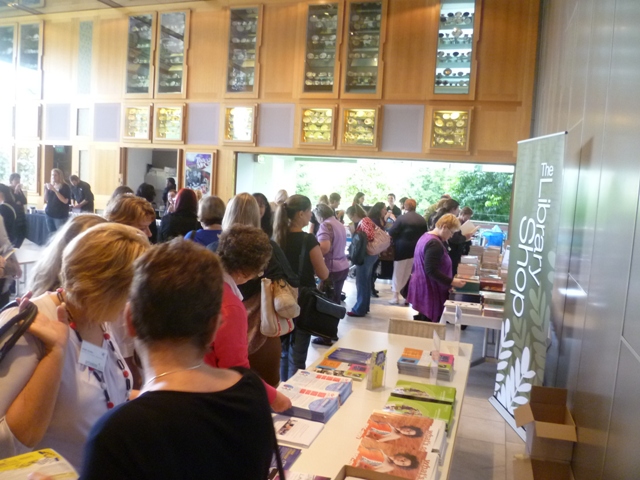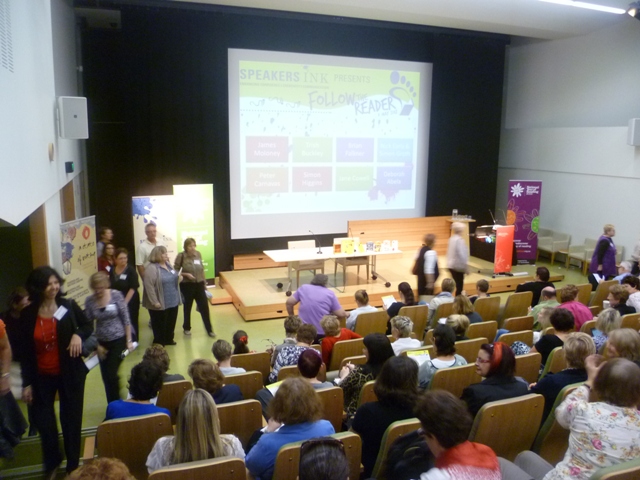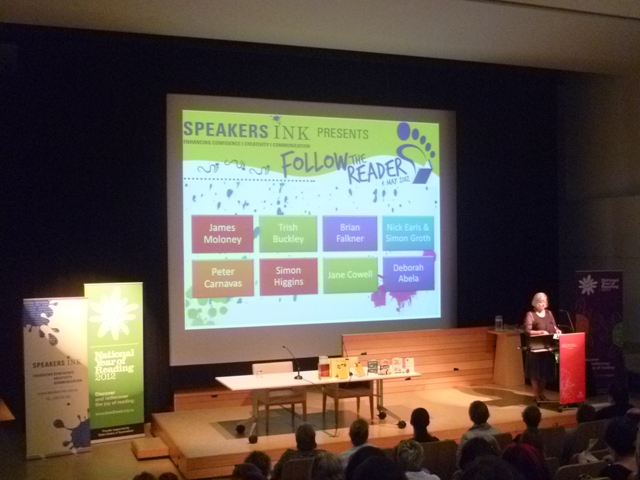 Delegates' Feedback
I wanted to thank you for a fantastic seminar yesterday at SLQ. I will most definitely be attending future seminars!
Caloundra City Private School.

I just wanted to say that I really enjoyed the seminar today. The array of speakers, the quality of the resources and surprising 'freebies' and the venue made this wonderful value for money. I couldn't say a negative word. Thank you to the organiser and all speakers.
Harristown State High School.
This was my first Speakers Ink conference and I thoroughly enjoyed it. The speakers were entertaining and informative. It's given me an insight into what could happen if we booked a speaker at our school (though I can see that it would be a difficult decision to choose just one speaker).
Thanks again for the day. I'm hoping that our school will have the funds for me to go again next year.
Woodridge State School.

Thank you for organizing yet another Speakers Ink PD. I always come away from these sessions feeling that not a minute of my time has been wasted!
If I am every called upon to justify the role of the teacher-librarian, the school library, or reading itself, I will just think back on all that I heard and absorbed at today's "Follow the Reader" and know that I will be able to advocate with ease and confidence!
Ormiston College.
I returned home an uplifted woman - a wonderful Mother's Day gift. Yes, I am speaking about the Speakers Ink Seminar. The setting was lovely, the food scrumptious; but most of all the exchange of ideas satiated my desire for some 'culture' and re-charge. Lastly, Helen, I knew the day that was to follow would be great when I listened to your Introduction. It was distinguished, wholesome and precise. Thank you, for I left the Seminar an inspired educator. Clairvaux MacKillop College
Thank you for an inspiring and energising seminar last Friday...it was a fabulous day, even if I had to get up at 4:00am to be there in time, well worth the effort..
All the speakers were wonderful,
Gympie Regional Libraries.

I thoroughly enjoyed the day on 4th May! The speakers were great – especially the authors. It was a great day, reinforcing the importance of reading and encouraging kids to read. I would definitely be interested in next year's event.
Jandowae P-10 State School.

I did particularly enjoy the seminar this year. The speakers were great and the topic was one close to my heart.
St. Augustine's Primary School.

Thank you for an enjoyable and inspirational day last Friday. The speakers highlighted different aspects of the reading process and their enthusiasm was contagious. Woodhill State School.