Anita Bell (aka AA Bell)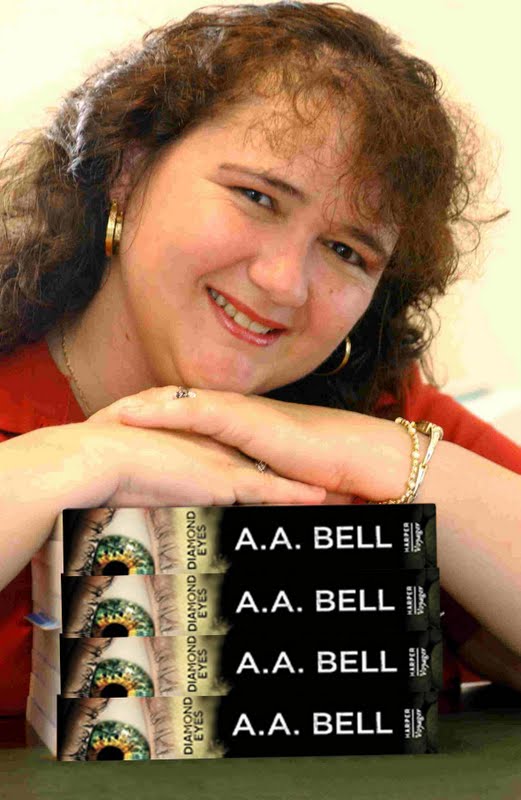 ---
---
---
---
---
---
---

Anita writes as AA Bell for her international multi-award winning series Diamond Eyes, about a girl called Mirage, who is blind, but can see the past and now also with the sequel Hindsight, which has the critics raving.
For wackier Aussie tales, Anita Bell also writes as an adventurous finance crusader. Fighting financial scams, greed and the system for (and with!) "the little guy" are her passionate real-life interests, which she expresses through both fiction and non-fiction, having published over 170 short stories, articles, poems and ballads in the last decade. Many of these have been multi-published internationally, won awards, commendations or been shortlisted for various literary competitions, the most recent of which, Diamond Eyes, won the Prestigious 2011 Hemming Award for Excellence in SF & Fantasy Themes.
The first three of her eight non-fiction titles appeared in the Sydney Morning Herald's Top 10 Bestselling Australian Business Titles of the Decade (2002):
• Your Mortgage and How to Pay it off in Five Years, showing everyday homebuyers how to beat their banks legally
• Your Money: Starting Out and Starting Over, showing every consumer how to beat the system at every stage legally
• Your Investment Property and How to Choose it, Pay for it and Triple your Return in Three Years, showing investors unique but simple ways to beat the finance industry
Her novel-length thrillers for teens and mature children include:
• the murder mystery: Crystal Coffin, shortlisted for a Ned Kelly Award in 2003 is based on a failed, but uniquely clever crime by an international crime cartel, founded locally
• the slightly science fiction: Project Apocalypse, based on a real global-scale financial "heist", worth billions, conducted by the UN and the International Monetary Fund in the fight against major international crime and terrorism
Her comedy-crime adventures for children are published under the banner of "Kirby's Crusaders," and include:
• Tagged by Dead Dogs, a hilarious and not-too-gruesome mini-thriller, featuring Anita's childhood alter-ego, teen bounty hunter Kirby. (First children's novel ever to win an International Crime Stopper's Award for encouraging real children to take a stand against real crime - safely.)
• Hunt the Hunters, is book 2. After earning half a million dollars in one night – and yes, Anita shows how this is really possible for children - Kirby must now defend her money and her friends against those who would steal them away from her; a slightly irreverent example of Anita's perspective on life: that you can stand up for yourself, your rights and your money without needing to be obnoxious, aggressive or greedy.
Anita already donates much of her time to providing free financial events for adults and senior high students around the country, but now also enjoys sharing her passion for creative writing with ages 8 to 18.
"Once children have been introduced to fun and creative problem solving skills through fiction," Anita says, "you see their lights switch on – lights that are very difficult to extinguish! So it's thrilling for everyone, me included."
Anita also has a strong reputation for promoting the rights and opportunities for fellow writers, and enjoys participating in panel discussions on the business side of the writing industry.
Feedback
Anita Bell was excellent. The customers loved her and we've had a lot return and say what a great night they had. Apparently, she ran out of books and we have had many reservations on all her books here at the library. You made our night a success.
---