Pamela Rushby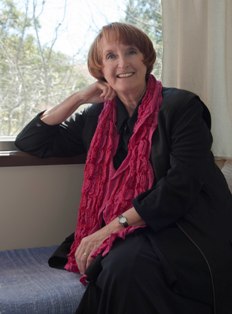 ---
---
---
Congratulations to Pam who has won the 2010 Ethel Turner Prize for Young People's Literature in the NSW Premier's Literary Awards for her book, When the Hipchicks Went to War.
Pamela Rushby was born in Queensland, Australia, more years ago than she cares to divulge.
She has worked in advertising, as a pre-school teacher, and a freelance writer. She was a writer and producer of educational television, audio and multimedia for the Queensland Department of Education for 16 years, and now freelances in children's and young adult fiction and non-fiction; scriptwriting; and multimedia writing/designing.
With over 100 titles to her credit, Pamela's YA novel, "Millions of Mummies" was published in 2006. It is the sequel to her previous book "Walking in the Fields of the Blessed". She has also recently had 2 short stories selected as winners in the Brisbane City Council's "One Book, Many Brisbane's" 2006 and 2007 anthology and will be a judge for the competition in 2009. Her very latest YA novel, "When the Hipchicks Went to War", 2009, is about young women who went to Vietnam as entertainers during the Vietnam War. Some of them were only 16...
Pam has written:
CHILDREN'S AND YOUNG ADULT BOOKS DANCING PANTS Heinemann 1991, short-listed for the Australian Multicultural Children's Literary Awards 1991;
WALKING IN THE FIELDS OF THE BLESSED Rigby 1994; BUBBLEGUM MAGIC Reed Books 1995; CIRCLES OF STONE, young adult novel published by HarperCollins 2003;
and over 80 other fiction and non-fiction titles for various publishers. Her books have been published in Australia, New Zealand, the USA and Malaysia.
CHILDREN'S TELEVISION SCRIPTS: two episodes and three animated stories for the Australian Children's Television Foundation's LIFT OFF! Series.
Hundreds of RADIO AND TELEVISION COMMERCIALS
TV DOCUMENTARIES on Queensland dinosaurs and Australian ecosystems (OUTBACK DRAGONS, World Around Us, Channel 7 1990; THE LIVING LANDSCAPE Series 1 and 2 ABC TV);
BILBY BROTHERS: THE MEN WHO EXTERMINATED THE EASTER BUNNY ABC TV 2003 (multi award-winner, and sold internationally to Germany and National Geographic).
THE MYSTERY OF THE DISORDERLY WARRIORS 2004 and THE CROWN OF THORNS STARFISH: MONSTER FROM THE SHALLOWS 2004 (both Discovery Channel and German television). Crown of Thorns is a multi international award-winner.
SHORT STORIES for magazines in Australia and overseas
and FREELANCE JOURNALISM.
She has written and produced numerous EDUCATIONAL AND CORPORATE VIDEOS, and CD-ROM INTERACTIVE MULTIMEDIA projects and WEBSITES.
Pam has won several awards including a LITERATURE BOARD OF THE AUSTRALIA COUNCIL GRANT to work on archaeological excavations in Egypt and Jordan for research for a children's novel; a CHURCHILL FELLOWSHIP to study educational television at TVOntario, Canada; an ARTS QUEENSLAND WRITERS' GRANT to write a young adult novel, Circles of Stone; and a second ARTS QUEENSLAND WRITERS' GRANT to write a young adult novel based on the 1891 Shearers' Strike.
She is passionately interested in children's books and television, ancient history and Middle Eastern food. Pam lives in Brisbane and has two children and two gorgeous grandchildren.
Feedback
Links