Sofie Formica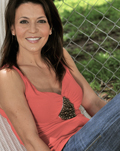 Sofie Formica is the host of the incredibly popular Channel 7 TV series, The Great South East and also Director of Media Potential.
Sofie Formica is a recognised name in television, as a result of working in the Australian and American markets on countless programs which have had commercial and ratings success.
Sofie began her television career on local Queensland programming at the age of 15 and by the time she had finished high school was a regular on the awarding winning Seven Network children's show "Wombat". This led to a host role on "Saturday Disney" and shortly thereafter as the first female game show host in Australia on "Now You See It".
Moving to Sydney, Sofie's network commitments increased considerably, as an original member of the "The Great Outdoors" team, hosting and presenting awards at various award nights including the "Australian Fashion Awards" and "Peoples Choice Awards" and appearing on numerous game shows and specials like "The Main Event" for the Seven Network.
New audiences were garnered from regular guest and guest-host roles on "Tonight Live with Steve Vizard" and an extended guest appearance as Imogen Miller on "Home and Away".
In 1993, Sofie was lured to the Nine Network as co-host of "Just Kidding" with Stephen Jacobs which quickly became the nation's highest rated prime-time program
After two successful years, she decided to leave her high profile career in Australia and moved to Los Angeles to work for NBC/TimeTelepictures as a reporter on "EXTRA", a national entertainment magazine show. During this time Sofie interviewed many Hollywood celebrities including Bruce Willis, Meg Ryan, Nicole Kidman, Sly Stallone, and the cast of Friends.
Then in 1996, when multimedia convergence became the hot topic for the US Entertainment industry, Sofie moved to San Francisco as host of "The Web", a news magazine style program about the internet culture produced by CNET Productions for the USA Cable Network alongside Ryan Seacrest. The success of this show, seen in over 18 countries, led to her also hosting their nationally syndicated program "TV.com" with Ron Reagan Jnr.
With her profile rising, Sofie was hand-picked by Oprah Winfrey in 1999 and appeared with Oprah in a 13 part series "OPRAH GOES ONLINE" for her Oxygen network.
Since that time, Sofie has taken a hiatus from the industry returning to Australia with husband, Scott, to raise their twins, Jack and Jessica and daughter Emily.
With 18 years of television experience, Sofie has now joined Seven as the first female to host Queensland's longest running popular lifestyle/travel "THE GREAT SOUTH EAST". Sofie is also a Director of Media Potential an exciting new company offering Television Presenting courses and quality corporate media training.
If your dream is to pursue a career in television presenting, journalism and the world of broadcast media, then talks and workshops by Sofie and Suzanne Stark from Media Potential will provide a thorough insight in to the requirements and possibilities within this exciting and dynamic industry.
Feedback
Links