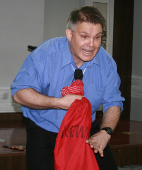 Andy has been telling stories around the world for over three decades. He is committed to helping children and adults discover their own stories and celebrate their own culture and the culture of others.
He has performed in theatres, schools, kindergartens, libraries and to numerous conferences, and festivals. Andy uses his storytelling to promote literacy, reading, and the love of literature. Most importantly he portrays a sense of fun, mixing a fine blend of humour with true emotional pathos.
As well as folk and fairy tales, Andy tells a number of personal stories about growing up in a provincial city. Many of these tales are a fine blend of stand up comedy with extra punch, well suited to mixed audiences.
Types of Storytelling
Andy provides Storytelling performance for all ages; from highly interactive performances for 3–7-year-olds, to largely narrative based performances for older children and adults.
For primary school aged children, he performs over 200 stories drawn from folk and fairy tales around the world, with varying levels of audience participation and narrative content.
For Teenagers Andy can perform a number of classical horror stories many of which link into other literary classics such as Shakespeare. He can also share the true stories of his childhood and use these as a foundation for a series of workshops on writing and telling our own stories.
He has worked with Teacher Training Colleges, Curriculum Advisors, Librarians and Schools linking storytelling and improved literacy
Andy offers workshops for older students and staff, exploring the history and technique of storytelling, and how to unlock our own personal stories.
Performances
Andy uses his performances to promote literacy, reading, and the love of literature. Most importantly he portrays a sense of fun, mixing a fine blend of humour with true emotional pathos. We offer performances for all ages; stories for adults, children and infants. Medieval stories, modern stories, personal narratives, historical narratives and folk and fairy tales.
These performances are suitable for all settings; schools, festivals, theatres, libraries and conferences. To sample some of these stories please head to http://www.storyteller.net.au/recordings.html
As well as traditional tales, Andy tells a number of personal stories about growing up in a provincial city. Many of these tales contain classical elements of odyssey and journey with a dash of stand up comedy, and life experience, well suited to mixed audiences.
For teenagers and adults, Andy performs a variety of horror stories, guaranteed to please and scare.
For pre-schoolers and junior schools, Andy has a number of participatory stories, including chanting, singing, body movement, and theatre sport type activities.
Your Stories, My Stories, Our Stories.
Traditionally many workshops have focused on the mechanics of writing and storytelling, this workshop focuses more on the creation of story. What is the impetus to write and tell stories? A workshop designed under the premise that for each one of us life is an odyssey, a journey made up of memorable, people, places or happenings. Along with practical advice and activities for story-telling this workshop primarily consists of a series of memory prompts, to help you recall your journey.
This workshop is designed for use in the education and library sector, it can be as short as 1 hour for students; covering the basics of telling our own stories, or up to 6 hours for educators; including theory, practice, and applications for the classroom.
This workshop allows for a great deal of flexibility in time and delivery making it suitable for adults and children, the focus can also be shifted towards writing stories or performing stories.
New Online Programmes
The online sessions that I am offering can be used to either bolster your own distance education offerings or be used in the classroom. Below you will find details of my major online offerings. I am happy to alter these programmes or tailor a programme to your teaching needs.
I am offering the following four online interactive workshops each of 60-90 minute duration all containing live storytelling as well as interactive workshop material.
FISHING WITH MAUI - Online Storytelling Workshop
A workshop focused on helping students to tell their own stories or personal narratives with a distinctly Polynesian / Maori influence. We draw inspiration from the life of Maui who fished up the islands - using a series of fish-hooks or memory prompts, we encourage students to recall their unique life journey.
FIVE SENSE STORYTELLING - Online Storytelling Workshop
Learn how to use all five of your senses to write and tell better stories. A workshop that explores my own childhood, growing up with a blind mother and the role of the five senses.
THE SPORT OF STORYTELLING - Online Storytelling Workshop
Experience storytelling combined with aerobic exercise, the power of gesture, the retelling of history, and the pathos of personal narrative. This is the workshop that has a little of everything.
TALL TALES, TRUTH AND SUBVERSION - Online Storytelling Workshop
A storytelling guide to misinformation and fake-news through the subversive mediums of tall tales and fairy tales. Take a deep dive down the rabbit hole as we tell and deconstruct stories to understand the difference between truth, fact, exaggeration and misinformation. Join International Storyteller and Qualified Librarian Andy Wright as he takes you on a journey to understand the uses and misuses of information across human history. An ideal adjunct to your Information Literacy programme and a deeper understanding of the modern world of Social Media and Fake-News.
I am also offering the following two performances each of 45 minutes duration.
JUST PUSH PLAY - online storytelling
Come and join an online storytelling session specifically for the young in body and young at heart. An opportunity to experience the playfulness of story. A selection of live performance stories, adapted for virtual interaction. With plenty of aerobic exercise and audience interactions.
DRAW AND TELL - online storytelling
Join storyteller and Illustrator Andy Wright to explore the world of stories and drawing. Introduce students to the twin worlds of visual and oral literacy as they experience the joy of drawing and telling stories. Using his physical blackboard and his gift for telling stories in the virtual environment – Andy will take your students on a journey into a world of weird and wonderful creatures and personalities. All the while imparting some simple drawing techniques. Students will need to attend with pencils and paper, so that they can draw the pictures alongside Andy.