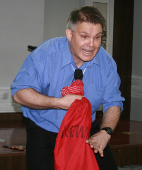 Originally from England, Andy Wright is a fourth generation story-teller, descended from three blind matriarchs; his mother, grand-mother, and great-grandmother all of whom although lacking physical sight passed on the ability to truly see the world through our imagination. Andy's valuable gift of story-telling in the ancient oral traditions means he is "able to paint pictures with his words and actions" (Waikato press) "transporting listeners to a world of weird and wonderful characters of every shape size and personality." (Rotorua review).
Andy grew up in England and New Zealand, he now travels around the world telling stories, at theatres, festivals, libraries, schools, and conferences. Wherever he travels reviewers have been full of praise. "His stories are simple that so many people can relate to - the glory of scoring the winning try, the horror of having a tooth knocked out, the ignominy of having to wear glasses that looked like they had been cut from the bottom of milk bottles." (New Zealand Press Association).
Andy performs regularly in Europe, New Zealand, Asia, Australia, and South America as well as other parts of the world.
Teachers and Students have been equally captivated by Andy's stories. "Andy was absolutely fabulous. The students and teachers thoroughly enjoyed his humour and the exquisite deliveries of the three contrasting stories. Andy is a true storyteller who enters into the heart of his stories and has his audience in the palm of his hand" (St Clement of Rome School).
Whilst others have celebrated the value of his workshops. "a clear and practical set of suggestions for exploiting the concept of storytelling, whether for children or adults. He shows how even traditional tales may be adapted to suit or appeal to a modern audience, or an audience with different cultural norms and expectations to those of the teacher or storyteller." (International Association Teachers of English as a Foreign Language. UK.)
Andy believes that everybody benefits from an introduction to the power of words. Words, not only as ink on a page, but words that can be experienced as living entities that change and breathe, and build meaning and story, like the raising of a great structure.
Andy often states that one of the inspirations for becoming a story-teller was the gospel of St John, and the "word becomes flesh". Story-telling is an opportunity for people to extend their literacy experience to more than stories as words, collected together in a book. Before the age of books, stories were flesh and blood, they were a manifestation of a living symbiotic relationship between an audience and a teller, changing and growing with each new re-telling. This is the magic that our ancestors experienced as story-telling. It is our heritage and now our opportunity to compare the oral story to the written story, learning about the relationship between oral and written literacy.
Through Andy's story-telling individuals gain insight into the culture of others and are able to compare this experience to that of their own culture, to discover the humanity that joins us all, and the differences that make each of us unique.
Individuals will learn that each one of us has a powerful and important story to tell, each of us lives a life that is a unique odyssey. With the richness of language and words we can tell that story.
Andy has also written and illustrated his stories, which have been published along with some of his recordings. Yet his true love remains live performance storytelling.
Performances
Andy uses his performances to promote literacy, reading, and the love of literature. Most importantly he portrays a sense of fun, mixing a fine blend of humour with true emotional pathos. We offer performances for all ages; stories for adults, children and infants. Medieval stories, modern stories, personal narratives, historical narratives and folk and fairy tales.
These performances are suitable for all settings; schools, festivals, theatres, libraries and conferences. To sample some of these stories please head to http://www.storyteller.net.au/recordings.html
As well as traditional tales, Andy tells a number of personal stories about growing up in a provincial city. Many of these tales contain classical elements of odyssey and journey with a dash of stand up comedy, and life experience, well suited to mixed audiences.
For teenagers and adults, Andy performs a variety of horror stories, guaranteed to please and scare.
For pre-schoolers and junior schools, Andy has a number of participatory stories, including chanting, singing, body movement, and theatre sport type activities.
Your Stories, My Stories, Our Stories.
Traditionally many workshops have focused on the mechanics of writing and storytelling, this workshop focuses more on the creation of story. What is the impetus to write and tell stories? A workshop designed under the premise that for each one of us life is an odyssey, a journey made up of memorable, people, places or happenings. Along with practical advice and activities for story-telling this workshop primarily consists of a series of memory prompts, to help you recall your journey.
This workshop is designed for use in the education and library sector, it can be as short as 1 hour for students; covering the basics of telling our own stories, or up to 6 hours for educators; including theory, practice, and applications for the classroom.
This workshop allows for a great deal of flexibility in time and delivery making it suitable for adults and children, the focus can also be shifted towards writing stories or performing stories.