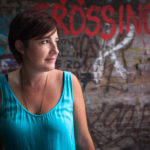 Speaker type
Poet
Storyteller / Performer
Angela Peita is a spoken word artist, youth worker, workshop facilitator and live art producer. She is co-founder and co-director of Ruckus Slam, the hugely popular Brisbane slam and arts company.
Angela has performed around Australia and overseas, and has appeared at such festivals as Woodford Folk Festival, Island Vibe festival, & Jungle Love. She has been published online through Pressure Gauge Press and Bareknuckle Books, has been a QLD poetry slam finalist, has won Belingen Writers Festival slams people's choice award, been a semi finalist at Nimbin Performance Poetry World Cup and most recently was a nominee for the Paul Sherman Community Poetry award.
She has facilitated workshops across many towns and schools, and is an energetic and innovative teacher.
Angela is passionate about creating spaces for artistic expression and enacting social change through the arts.
Note: Angela is happy to write workshops to briefs, but these are a couple she has done many many times that are always in demand.
Intro to Poetry Slam
This workshop covers everything from what is a poetry slam, to how to write and perform a poem, and culminates in a poetry slam in which participants can try their hand at performing.
It allows participants to play with different elements of performance poetry, from storytelling to comedy, and finds different ways for them to engage with language and performance.
The beauty of this format is that everyone can find a way to be involved whether as a poet, a judge or simply an audience member.
Storytelling for Social Change
Throughout time storytelling and creative writing has been used to communicate messages in an engaging way that captures an audience and instills morals in a way that people can relate to.
When dealing with marginalized communities, one of the most empowering tools we can give them for change are those to tell their story.
Storytelling for social change is a workshop designed to address the two barriers most common to people when creating work for social change, outlined below.
1. What do I really want to say?
This may sound simple, but often finding the core of what we want to say can be the hardest part of engaging and effective advocacy. In the first part of this workshop, we will explore through creative writing, reflection, and shared experience what it is that participants want to communicate.
2. How do I tell this story?
Finding a way to communicate story and messages of social change that is both engaging for an audience, while being empowering for the storyteller, can be challenging.
In the second part of this workshop we will explore different ways of storytelling, using creative writing exercises, drama and performance techniques.
As with all workshops that tackle personal experience, it is incredibly important to create a safe space for people to work in. Workshops will begin with check in and end with check out, group safety rules will be established, and all participants will be encouraged to follow up afterwards if they feel they need to debrief about the session. I also strongly believe in challenge by choice, So ask participants to engage how and when they feel comfortable.
Angela has run many similar workshops with various communities in the past, and never fails to be surprised at how empowering and helpful they can be in people's journey to tell their stories.
Testimonials
Angela was really easy and enjoyable to work with. Her content was highly relevant for our students. We have had excellent feedback form students and staff.

Moreton Bay College - November 2020

Angela was engaging and gave the students a range of strategies to develop their confidence when performing poetry. The delivery of an original piece was definitely the highlight of the workshop as students could really identify the techniques she had used.

Hillbrook Anglican School - October 2020

Angela delivered her presentation via Zoom. She was really engaging and had the students interested and involved immediately. They enjoyed the session so much that Angela's next workshop can't come fast enough. Her ideas were brilliant at getting the students to think creatively and out of the box. A must for anyone wanting to get students writing poetry with enthusiasm!

Hillbrook Anglican School - August 2020

Angela met the needs of our students exactly and gave them so much valuable insight and ideas as well as actual skills in a way that was completely engaging and inspiring for them. They had so much FUN!

Hillbrook Anglican School - October 2019

Angela pitched her content and delivery perfectly for the group here.

Hillbrook Anglican School - August, 2019