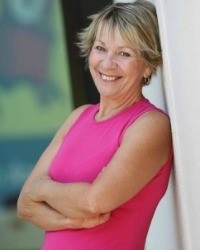 Speaker type
Author
Media personality
Motivational
AnneMarie White is one of Australia's most respected and admired sporting, media, and entertainment personalities.
She is the author of the popular book Women Who Win, profiling 10 internationally successful Australian women.
She has over 20 years experience in media, public relations and event management. As a journalist since 1984 and a highly respected publicist, she has received professional accolades for her innovative and enthusiastic approach, including a Prime Ministerial Award for "Outstanding Media Coverage" for her contribution to women in sport.
AnneMarie was a Media Manager at the Aquatic Centre in Athens at the 2004 Olympic Games and at the 2004 Paralympic Games. She was the Chief Media Liaison Officer at the Water Polo venue for the 2000 Sydney Olympics, the Venue Press Manager at the 2002 Commonwealth Games in Manchester, England and will be working at the Melbourne 2006 Commonwealth Games.
She has managed many international and national events including the World Marathon Canoeing Championships for which she was awarded the international canoeing medal of honour. She was the inaugural Chief Executive for the Sports Federation of Queensland - the umbrella body for sport in the State, introducing many positive reforms for sport.
AnneMarie was Senior Communications Advisor for the Queensland Governor, Ms Quentin Bryce AC and held the public relations contract for Centenary of Federation Queensland and was the Media Manager for the 2001 World Veterans' Athletics Championships, for which she achieved international recognition.
AnneMarie has a vibrant personality and excellent communication skills. She lectured at the University of Queensland and Griffith University on media and event management and conducts professional and educational seminars throughout Queensland on media, event management and public relations.
She has a regular program on 4BC's weekly chat show and had a talk back session on media and promotions on ABC Radio. She emcees corporate events and functions and is a dynamic speaker at conferences and professional seminars.
She has worked as a consultant to a wide cross section of Australia's international and Olympic athletes and advised the major sporting franchises in Queensland including the Brisbane Broncos, Brisbane Lions, Queensland Bulls and the Brisbane Blazers on media & personal development skills.
During her career, AnneMarie has worked as a marketing and media consultant for organisations such as: Queensland Symphony Orchestra, several Queensland Government Departments, the Brisbane International Film Festival, Johnny Walker Golf Classic, Gold Coast Marathon and Brisbane City Council. As the media consultant, she was a member of the 2006 Brisbane Commonwealth Games executive bid team.
As an athlete, AnneMarie has represented Queensland in netball, waterpolo swimming and has won national lifesaving titles. Internationally she was ranked in the top 4 in Masters swimming, has gold and bronze medals for water polo, and competed for Australia in the 2001 World Veterans Athletics Championships.
AnneMarie is a highly entertaining and incredibly interesting and inspirational speaker.