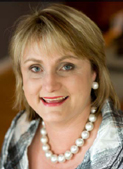 Speaker type
Educational consultant
Motivational
Founder and Director of The Pyjama Foundation and Queensland Australian of the Year 2009
When Bronwyn Sheehan realised that children in care were not being given the same opportunities in life as other children she decided to do something about it. Australia has 31,000 children in foster care. Statistics show that 92% of children in foster care have below average reading skills by the time they are only seven years of age, and it is a struggle for them to catch up. Bronwyn developed a simple idea that has had huge benefits. Launched as The Pyjama Foundation in 2004, the charity was established to support our foster care children and families. The Pyjama Foundation literacy?based mentoring program, the Love of Learning Program, involves matching one adult with one child. Known as a Pyjama Angel, the adult visits the child each week in their foster home. They read books aloud, play educational games, and enjoy each other's company. The volunteers are helping the children develop their literacy skills, but perhaps even more importantly they are demonstrating that this child is valued as an individual.
Since inception only six years ago, Bronwyn has inspired around 1600 members of our community to become volunteer Pyjama Angels, transforming the lives of children in care through literacy and mentoring. Her program is also backed by literacy experts such as author Mem Fox. The Pyjama Foundation has won several awards including an NAB state award for 'excellence in volunteering'. Bronwyn's recent successes include Queensland Australian of the Year 2009 and as Telstra Businesswoman of the Year national finalist 2008.
Bronwyn is a motivational keynote speaker and has presented at a number of schools, organisations and corporate events covering a range of topics including leadership, literacy, business growth and children's development. Bronwyn speaks passionately about her experience starting The Pyjama Foundation and engages the audience with positive stories of accomplishment. Bronwyn's latest speaking achievement was her presentation at TED X 2010 Brisbane and the 2010 Golden Key Asia-Pacific regional conference.