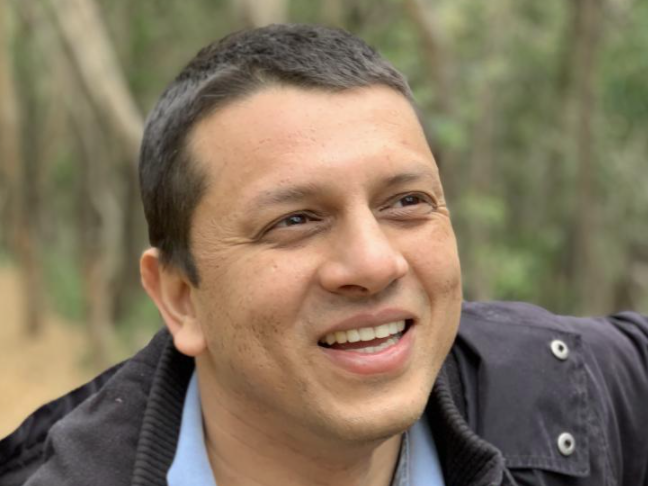 Speaker type
Author
Storyteller / Performer
Motivational
Playwright
Memoir Writing
Interstate
Virtual visits

Christopher Raja is the author of the memoir, Into the Suburbs: A Migrant's Story (UQP, 2020). He co-authored the play The First Garden with Natasha Raja, which was performed in botanical gardens throughout Australia and published by Currency Press in 2012. His debut novel, The Burning Elephant was published in 2015 (Giramondo). It was written with the assistance of an Australia Council New Work grant.
Christopher lived in the Northern Territory for 12 years and has been twice shortlisted for its Chief Minister's Book of the Year award. Raja migrated from Calcutta to Melbourne in 1986. Raja is the 2021 UTS Copyright Agency New Writer's Fellow.
Check Christopher's website at: Christopher Raja to watch his interview on Into the Suburbs on ABC News.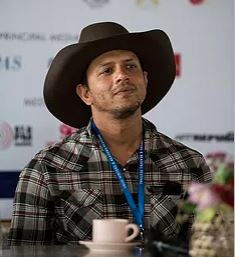 Christopher presented at this year's CYA All Stars Writers and Illustrators Conference which is an online event open to writers and illustrators from anywhere in the world. For details see:
He also presented at the Byron Writers Festival:
Chris has a wide range of experiences, breadth, scope and enthusiasm as a writer, reader, editor and teacher in Melbourne and Alice Springs, where he has taught a vibrant and diverse range of students including most recently at the Creative Writing Program at the University of Technology Sydney, successfully promoting the Copyright Agency and the UTS Creative Writing program.
Chris regularly presents at:
Writing Workshops for Adults & Children
Literary Festivals (Australia and overseas)
Has made television, radio and podcast appearances
Authors in School/Tertiary presentations
Library events
RUOK Day
Harmony Day
Bookshop readings and signings
Writing Workshops
Chris's unique guided writing group workshops can be delivered in various formats and for various ages and stages and can be tailored for 60 mins, 90 mins or even whole day events.
1. Elements of a Story:
A Guided Writing Group for Adults and Children
How do you write a book? In these workshops and talks, he draws upon his experiences as a teacher, a playwright, novelist and memoirist to help others develop as attentive and empathetic writers and readers. He will cover:
Setting. Whether you want to set your story in a garden, your birth country or in an Australian suburb I can help.
Character development. How do you make meaningful interesting characters?
First lines, first paragraphs, first scenes, first chapters. Where you I start?
Plot summary. What am I trying to say?
Genre. Publication/production options. Is my narrative a play, a novel or a memoir?
Readings, feedback & drafts. How can I make this better?
2. Writing Your Own Story
- Non-Fiction
PLOT SUMMARY - how do writers tackle the plot of a non-fiction story. How do they choose what to put into the story and what to leave out? And more importantly, if it's an own story - what do you leave out to stop hurting others in your family?
Blurb: Writing an own story is never easy. Sharing your soul with the world. Join Christopher Raja as he explores how to construct an intriguing plot summary, that will still engage your readers, as well as keep true to your story.
Talks
1. Race, Class and Migration
Christopher Raja was eleven years old when his father decided to move the family to Australia in pursuit of the idyllic lifestyle, bringing their hopes and aspirations to Melbourne's outer suburbs. On the surface, the Rajas appeared to be living a 'normal' Australian life. In his teenage years, Chris embraced the freedoms of his adopted country, but just as he settled into university the family was rocked by a tragic and unexpected loss. Into the Suburbs is an affecting portrait of one family's search for home.
Join Chris as he discusses the issues of race, class and migration and how he came to write his story.
2. A Writing Life
He explores topical issues such as multiculturalism, the death of a parent, class, racism, suicide, bullying, migration, suburbia, land rights, Australian flora and fauna. He also goes into how and why he came to co-write a play, The First Garden (Currency Press, 2012), a YA novel, The Burning Elephant (Giramondo, 2015), and a memoir, Into The Suburbs: A Migrant's Story (UQP, 2020), shares what motivates him, and divulges how to approach longer-form writing: divvying it up, psychology, confidence, self-care, writing as therapy, catharsis, and what he plans to write next.