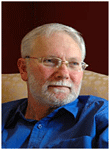 Speaker type
Author
Educational consultant
Virtual visits

James Moloney has lived most of his life in Queensland. He was a teacher and a teacher librarian for many years but now writes full time in a shed tucked away in the back yard of his home in Brisbane. He has written fantasy and high adventure for younger readers, but his passion remains the Young Adult novels for which he is best known.
James enjoys visiting schools either to give talks about his books and writing in general or work directly with students in workshops. He has a range of workshop activities and challenges which he tailors to age groups from Yr 4 to 12. He sees his purpose in such visits as to inspire self-expression through the written word and to develop the skills that empower student to do so.
The Beauty is in the Walking is James' 46th book and he looks forward to breaching the 50 mark with the publication of his Young Vikings series. A YA novel set in Nazi Germany will follow in 2018.
Major Awards:
CBCA Book of the Year for Older Readers - A Bridge to Wiseman's Cove
CBCA Book of the Year for Younger Readers - Swashbuckler
Victorian Premier's Prize - Touch Me
UNESCO Prize for Literature Promoting Peace and Tolerance (Commended) – Angela
Gold Inky Award – Chosen by teenagers for best YA novel - Silvermay
Testimonials
James was really down to earth and genuine. He engaged our huge cohorts of students with intriguing stories. He also happily met with a smaller group of students to answer their questions and sign their books.

Narangba Valley State High School - November 2018

What a delight to have James back after 11 years. We have just completed our 12th annual Writers Festival and his attendance as one of our guest speakers was so well received by the 120 attending students. Our Festival represents an extremely unique opportunity for students from around the Far North region to benefit from the vast and varied experiences of such an accomplished author as James.

Trinity Bay State High School - August 2018

James's polished presentation inspired teachers and librarians to think carefully about texts.

Autism Hub and Reading Centre - August 2018

James was very accommodating and tailored his presentations to the groups he was working with. On the whole, each audience was fully engaged and gave favourable comments afterwards.

Albany Creek State High School - June 2018

We recently held a Literature & Arts Festival at St. Catherine's Catholic College, The Whitsundays for our Secondary students. All the authors that attended were entertaining, engaging and inspiring. I have had so much positive feedback from students, staff and library colleagues. The students have all been raving about how excellent the festival was, and they were disappointed at the thought of returning to classes for the rest of the week. I have had reluctant readers coming into the library to borrow books, more students are writing stories. I would definitely recommend David Burton, Josh Donellan, Kathy Hoopmann, James Moloney, Giulio Saggin, and Edwina Shaw to anyone looking at having authors present for their Secondary students.

St Catherine's Catholic College Literature and Arts Festival - May 2018