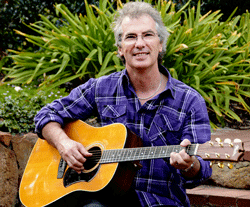 Mark Carthew is an award winning Australian children's author, poet, musician and educator well known for his books and series celebrating language, humour and wordplay.
His illustrated play script series VoiceWorks sold over one million titles worldwide. Mark's rhyme and riddle books Newts, Lutes and Bandicoots, Wicked Wizards & Leaping Lizards and Witches' Britches, Itches & Twitches! were created in collaboration with renowned UK illustrator Mike Spoor. Mark's picture books include Five Little Owls illustrated by Crichton award winning illustrator Mini Goss and The Gobbling Tree, winner of Speech Pathology Australia's 2009 Book of the Year. His anthology Can You Keep a Secret? Timeless rhymes to share and treasure illustrated by Jobi Murphy was a Children's Book Council of Australia Notable Book.
Mark has extensive experience in trade and education editing and publishing with over 100 + books, as well as numerous anthologies, poems and songs published with Australian and international publishers: see http://markcarthew.com.au/books/. Mark is a former Board Member of Australian Society of Authors (ASA) and May Gibbs Children's Literature Trust Fellow. Mark has a PhD in Writing from Swinburne University and he is currently a leading teacher at Berwick Lodge Primary School, Victoria and he is an Adjunct Research Fellow with Swinburne University of Technology.
Mark's recent picture books include The Moose is Loose! illustrated by Matt Stanton & published by Harper Collins Publishers / ABC Books, The Great Zoo Hullabaloo! illustrated by Anil Tortop and three new books in the Marvin & Marigold series ill. by Simon Prescott (UK); Marvin & Marigold The Big Sneeze, Marvin & Marigold: A Christmas Surprise and Marvin & Marigold: A Stormy Night.
2019 will see the release of The Jingle, Jangle Jungle ill. by Dave Atze (Ford St Publishing) and a special 10th Anniversary Edition of Can You Keep a Secret? Timeless rhymes to share and treasure.
Testimonials
Mark was a very well prepared speaker, arriving in plenty of time to set up his space, ready to receive the students. Having art work around as well as music gave the session a real switch around from serious looking into his books to some light hearted singing. His presentation style suited the year 2's perfectly – he was on their wavelength. And the classroom teachers who attended said they will use Marks' stories as examples as they learn more about writing narratives.
Would definitely book him again, if teachers want someone to talk about narrative writing – he was spot on.

Mark Carthew - Caulfield Grammar, Melbourne, July, 2014.