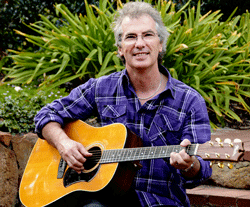 Dr Mark Carthew is an award-winning Australian children's author, poet, musician and educator well known for his books and series celebrating language, humour and wordplay. His illustrated play script series VoiceWorks sold over one million titles worldwide. Mark's rhyme and riddle books Newts, Lutes and Bandicoots, Wicked Wizards & Leaping Lizards and Witches' Britches, Itches & Twitches! were created in collaboration with renowned UK illustrator Mike Spoor. Mark's picture books include Five Little Owls, illustrated by Crichton award-winning illustrator Mini Goss and The Gobbling Tree, winner of Speech Pathology Australia's 2009 Book of the Year. His anthology, Can You Keep a Secret? Timeless rhymes to share and treasure, illustrated by Jobi Murphy was a Children's Book Council of Australia Notable Book.
Mark has extensive experience in trade and education editing and publishing with numerous books, series, anthologies, poems and songs published with Australian and international publishers: see:
Mark is a former Board Member of Australian Society of Authors(ASA), 2013 & 2021 May Gibbs Children's Literature Trust Fellow and Literacy / Literature Specialist at Berwick Lodge Primary School, Victoria. Mark has a PhD in Writing from Swinburne University and he is the inaugural 2022 Irwin Ermidis Visiting Research Fellow at UniSA. Mark's recent picture books include The Moose is Loose!, illustrated by Matt Stanton & published by Harper Collins Publishers / ABC Books, The Great Zoo Hullabaloo!, illustrated by Anil Tortop and three new books in the Marvin & Marigold series, ill. by Simon Prescott (UK); Marvin & Marigold The BigSneeze, Marvin & Marigold: A Christmas Surprise and Marvin & Marigold: A Stormy Night. 2020 saw the release of The Dingle, Dangle Jungle, ill. by Dave Atze, published by Ford Street Publishing (*Shortlisted for the 2020 Educational Publishing Awards Australia); along with a 10th Anniversary eBook & POD edition of his CBCA Notable verse and song anthology, Can You Keep a Secret? Timeless rhymes to share and treasure.
Mark's latest picture book, The Thing That Goes Ping! illustrated by Shane McG, published by Ford Street Publishing (Feb 2021), WON the 2021 Speech Pathology Book of The Year Award, in the Five-8 years category.
See Links for a free matching song & mp3 'Ping Ting-a-Ling!' along with extensive teaching notes and activities.

Workshop and presentation sessions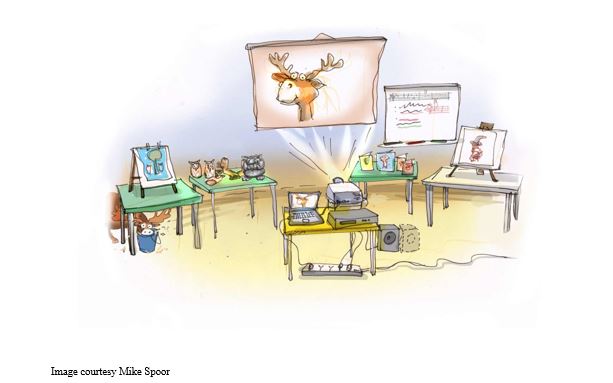 Note: Mark's set up request!
Screen, x4 tables, CD sounds system / CD PLAYER, microphone for large venues.
MEET THE AUTHOR
(General Event / Festival & Schools Talks)
Meet children's author Mark Carthew and experience readings from the award winning range of works that he has been involved in creating and writing. These interactive shared reading sessions are supported by high quality digital images and book visuals, live guitar, recorded songs and music, props and illustrated work samples.
This session can be geared for ALL early childhood & primary age groups (K-6).
* Mark also talks to adult audiences and aspiring authors about the writing process, editing, design and development and collaborations with his many Australian and international trade and educational publishers, writers & illustrators.
Share jokes, silly stuff and have fun with stories, picture books, songs, play-scripts and movement!


STORYTIME
(Designed for Early Years age 3 - 8)
An interactive readings from a selection of Mark's latest picture books including, Five Little Owls, illustrated by CBCA Crichton Award winning illustrator Mini Goss, The Great Zoo Hullabaloo! ill. by Anil Tortop (Qld) and The Moose is loose! Ill. by Matt Stanton and /or The Gobbling Tree ill. by Susy Boyer (Qld), A Speech Pathology Australia Book of the Year!
Session can also focus on Mark's recent Marvin and Marigold series, illustrated by UK illustrator Simon Prescott, published New Frontier Publishing:-
Book 1 - Marvin and Marigold: The Big Sneeze
Book 2 - Marvin and Marigold: A Christmas Surprise
Book 3 - Marvin and Marigold: A Stormy Night
This series is highly regarded for the focus on kindness, friendship and empathy, embedded in highly engaging, fun read aloud storylines.
In late 2019 and from 2020 Mark will also be able to engage his audiences with his new book The Dingle Dangle Jungle, ill. by Dave Atze (SA), published by Ford Street Publishing; a fun read aloud featuring animals found in the jungle environment.
Mark also weaves in action songs and interactive finger plays etc from his various anthologies, including Can You Keep a Secret? Timeless rhymes to share and treasure.

DRAMA / MOVEMENT WORKSHOPS
Meet award winning editor and writer Mark Carthew and have fun with play scripts edited by Mark and written and illustrated by some of Australia's and the world's best children's writers including Roald Dahl, Michael Rosen, Graeme Base, Pamela Allen, Margaret Mahy, Richard Tulloch, Lois Walker, Terry Denton and many, many more…


POETRY / PICTURE BOOK WRITING WORKSHOPS
A practical writing session for the middle and upper primary levels (as well as adults), designed to inspire with fun, accessible strategies for writing poetry and wordplay.
*Also available for play-scripts and picture book storyboarding.

ART / DAS Self-Drying Model Clay Making Caricature Activities
Note: Needs SPACE, TABLES and supply of / or payment for materials.
Session 1 – Age suitability: 6 -12 years
Come along, hear jokes & riddles and meet children's author Mark Carthew. Then make a modelled das creature on a poly ball, based on one the many funny characters in his joke, rhyme & riddle books Wicked Wizards and Leaping Lizards and Witches' Britches, Itches & Twitches! illustrated by renowned UK Illustrator Mike Spoor.
Children will be able to take their creation home. * Artworks from some of Mark's books will also be on display.

Session 2 – Age suitability: 4-9 years
Tu-whit, tu-whoo! Have fun too...
Come along for a song or two and hear children's author Mark Carthew read from his picture book Five Little Owls Then have a hoot making a modelled owl based on the owl characters! Children will be able to take their creation home. * Artworks from some of Mark's books will also be on display.
The Das caricature making activity is a popular one for school holiday / family festival programs - it requires Das self-drying modeling clay, some cheap aluminium foil & poly balls, and table arrangements, access to water and a few extra bits 'n pieces. It's Good fun!

PROFESSIONAL DEVELOPMENT / CONFERENCES
Dr Mark Carthew has conducted a broad range of highly regarded teacher professional development workshops across Australia, New Zealand and internationally; including Malaysia, Switzerland and the UK. His broad experience in primary schools and teacher education with various universities and the Victorian Dept. of Education is supplemented by his vibrant PhD on the poetics of children's rhymes and verse; a subject of great interest to early childhood, literacy and language educators world wide.
Presentations and workshops focus on practical and engaging literacy strategies for early childhood and primary education – focusing on the joy of wordplay & language.
Mark is also available for keynote addresses.
Testimonials
It was lovely to meet a generous, thoughtful person who cares about reading and the impact it has on young readers.

Tailem Bend Primary School - May 2022

This award-winning writer has many creations to his name and deserves to be recognized. The Thing That Goes Ping! is his latest picture story book and once again, the author's skill as a wordsmith and poet is shown. The clean, contemporary design and quirky character illustration sod Shane McG match the story perfectly and create a visually stimulating experience demonstrating anthropomorphism at its best

Department of Education and Training, North East Victoria Region - 2021

Mark Carthew was a big hit this morning with our Foundation-Year 3.
Let it be said, "He came, he sang, he read stories, he conquered"
Absolutely fantastic!

Mill Park Primary School - May 2016

Mark was a very well prepared speaker, arriving in plenty of time to set up his space, ready to receive the students. Having art work around as well as music gave the session a real switch around from serious looking into his books to some light hearted singing. His presentation style suited the year 2's perfectly – he was on their wavelength. And the classroom teachers who attended said they will use Marks' stories as examples as they learn more about writing narratives.
Would definitely book him again, if teachers want someone to talk about narrative writing – he was spot on.

Mark Carthew - Caulfield Grammar, Melbourne, July, 2014.