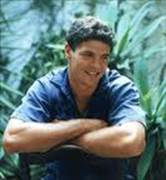 Matt is the author of the hugely popular Dougal stories - Dougal the Garbage Dump Bear and Dougal and Bumble and the Long Walk Home.
Dougal came to Matt after he saw a pair of legs sticking out of the rest of the rubbish at the tip one day. Matt decided to save him and after finding a few other stuffed toys, had a moment of inspiration and began to write a children's book. Matt decided to use photographs for the illustrations so he armed himself with a camera and set out to document Dougal's life. The stories centre around Dougal the teddy bear who, along with his best friend Bumble, are rescued from the tip and embark on a series of adventures …including a trip to the pub for a few ginger beers!
Dougal's adventures have been published in Australia and the United States and there are plans for more instalments of Dougal's exciting adventures in the future.
Matt's school visits consist of a one hour presentation comprising the following elements:
Two readings of Dougal's two books on PowerPoint
A behind-the-scenes presentation on PowerPoint
A meet-the-toys segment, during which the toys featured in Matt's books are presented on stage.
A three and a half minute DVD presentation of 'Dougal the Garbage Dump Bear'. This is a trailer for the television show and is an example of how a love of reading and stories can lead to other story formats.
A door raffle whereby each student is given a ticket. Five numbers are selected at random and the five students picked come on stage to compete in a verbal questionnaire on the two Dougal books. The winner receives a signed 'Dougal' poster for their classroom.
Please ensure that a staff member experienced with PowerPoint, lap top and projector is on hand to assist Matt at the commencement of and during his session.
A venue suitable for large groups with appropriate facilities (e.g. dimmed lights) is also required to ensure the session's successful impact.