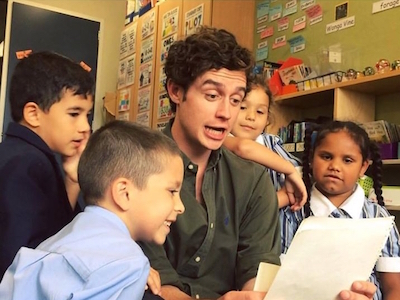 Multi-award winning poet, Philip Wilcox, is the current Australian Poetry Slam Champion and a two time NSW Poetry Slam Champion. Philip hosts and co-organises Three Poets Speak – a Sydney showcase of the finest spoken word artists from around Australia. He has featured in major events like Sydney Writers' Festival, Wollongong Writers' Festival and Newtown Festival, where he performed for a crowd of over 8,000. He recently headlined the Melbourne event Voices in the Attic and represented NSW against Victoria in an interstate exhibition slam.
Philip is also a playwright. He co-wrote and directed Thursday - the most popular production of the 2013 Sydney Fringe Comedy Festival. By day he is a children's entertainer and studying to be a school teacher. By night he shares the stage with hip hop artists and poets like Omar Musa, Luka Lesson and Solo (Horrorshow).
Philip Wilcox facilitates spoken word workshops and presentations - helping students and adults bring to life their stories and sharpen the means of expressing these. He believes poetry need not be the cultural plaything of the intellectual elite. Poetry can be musical, theatrical or simply stories told to
remind us of our shared humanity.
As the current Australian Poetry Slam Champion he has worked in a wide range of schools and art centres sharing his poems and helping students write and perform their own work. His method focusses on both literary/poetic techniques and performance practices.
Workshops for schools can sit comfortably within the syllabus criteria for English and literature and all services offered can be tailored to the specific needs of the school or organisation. Possible spoken word poetry experiences include a Spoken Word Presentation followed by a discussion of the relationship between poetic and presentational techniques and their form and function.
Student Workshops allow the students to learn tips and tricks to write and perform their own poetry. There is also an opportunity for the visiting poet to write an original poem for the school or class.
Spoken Word Presentation + Q&A
45 minute dynamic poetry performance with a focus on poetical form and content. The poet explores a variety of oral poetry traditions followed by a Q&A.
Student Workshops
Interactive spoken word workshops that focus on the creation of and presentation of student poems. Included in the workshop are demonstrations of 'slam style' poems and discussions about form and techniques. Throughout the workshop/s the students will begin to construct their own poem.
Testimonials
Philip was engaging and very quick to tailor his talk to our student population. The workshop was very worthwhile boosting students' confidence and leaving them with a poem of which they were proud.

Kingswood High School - August 2018

Philip Wilcox was highly motivating. The students responded well and created excellent poems. The showcase was well attended and exciting. Phil was very generous with his time.

Roseville College - July, 2017

Phil's performances were the most popular parts of an overall very successful conference. Numerous people commented on how much heart and soul he had added to the experience for them.

Mental Health Commission