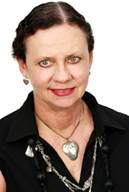 Speaker type
Author
Non-fiction
Educational consultant
Motivational
Robyn was the first Executive Director of the Queensland Writers Centre (1991-1997) and operates 'justified text' writing and publishing consultancy services. She is widely published in magazines, journals and online publishing sites, has chapters in several textbooks, has edited anthologies and also manages arts projects.
Robyn has written about children's literature and the children's book market and in 2003 she was a member of the Australia Council Literature Board. In 2006 she co-edited Paper Empires: A History of the Book in Australia (1946-2004). In 2006 she also published Kookaburra Shells: Port Curtis Literature...
In August 2011, Robyn was awarded the prestigious Dame Annabelle Rankin Award for her services to children's literature. Robyn has also been awarded the 2012 Nan Chauncy Award, created to honour people who have made an outstanding constibution to the field of Australian children's literature. Congratulations Robyn.
Congratulations to Robyn who has won the 2014 Johnno Award for outstanding contribution to writing in Queensland. Presented by the Queensland Writers Centre (QWC) the award recognises Robyn's 'significant contributions to the development of Queensland's writing community'.