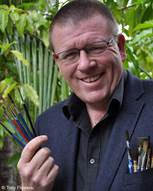 Speaker type
Illustrator / Designer
Storyteller / Performer
Cartoonist
Interstate
Tony has a Masters degree in Visual Communication, loves to draw and is an internationally acclaimed illustrator and artist. His drawings are loved in Japan for their detail and humour and he has even won an award in the USA for his street chalk art.
He is a highly entertaining speaker with a board range of experience both in festival and school presentations. Specialising in visual literacy, his sessions include a lot of drawing demonstrations throughout in response to audience suggestions. Together he can build story ideas and demonstrate a visual storytelling method to start writing narratives. . Tony inspires and captivates young students with his artwork. He can explain the progress of illustrating a picture book, starting from just being an idea to becoming an integral part of the books many love.
He has worked on 6 books in the popular Saurus Street series, 4 books in the Billy is a Dragon series and 4 books in the Samurai vs Ninja series. 2019 saw the publication of Vognox the Viking and in August 2020, his new picture book Small Town (with Phillip Gwynne) which deals with refugee and small rural town issues is due. 2021 will see the publication of This Old Thing (Anzac focused).
From Tony's handmade pop-up book Gaijin Holiday…
From a recent workshop:
Testimonials
Tony was very relaxed and easy going. He stepped the kids through the process in a considered way so that no one was left behind and made plenty of time for questions and interaction.

Ipswich Libraries - July 2020

Tony was a great hit with the students (at the Primary Taster Day) and they really enjoyed his workshops.

Tony Flowers - Western Sydney University, June, 2016