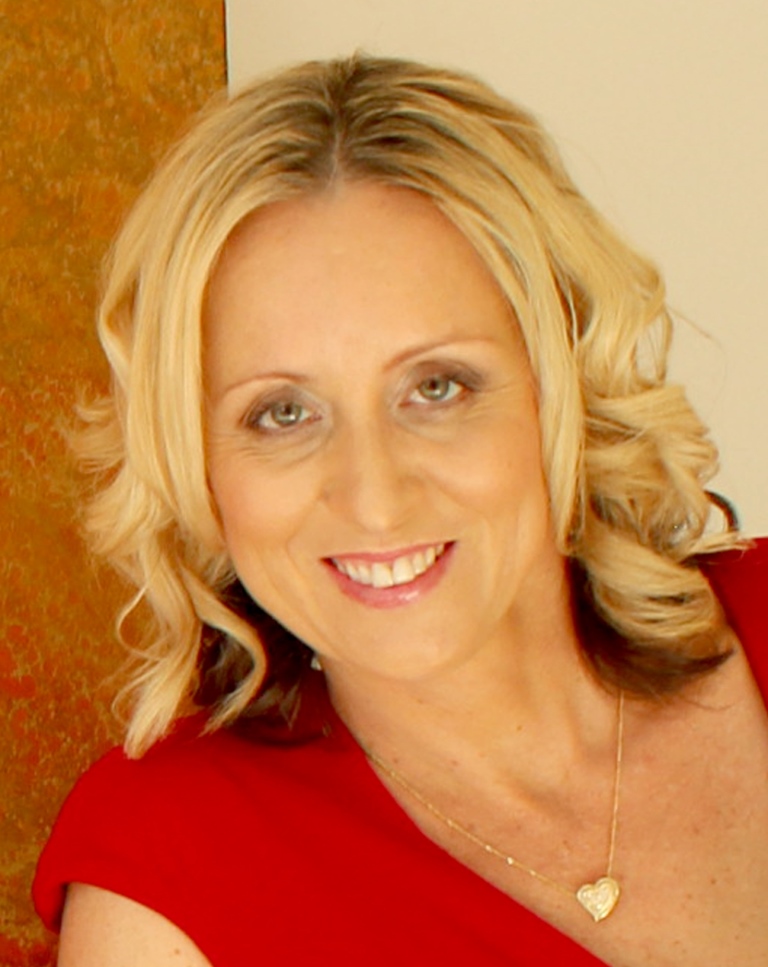 Speaker type
Author
Educational consultant
Aleesah Darlison is an award-winning Australian children's author who writes picture books, chapter books and novels. Her much-loved stories promote courage, understanding, anti-bullying, self-belief, friendship, teamwork and environmental themes. In 2015, she won the Environment Award for Children's Literature (Non-Fiction) for her picture book, Our Class Tiger. In 2012, she was shortlisted for the same award for her picture book, Warambi.
Aleesah has written over forty-five books including Stripes in the Forest: The Story of the Last Wild Thylacine, Awesome Animal Stories for Kids, the Netball Gems Series, the Unicorn Riders Series, the Totally Twins Series, Ash Rover: Keeper of the Phoenix, Little Good Wolf, Puggle's Problem, Catching Clouds, Little Meerkat, Spidery Iggy, and Mama and Hug.
Aleesah has won numerous awards for her writing including an Australian Society of Authors (ASA) mentorship. Her short stories have appeared in the Random House Stories for Boys Anthology, Random House Stories for 8 Year Olds Anthology, Random House Stories for 9 Year Olds Anthology, the black dog books Short and Scary Anthology, Chicken Soup for the Soul, Hopscotch: Packed Lunch Anthology, Fight or Flight Anthology, The School Magazine and Little Ears Magazine.
Travelling throughout Australia and overseas, Aleesah delivers talks and workshops to children and adults at preschools, schools, libraries, bookstores, literary festivals and writers' centres. She is currently Director of the NSW Writers' Centre Kids and YA Literary Festival.
When Aleesah isn't creating entertaining and enchanting stories, she's usually looking after her four very energetic and imaginative children.
Yay! It's Library Day
Purpose-built for libraries, literacy lessons and cosy story time sessions, Yay! It's Library Day is the perfect book to help acknowledge and celebrate the joy that libraries bring to everyone.
The rhyming text was written by award-winning author, Aleesah Darlison, and the book was illustrated by Australian school children as part of the 2nd Wombat Books Illustration Challenge.
Celebrate your library and draw students into the magic of books and reading by sharing this story with them.
SE QLD Schools, you can book Aleesah for special Story Time sessions during Library & Information Week (21 – 27 May) or at any time of year.
Yay! It's Library Day is beautifully presented and promotes the highly positive attributes of books and libraries. The text is fun and bouncy and the illustrations are enchanting.
To order copies of the book, visit www.wombatbooks.com.au. For Yay! It's Library Day Story Time Sessions with Aleesah Darlison, book Aleesah through Speaker's Ink. See the media release at the link to the right.
Running from the Tiger
Running from the Tiger is a new junior novel from much-loved Australian children's author, Aleesah Darlison. It's a tale of trust and friendship and the power that can be found once we finally stop running.

When eleven-year-old Ebony meets enigmatic Teena, they instantly become much more than the 'default' friends Ebony has grown used to having. Only when the girls come to trust one another fully do they unlock each other's troubling secrets, enabling their friendship to deepen.

This powerful story delves into important issues with themes of domestic violence and courage pushing the narrative whilst highlighting the importance of having a confidant to share the load of your troubles and to offer hope and the promise of new beginnings.
Aleesah Darlison is a multi-published, award-winning author. She writes inspirational and humorous picture books, chapter books and novels for children. Aleesah delivers stunning author talks and creative writing workshops that combine PowerPoint presentations, videos, book trailers, puppets and loads of crowd participation. She is currently Director of the NSW Writers' Centre Kids & Young Adults Literary Festival. In 2015, Aleesah won the Environment Award for Children's Literature (Non-Fiction).
Aleesah is available for school and library visits, literary festivals, and Author-In-Residence programs.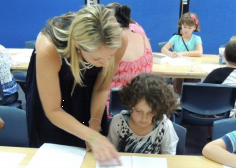 Author Talks
Animals Galore! (Prep – Yr2)
Do you know what a puggle is? Or what bats eat? Find out the answers to these questions and more! Featuring all your favourite Australian animals like: echidnas, bats, koalas and thylacines. Learn about the inspiration behind Aleesah's picture books and crucial information our most iconic animals. Includes videos, quizzes, amazing animal facts and readings.
Fun, Fantasy and Fractured Fairytales (Yr3 - Yr6)
Aleesah Darlison's popular books and series Little Good Wolf, Unicorn Riders and Ash Rover, are action-packed adventures that children take to their hearts. Includes exploration of traditional and fractured fairytales, and group character creation and world building exercises, hilarious role play and audience participation.
Hunting for the Last Wild Thylacine (Yr2-6)
Stripes in the Forest is a poignant and emotive story of an iconic species lost told from the point of view of the last wild, female Tasmanian tiger. Join Aleesah as she takes you on a journey of discovery and discussion about the thylacine and other endangered species.
Writing Realism – Narrative Tricks of the Trade (Yr3-6)
Inside tips on finding ideas, creating characters and writing realistic dialogue are all dealt with in this interactive session. Guaranteed to inspire students to write their own stories and get stuck into reading.
Creative Writing Workshops – class size - 30 students (Yr2-6)
Please note: Handouts are available.
Writing Awesome Animal Stories
Aleesah Darlison is famous for her many and varied animal stories: from nonfiction narratives, to picture books, short stories and novels. In this session, children give their imaginations a workout creating animal characters, names and a host of other features before writing a story featuring their new animal creation.
Light Up Creativity Writing Workshop
Children can fire up their imaginationsand hone their writing skills with Aleesah's entertaining and exhilarating creative exercises. This session is designed to get the creative juices flowing and develop writing skills. Have fun developing dazzling dialogue, creating and naming hilarious characters, writing story starters and more.
Sizzling Story Starters
Every great story needs a sizzling start to hook readers in. Here, Aleesah shows examples of great story starters from the literary world. She explains to students the various techniques they can use to create their own opening hooks. Using a number of props and prompts, Aleesah works with students as they create some irresistible story openings.
Let's Talk About Dialogue
Using verbal, interactive group exercises and written, individual tasks, Aleesah shows children how to create and compose dialogue for use in stories. Students will discover various techniques they can use to show a character's personality, convey information to progress the story and develop realistic conversations between characters.
Short and Scary!
In this shockingly exciting and inventive workshop, Aleesah shows children how to brainstorm spooky and villainous characters. She then leads children through a plotting exercise to create a short story after which children will write a spine-tingling story to share.
Ideas Are All Around Us
Many children struggle to generate ideas for stories. Here, Aleesah works with children to tap into their memory and imagination to develop a number of story ideas. Using various prompts and techniques students will learn how to source ideas, create new concepts and collate these story gems. Students will then have time to develop an idea into a story or poem.
Persuasive Writing/Exposition
Students will learn the crucial 'nuts and bolts of' of structuring a persuasive argument. They will be lead exercises to brainstorm position statements and arguments, develop startling statements and calls to action to improve or refresh their knowledge of Persuasive Texts.
Fabulous Fantasy Fun
In this wonderfully creative session, Aleesah shows how she developed her exciting fantasy series, Unicorn Riders. Students will design a hero or villain to star in their own adventure. Participants also build a brand new fantasy world for their next story.
Writing Realism: Narrative Tips & Tricks
Using her novels and series as a basis, Aleesah shows students how she gets her ideas and plans her narratives. She provides students with inside tips and tricks for constructing their own stories then conducts a group brainstorming exercise to develop characters, problems and which will form the basis of a story the children then write.
Making Picture Books
Making picture books is fun! Here, Aleesah provides an insight into how picture books are made. Students are led through exercises to create their own picture book, designing and illustrating the front cover, creating a blurb, and writing and illustrating a simple story.
Testimonials
Highly engaging, interesting info and loved her approach to weave the writing into the reading of books. Fantastic for our P-2

Payne Road State School - August, 2019

Aleesah was an engaging an interesting speaker and the children really enjoyed her presentations. Her writer's workshop worked well with the year level and the students got a lot out of it.

Strathpine State School - August 2019

Aleesah was excellent and very flexible and gave more of her time than we expected.

Peregian Springs State School - November 2018

Very engaging and the students loved her.

St Keiran's Primary School - August 2018

We all think that you were brilliant. We love your books. You were the perfect person for us.
We look forward to becoming avid Aleesah fans and following your new books.

Living Faith Lutheran Primary School - August 2018