Andrea Gallagher is the author of two children's alphabet picture books, Superstar Grandmas and Mega-rad Grandads.
Some books are just for fun and other books have a job to do. Superstar Grandmas and Mega-rad Grandads are a pair of picture books created around a group of real-life seniors to show a modern image of grandparents at play, and to get kids, parents, and grandparents talking about the content together.
The books each feature an alphabet of alliteration-heavy rhymes that tell stories about different people from within their community, illustrated with detailed portraits of the real people.
After more than 15 years of working as a writer and communications specialist in the corporate sector, Andrea stepped out to create books that will bring generations together to read. She has gone from teaching adults about better business writing, to delivering workshops for young learners that will inspire a love of writing and a special appreciation for her favourite subject-matter, grandparents.
Andrea also regularly presents about her life story to audiences of all ages: a story of learning to walk and talk again as a teenager, and then becoming a 'Slightly-Broken Supermodel' to overcome her disability and re-build her self-confidence.
Workshops
For Kindy Kids and Early Primary:
Celebrating Grandparents Storytime and Craft: Andrea hosts storytime and craft where she reads her books (with the help of her magical alphabet tiles to get the kids interacting and engaging in alphabet play), and then gets kids doing grandparent themed craft (like making a paper plate face of their grandparent, or a grandparent bookmark).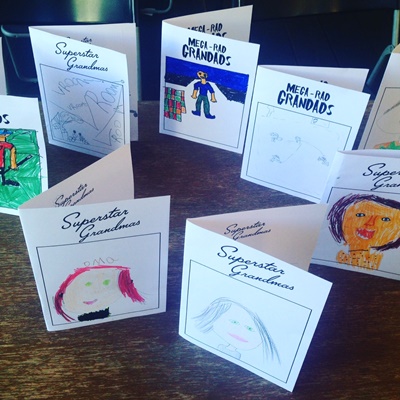 Primary:
Celebrating Grandparents: Kids work through an activity to 'Superstar-their-grandma' or 'Make-their-grandad-Mega-rad' in a writing, drawing, and character-development exercise that relates back to Andrea's books on modern grandparents. Participants can create their own materials during the workshop to give to grandma, grandad, or another special senior in their lives. Or schools can also use these materials to develop their own publication for the school community to share.
Late High School/Adult:
Better Business Writing: With more than 15 years of working as a Communications Specialist in the corporate sector, Andrea has developed her own set of 'Golden Rules' to help adult writers re-dress some of the common mistakes people make, and re-focus participants on how effective writing can create better results in all contexts.
Speaking
Primary & parents/grandparents:
Celebrating Grandparents: Andrea speaks about where her passion for writing a different type of book about grandparents came from, and why she believes that inter-generational bonds are so important. Through her presentations, she hopes to have people look at ageing in a different way and to reinforce the value of younger generations connecting with their elders.
Late primary/Highschool:
The power of writing: Andrea speaks to young writers about some of the hidden ingredients that can make writing more powerful. Beyond technical features of structure and character, Andrea explores the intangible elements that everyone should consider in their writing to draw in connections with audiences and make their words work more effectively in all contexts.
Late Primary/Highschool/Parents:
Becoming a Slightly-broken Supermodel, a story of building self-confidence: Andrea speaks about her life experiences and introduces older audiences to the coping strategies that helped her to develop resilience and self-confidence in the aftermath of overcoming serious illness and becoming disabled as a teenager.
Testimonials
Andrea was a great speaker. She engaged her audiences, across multiple ages in each session. She was approachable, articulate and her content was appropriate for each group.
On the lead up to the event, Andrea made contact and went out of her way to tailor her speeches to suit our themes and ethos. She was considerate and thoughtful.
I would not hesitate to recommend her as a speaker.

Coolum Beach Christian College - September 2018