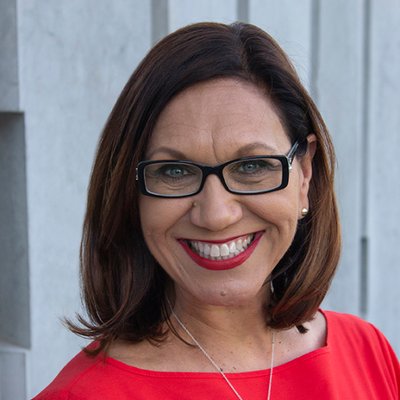 Growing Up Aboriginal in Australia

Barbed Wire and Cherry Blossoms

Our Race for Reconciliation

Am I Black Enough For You?

Macquarie Pen Anthology of Aboriginal Literature

Yirra and Her Deadly Dog, Demon
Speaker type
Author
Poet
Non-fiction
Educational consultant
Motivational
Virtual visits

Professor Anita Heiss – Bio
Anita is a proud member of the Wiradjuri nation of central New South Wales, and is one of Australia's most prolific and well-known authors, publishing across genres, including non-fiction, historical fiction, commercial fiction and children's novels. She is also a marathoner!
Anita's children's literature includes Kicking Goals with Goodesy and Magic, co-written with Adam Goodes and Micheal O'Loughlin. She also wrote two kids' novels with students from La Perouse Public School - Yirra and her deadly dog Demon and Demon Guards the School Yard, and more recently, Harry's Secret and Matty's Comeback.
Anita's other published works include the historical novel Who Am I? The Diary of Mary Talence, Sydney 1937, non-fiction text Dhuuluu-Yala (To Talk Straight) – Publishing Aboriginal Literature, and The Macquarie PEN Anthology of Aboriginal Literature which she co-authored with Peter Minter.
Her adult fiction includes Not Meeting Mr Right, Avoiding Mr Right, Manhattan Dreaming, Paris Dreaming and Tiddas. Her most recent books include Barbed Wire and Cherry Blossoms which was longlisted for the Dublin International Literary Prize and the anthology Growing Up Aboriginal in Australia which Anita edited, was named the Small Publisher Adult Book of the Year at the 2019 Australian Book Industry Awards.
In 2004 Anita was listed in The Bulletin magazine's "Smart 100". Her memoir Am I Black Enough for You? was a finalist in the 2012 Human Rights Awards, and she was a finalist in the 2013 Australian of the Year Awards (Local Hero).
As an advocate for Indigenous literacy, Anita has worked in remote communities as a role model and encouraging young Indigenous Australians to write their own stories. On an international level she has performed her own work and lectured on Aboriginal literature across the globe at universities and conferences, consulates and embassies in the USA, Canada, the UK, Tahiti, Fiji, New Caledonia, Spain, Japan, Austria, Germany and New Zealand.
Anita is proud to be a Lifetime Ambassador for the Indigenous Literacy Foundation, and an Ambassador of Worawa Aboriginal College, the GO Foundation and the Sydney Swans.
She is on the Board of the State Library of Queensland, and in recent months was appointed a Professor of Communications at the University of QLD.
Anita's website: www.anitaheiss.com
Watch Anita's 2013 TED Talk here:
What Anita can do to assist you:
Standard author talks about her books, writing, and research - all with Indigenous themes.
Creative writing workshops - which can also incorporate Indigenous themes
Project managing the creation of a complete work - short novel or anthology of writing.
Addresses to whole student bodies and staff
Workshops/presentations to teachers/librarians on Indigenous authored resources for use in the classroom.
Testimonials
Anita was wonderful. Zooming into many classrooms simultaneously for first period (with all the I.T. bumps at our end), she was gracious, engaging and really had the students engrossed. Her content was perfect for the student's level and curriculum stage. It really gave them fresh insights on historical fiction and representation of Indigenous Australians. We would love to have Anita again.

SCECGS Redlands Roseby Library - April 2021

Anita was engaging and connected well with the audience. Her humour, expertise and knowledge shared was inspiring for all who attended our event. Her generosity to speak and network on the day was most appreciated

Brisbane Catholic Education - February 2021

Anita was fantastic. She was the perfect combination of provocative and warm. She provided a great bank of resources for our teachers that were most welcome.

Catholic Education - Parramatta - January 2021

We have been overwhelmed with feedback about Anita's keynote address. Attendees thoroughly enjoyed how Anita 'shared' her life journey and dreams as a young girl. Many attendees commented how much they related to Anita's comment that she 'firmly believes that sharing stories to build respect can connect us as humans.'

TAFE New South Wales - September 2020

Anita's relaxed and humorous style of delivery engaged and inspired the audience. Her generosity in sharing websites and resources was appreciated. Her talk was on topic and fitted well into the theme of our Learning Intensive.

Primary English Teaching Association Australia - October 2019