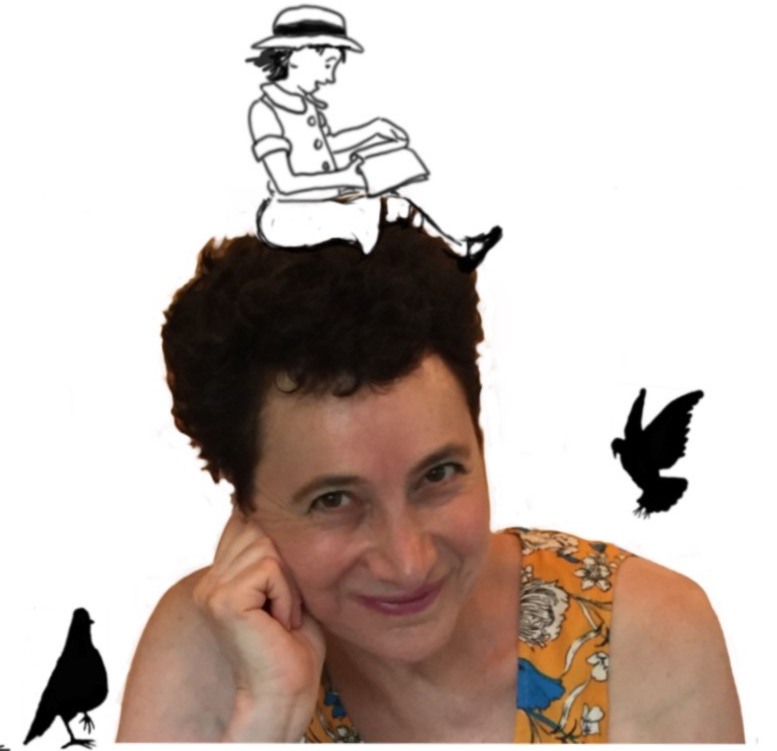 Speaker type
Author
Illustrator / Designer
Virtual visits

Anna Ciddor is not only a successful writer-illustrator of fiction, travel, history and fantasy, but also an inspirational speaker for ages 8-108. In her presentations she reveals amazing research stories and passes on tips and secrets about how she created her two latest novels based on family history: The Family with Two Front Doors and 52 Mondays. Her lively presentations are full of audience participation and 'show and tell'. She makes it exciting and fun to travel behind the scenes to find out about the life of a writer and the making of books. Her audiences feel eager and empowered to record their own stories.
Anna is a patron for Oz Kids, an organisation to promote and support children's literary and artistic talents.
About Anna's books
Anna has written and illustrated over 50 books, several of which have been CBCA Notable Books, shortlisted for numerous other awards, translated into other languages and sold around the world. Anna has also been the recipient of a 2-year grant from the Literature Board of the Australia Council.
Her most popular books include:
Runestone, Wolfspell and Stormriders, the three books of the Viking Magic series, published by Allen and Unwin. These are best-selling historical fantasies set in Viking times and based on intensive research into Viking lifestyle and beliefs.
The Family with Two Front Doors, Allen and Unwin 2016. This book is a based on the childhood of Anna's grandmother in 1920s Poland – a heart-warming Jewish story that is not about the holocaust. Visit annaciddor.com for a printable colouring page, Teachers Notes and more information about the book.
The Through Children's Eyes series, Macmillan Education, 1995. These are full colour picture books about different eras in Australian history including the Gold Rush and World War 1, and compare contrasting view points of children living in those eras
Forthcoming title
52 Mondays, Allen and Unwin. Release date 1 March 2019. This novel is based on Anna's memories of 1960s Melbourne. Three sisters conjure up hilarious everyday adventures in a time before computer games, internet and mobile phones – a peek into the past that is fun and interesting, but also thought-provoking, as the book touches on what it was like being a Jewish child before Australia became a multi-cultural society.
Find out more
You can find out more about Anna and her books, and view or listen to her media appearances at her website
For Children
(Grade 3 to Year 7)
Mix and match from the following topics for your school:
• Hear incredible research stories
• See historical photographs, writing drafts, illustrating drafts, editing samples, research photographs and original family documents
• Learn illustrating tricks
• Learn professional tips on short story and descriptive writing
• Find out bloopers and secrets behind the writing and illustrating of the books
For Adults
(Also suitable for mixed age groups 8 to Adult)
Uncovering a lost world
With the vivid support of photos, illustrations, documents and historic artifacts, Anna describes how she uncovered the past to bring it back to life. She tells of her hunt to uncover the lost world of her late grandmother's childhood – an emotional, surprise-filled quest that lasted four years and carried her across the world to Poland – and the fun of searching back into her own past. Audiences will be encouraged to share their own memories.
Tricks of the trade
Anna Ciddor reveals all! Using the actual photos, historic documents, interview and recall techniques that were used to create The Family with Two Front Doors and 52 Mondays, Anna demonstrates the processes of research, writing, illustrating, building characters, and working with an editor. This can develop into a writing workshop.
Writing Competition!
(Suitable for all age groups)
To celebrate the launch of 52 Mondays, Anna is running heavily discounted workshops and writing competitions during Term 1 of 2019. The competition package consists of:
• a presentation by Anna on short story writing
• unlimited audience numbers (schools are even welcome to invite grandparents)
• a follow-up short story writing competition
• Anna to judge a winner for each venue (from a shortlist chosen by the organisers)
• a prize for each winner
Skype Presentations
Anna is based in Melbourne but any of the above presentations are available via Skype.
Testimonials
I was inspired so much when you came in and how you turned family history into an absolutely amazing book! I really hope that one day I can do the same

PLC Melbourne

Your presentation was fascinating and I thought the way you linked the story with the research process and family connection was perfect

Moriah College Sydney

I couldn't allow the moment to pass without letting you know how much I enjoyed your Workshop on Friday. You have such wonderful energy and enthusiasm for your work. It's contagious. I was so inspired … It was a privilege and a pleasure to spend a couple of hours in your company.

Stonnington Council 'Untitled' Literary Event - 2017

Anna had the audience locked on to her presentation from start to finish. She unfolded a fascinating story of literary detective work, tracing the lives of her Polish grandmother and her family, and the audience couldn't wait for a formal question-and-answer period at the end – they threw in questions as the session went along, and she handled them brilliantly and honestly.

Williamstown Literary Festival - 2016