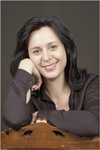 Hi, I'm Belinda Jeffrey and my first novel, Brown-skin Blue, published by University of Queensland Press, hit the shelves in May, 2009. My short story, The Hallelujah Roof, was published in the One Book Many Brisbanes 2007 anthology.
Brown-skin Blue is about Barry Mundy, a seventeen year old boy with dark skin and blue eyes who works on the Croc Jumping Cruises up the Top End of Australia. It follows a young boy's journey to find his father and to come to terms with the trauma of his childhood. "I've got this list of five names on a crumpled piece of paper of the blokes who could be my father." This book explores the themes of personal and cultural identity, abuse and belonging.
The compelling and highly anticipated 2nd. novel from Belinda is Big River, Little Fish, the story of Tom Downs set in South Australia during the 1956 Murray River flood.
Before becoming a writer, I have, amongst other things, been a teacher and even a Professional Polynesian Dancer. And, as always, I am writing the next novel...
I look forward to sharing my books, my experiences and my passion for writing with your students.
Congratulations to Belinda for being shortlisted in the prestigious 2011 Ethel Turner Prize for Young People's Literature.
Testimonials
Belinda's presentation style was very suitable for our students. She connected well with all year levels and understood how to engage them. I was very impressed with her style
personable and very approachable for students. I would welcome Belinda again to speak to our students.

Belinda Jeffrey - Our Lady