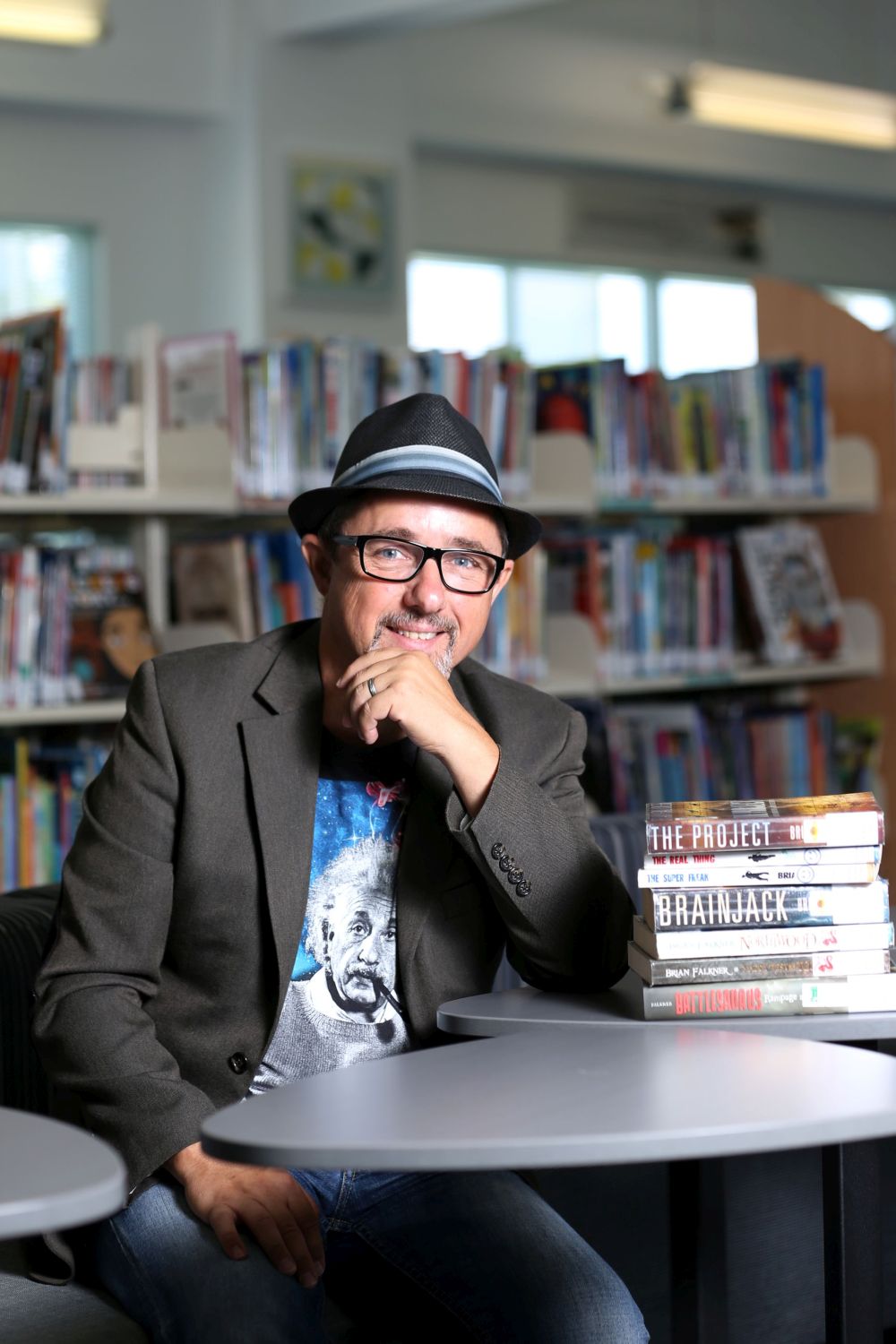 Speaker type
Author
Educational consultant
Interstate
Virtual visits

Brian is an award-winning international author and writing coach. He is a highly sought-after speaker in schools around Australia, the US and New Zealand. His infectious enthusiasm, humour and energy make every appearance a popular and memorable one. He is the author of more than thirteen novels for children and young adults, published in fifteen countries in seven languages. His most recent YA novel, Battlesaurus: Rampage at Waterloo has been shortlisted for the 2016 NSW Premier's Literary Awards.
Outstanding Feedback
I would like to thank you for facilitating the visit of Brian Falkner to my school. I would like to pass on to you, feedback of the event.
I had already seen Brian in action when he visited my school in August 2010. I felt quite confident that he would engage my students and he did not disappoint today. I had another agenda with this event however. As the initial Network event for the Year of Reading, I wanted to set the bar for the other Teacher Librarians. We have often discussed doing joint events and sharing the load of organising an event that would cater for the passionate and talented young readers and writers in our schools.
I discussed via email with Brian my idea of the day workshop being a three act performance. He was very obliging with my requests and today has proved himself, once again, a flexible and engaging speaker. He had two separate audiences of 50 and 80 children, doing two different activities, one following the other. Some authors might feel flustered by such a challenge, however he managed the whole day with a calm and professional attitude.
Brian did an excellent job of lighting the spark for our writers; he entertained and challenged the year 6 cohort with a Story Sports session and he finished the day with a focus on Improving the Story with the young writers. Some of the ideas that these children shared with us were not only imaginative but quite sophisticated. It really is a joy to see what young writers are capable of when they have a good stimulus, a clear plan and someone who will fan the spark with enthusiasm.
Judging from some of the feedback from my students, it will be extremely hard to keep a copy of Brian's books on my shelves. I also believe that his website, which is quite well designed, will receive a number of hits tonight from children wanting to know more about him. I thank Brian for his efforts today and would heartily recommend him for any school looking for an obliging and engaging speaker.
Corinda State School, March, 2012.
Presentations
Brian's talks cover everything from tips for budding writers, to inspiration for reluctant readers, to small drops of wisdom on life, the universe and everything in between, in a visual, irreverent and highly entertaining way.
Write Like an Author
Brian's 'Write like an Author' writing course is a series of practical and fun workshops that take students on a journey of story creation. From a single one-hour workshop, to a full week writing camp (and everything in between), 'Write like an Author' will motivate young writers while teaching them the techniques that professional authors use to construct well-crafted, imaginative stories. A series of workbooks that complements the course is available through Brian's website, www.brianfalkner.com.
StorySports
StorySports is a bit like TheatreSports but with rapid-fire writing games. Students learn valuable writing skills but won't even know they are learning, because they are having too much fun! Even the most reluctant writers will be champing at the bit to write in a StorySports tournament.
Testimonials
Brian covered exactly what we wanted. We asked him to talk about his books and give students ideas on how to create book trailers - and it was perfect!

Kelvin Grove State College - November 2018

Brian is a master of his craft and is able to transfer that knowledge to the young writers in an engaging and highly productive way.

Rainworth State School - June 2018

Brian's presentation was excellent. He quickly built a rapport with all the students. He was able to engage all the students in the various groups. After Brian left I asked the students for their feedback and all the students used words like exciting, committed and inspiring. They really enjoyed Brian's website. It is extremely creative and interactive.

Toowoomba East State School - April 2018

Entertaining, funny, inspirational, motivating

The Glennie School - April 2018

Brian was extremely engaging and the kids thoroughly enjoyed his presentation.
He met all expectations and I would recommend him to others

St Laurence's College - February, 2018