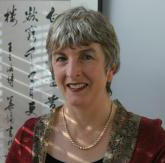 Speaker type
Author
Interstate
Virtual visits

Carole Wilkinson is an internationally award winning and much loved author of books for children including the hugely popular Dragonkeeper and Ramose series. She has a long-standing fascination with Dragons and interest in the history of everything.
Though Carole has now written over 30 books, she did not write her first book until she was approaching 40. Before that, she worked as a laboratory assistant and as a film and television writer and editor.
Carole's latest book awards are the Aurealis Best Children's Fiction Award for Shadow Sister (Dragonkeeper 5) and the Wilderness Society Environment Award for Children's Literature (non-fiction) for Atmospheric: The Burning Story of Climate Change.
Testimonials
It was a great day. I got really positive feedback from the Year 7 teachers who were doing 'Black Snake' with their class. What Carole explained about the research she had done and the documentation she had found was exactly what they were looking for. Her sessions with our Year 4s who were studying Dragon Dawn also went very well.

Carole Wilkinson - Holland Park State School, September, 2014

Carole was great!

Carole Wilkinson - Ironside State School, September, 2012