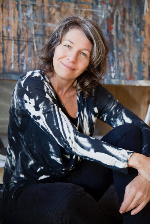 Speaker type
Author
Illustrator / Designer
Caroline Magerl was born in a small German town near Frankfurt and came to Australia when she was just two. Soon after, in a suburban Sydney backyard, her parents built a yacht which became a home and way of life. Until Caroline was fourteen, the family sailed the east coast of Australia. At sixteen, Caroline joined another yacht, crossing the Tasman Sea to New Zealand. After the return voyage she worked as a cook, painting in her spare time.
In 2001, Caroline was the recipient of the Crichton Award for recognising new talent in the field of Australian children's book illustration for her first Picture Book Grandma's Shoes (written by Libby Hathorn). Since then she has gone on to become a May Gibbs Fellow and has presented at 'ArtPlay' Melbourne, Children's Book Week, the 'Voices on the Coast' Festival and others.
Caroline now works successfully as a fulltime artist, illustrator and printmaker and recently received a significant ASA children's picture book illustrators' grant to work on her latest book, Hasel and Rose both illustrated and written by Caroline. She has exhibited widely overseas and in Australia.
"I am fascinated by the unique combination of art and storytelling within the world of a picture book. It is my first love. As a German immigrant, it was the picture books sent by my grandmother that showed me the power which books have to connect people over distance and time.
I have worked in the visual arts for over thirty years, as a cartoonist, an illustrator, a painter and printmaker. Now, I am delighted to also share my experience of creating an entire picture book having both written and illustrated a text which is a story in and of itself.
Writers say that they have to sacrifice words to make room for the illustrator's contribution - excruciating for the writer...
From an illustrators perspective, my strength is an ability to generate endless bubbles of imagery… - very distracting when the writer in me is trying to stick to the point. Getting both functions to sit down and cooperate has taught me a great deal."
My workshops and presentations can be tailored , and I specialize in a practical and hands on approach. I prefer to adjust my presentations to suit age groups and requirements for each booking. For example:
For a younger age group
I bring my enthusiastic experimentation with all mediums , particularly watercolour and mixed media. I also work in the very traditional pen and ink style. These techniques are demonstrated with a view to participation by students.
For the middle age group
I have also been fortunate enough to learn printmaking from a master printmaker and offer demonstrations and workshops in etching.
Students can experience the fascinating process of printmaking while learning a little of the extraordinary history of the art form and how it relates to the printed word.
For the older age group
I bring to my presentations the experience of making the journey from illustrator to writer. This includes the process of working with editors, publishers, designers and other industry professionals.