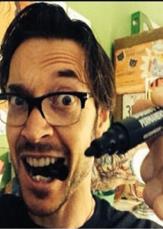 Speaker type
Author
Illustrator / Designer
Cartoonist
Born in the wilds of suburban Sydney in a time when men were hairy and wore long socks with unnaturally short shorts, Dave 'Cartoon Dave' Hackett is a cartoonist who can draw a nine-headed granny riding a flying disco-pig faster than anybody.
Dave is also a children's author, a television personality and a not-very-awesome ukulele player, who has been a fixture on too many Aussie TV shows to mention (Disney Channel, Toasted TV, It's Academic, CheeZ tv…).
He has taught his 'No-Rules' brand of cartooning for the past twenty-something years to over 250,000 children in schools, libraries and festivals across four continents (only Africa, South America and Antarctica to go…).
He is the author and illustrator of twenty-one picture books, cartooning books, and novels for all ages and has spent more time drawing bums than probably anyone else on the planet.
Dave divides his time between the Subtropics of Queensland and the south of France, with the nicest lady on the planet (to whom he is also married), and together they own two cats, one of which is called Fredrick FatPants.
The other is not.
NEW! Check Out Cartoon Dave's Daily Cartooning Videos at:
https://www.youtube.com/user/cartoondaveweekly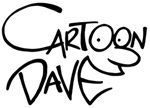 Testimonials
Dave was a delight and had the children in fits and giggles the whole time! They were inspired by his simple illustrating tips, and I have seen Hackett style drawing all around the school since his visit. He appealed to all ages, from prep right through to year 6. He was also flexible, relaxed and easy to deal with from an organisational point of view. I would highly recommend him to any primary school.

Moorooka State School - August 2019

Dave was a huge hit with our visiting Year 3 students. The students were completely and utterly enthralled and the staff were raving about him afterwards so much so that a visiting Principal booked him on the spot to visit their school this year.

St John Fisher College - August 2018

Dave's sessions in the workshop were great! The students really enjoyed the opportunity to learn new skills and to leave with some great sketches. Would gladly recommend him to others and book him again.

Glasshouse Christian College - Nov 2017

Dave was brilliant, the students loved him. They have an art show next week and some will be doing cartoons - they were so inspired by him. Would definitely recommend him to others and he more than met our expectations.

Kuraby State School - August, 2017

Dave went well beyond expectations. He was enthusiastic and energetic and connected with all students from Prep right through to Year 6, engaging them throughout the whole presentation.

The workshops were effective and useful for the Year 3 – 6 students. They learned many new things and have been utilising skills and techniques within the classroom already.

Dave Hackett - Cannon Hill Anglican College, September 2016