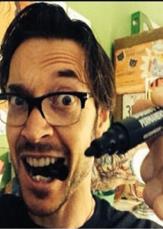 Speaker type
Author
Illustrator / Designer
Cartoonist
Born in the wilds of suburban Sydney in 1970, Dave 'Cartoon Dave' Hackett spent the bulk of his young life drawing ridiculous cartoons. He has since taught his brand of No-Rules Cartooning to over 125,000 kids in schools, libraries, and even taught people how to draw snot and spew at the Art Gallery of NSW.

He's been seen cartooning on a stack of different TV shows throughout the world (Toasted TV, it's Academic, Disney Channel, etc), and is the author of six how-to cartooning books, plus the hilarious novel series UFO - Unavoidable Family Outing.

His picture books to date include Norman Enormous (2009) and Hamilton's Handstand (2011). Sumo Granny Smackdown frightened children in 2011, and his latest offering is The Bum Book - a delightfully naughty book filled with piles of poopy poems and cheeky cartoons.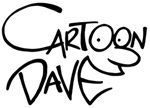 Testimonials
Dave was a delight and had the children in fits and giggles the whole time! They were inspired by his simple illustrating tips, and I have seen Hackett style drawing all around the school since his visit. He appealed to all ages, from prep right through to year 6. He was also flexible, relaxed and easy to deal with from an organisational point of view. I would highly recommend him to any primary school.

Moorooka State School - August 2019

Dave was a huge hit with our visiting Year 3 students. The students were completely and utterly enthralled and the staff were raving about him afterwards so much so that a visiting Principal booked him on the spot to visit their school this year.

St John Fisher College - August 2018

Dave's sessions in the workshop were great! The students really enjoyed the opportunity to learn new skills and to leave with some great sketches. Would gladly recommend him to others and book him again.

Glasshouse Christian College - Nov 2017

Dave was brilliant, the students loved him. They have an art show next week and some will be doing cartoons - they were so inspired by him. Would definitely recommend him to others and he more than met our expectations.

Kuraby State School - August, 2017

Dave went well beyond expectations. He was enthusiastic and energetic and connected with all students from Prep right through to Year 6, engaging them throughout the whole presentation.

The workshops were effective and useful for the Year 3 – 6 students. They learned many new things and have been utilising skills and techniques within the classroom already.

Dave Hackett - Cannon Hill Anglican College, September 2016