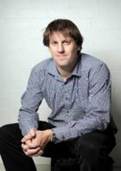 Dave is a Brisbane-based author of eleven acclaimed books aimed at children 7 - 11 years old
The Stinky and Jinks books, illustrated by Mark Chambers, follow the exciting adventures of a boy and his genius hamster. The first book, My Hamster is a Genius, was highly commended at the prestigious Sheffield Book Awards in the UK in 2013 (second only to Tom Gates) and the series (six books) has already been translated into six languages, and has sold over 100,000 copies worldwide.
Dave is also the author of two Squirrel Boy books, illustrated by Cate James, about a new kind of superhero, and his 73 year-old sidekick, Mrs Onions. The first book, Squirrel Boy vs The Bogeyman, won a Lancashire Fantastic Book award in 2016.
Winner of Teach Primary Book Award 2018 - UK
Dave's latest series, The Incredible Dadventure, already released in the UK, will be out in Australia from June 2017. The first book in the series has been included in the UK-wide Summer Reading Program, and the series follows the hilarious, death-defying adventures of Holly and her explorer dad.
Praise for Dave's 'Stinky and Jinks' books:
"With its use of plentiful humour, terrific characters, simple language and appealing illustrations, this series is perfect for emerging independent readers." Sunday Tasmanian.
"Full of humour and banter that will make you laugh out loud." Manchester Evening News, Children's Book of the Week.
My Hamster is a Genius - The Play
Dave has written a play based on My Hamster is a Genius which will open at the Brisbane Arts Theatre on 10 August - see link.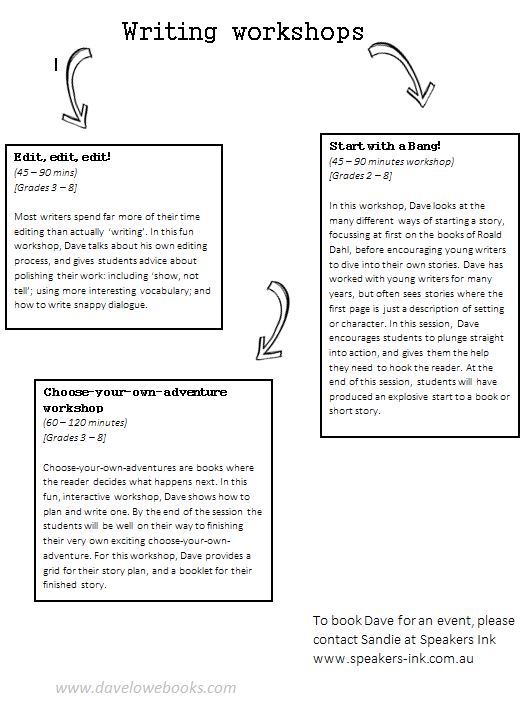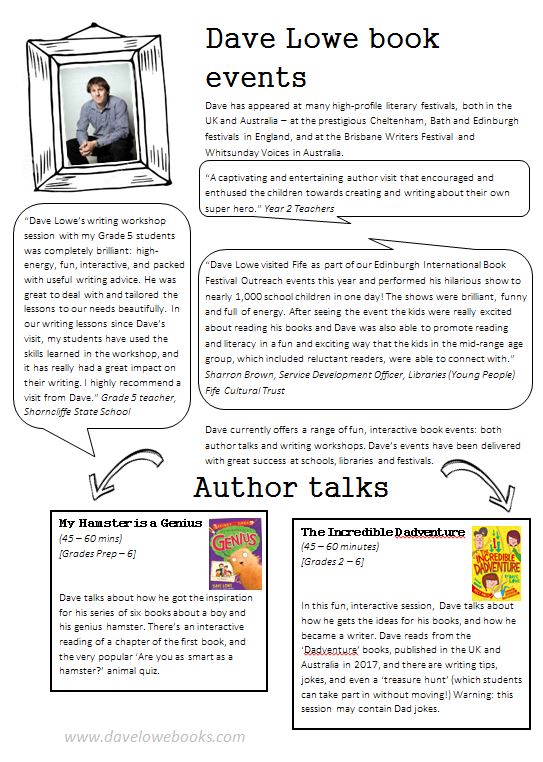 Testimonials
Dave was engaging and entertaining. He listened to our needs and interests and adapted his presentation accordingly. Our Year 4-6 boys were mesmerised by Dave and his humour. His writing tips were practical and age-appropriate. Teachers and students commented that they enjoyed his talk. He even donated a book to one of our students. Thanks Dave, for visiting us and we look forward to having you again soon!

Ambrose Treacy College - September, 2020

Popular children's author Dave Lowe visited Genesis Christian College in August. He successfully engaged our Upper Primary students by using humour as he challenged them to create interesting stories. Our students were very responsive and learnt inspiring writing tips such as 'tell, not show' when crafting descriptions of characters.

Genesis Christian College - August 2020

Dave's speech, peppered with lots of Dad jokes and humorous anecdotes, entertained all age groups at our annual Father&Son; Breakfast. Dave also gave 2 great writing tips to the Year 1-4 boys when he met with them back at the College - Edit, edit, edit; and ask What if? to fire your imagination. We found that Dave's ability to relate to any age and to make an impact on their writing made him an instant favourite with students and adults alike!
Thanks Dave for a great day!

Moreton Bay Boys' College - August 2019

Dave's presentation was engaging and differentiated to meet the skills of each group. We had some targeted intensive workshops that allowed our children to gain a deeper understanding of the writing process. Children were actively engaged throughout the whole session and couldn't wait to put the skills into practice. All our teachers took new information away with them to implement in their classrooms. Dave's presentation was engaging and fun.

Coombabah State School - August 2018

Dave was great at engaging the students. He had the hard task of having to work with a ranged of different age groups at the same time but he more than met the challenge. The students loved his performance.

St Joachim's Primary School - June 2018