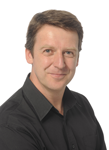 Speaker type
Author
Illustrator / Designer
David Legge has been a professional illustrator since 1986. He has produced over seventy book jackets, illustrations for packaging and advertising and is a regular illustrator for The School Magazine.
After emigrating to Australia from England in 1989 David developed a love of children's picture books which is now his favorite field of illustration. Bamboozled, the first book that he both wrote and illustrated, won the Honour Book in the 1995 Children's Book Council of Australia Book of the Year Awards and collected six children's choice awards in both Australia and the USA. Other titles include Baby Boomsticks, written by Margaret Wild (shortlisted picture book in the 2004 CBCA Book of the Year Awards), Kisses for Daddy, written by Frances Watts (Honour Book in the Early Childhood category of the 2006 CBCA Book of the Year Awards), Parsley Rabbit's Book About Books, written by Frances Watts (Eve Pownall Award for Information Books in the 2008 CBCA Book of the year Awards and Captain Crabclaw's Crew, written by Francis Watts (a 2010 CBCA Notable Book).
David strives to instill warmth and humour into his picture books which he reflects, are the two things that fill his own childhood memories. Since 1994 he has visited schools, libraries and literary festivals all over Australia. With a background of teaching illustration and design as a TAFE tutor, and a regular speaker at the Art Gallery of NSW, he feels confident to talk to any age group from Kindergarten to adult. His sessions hope to take away the mystery of illustration, include lots of preparatory work, finished illustrations and hands on drawing.
'Most importantly, I try to make my sessions entertaining', he says, ' I think humour is a great teaching aid and I get my biggest reward from hearing children laugh'.
Testimonials
It was such a pleasure to have you here and the feedback from students was extremely positive. They really enjoyed your workshops, not just learning how to draw but meeting you as well. You have such a good rapport with children. Thank you again.

David Legge - Trinity Bay State High School, July, 2014.

We loved our visit from David. He was very well received by students and teachers. He was most personable and easy to work with. The feedback from teachers and parents is that children were very inspired. We couldn't have been happier with the experience except to say we wish we'd had longer with him as he had so much to offer.

David Legge - All Saints Primary School, August, 2014.

We REALLY loved having David Legge here on Monday. What a treat for all the kids! I would highly recommend David Legge to anyone and everyone. He was fabulous with the kids and they loved him. He exceeded all expectation.

David Legge - Christ the King Primary School, August, 2014.

Thank you so very much for your time today. I've already received over 20 emails from parents and students expressing their thanks and appreciation.
The students and staff really loved meeting you, getting to know more about the book writing and illustrating processes and seeing some of your magnificent pieces of art. They are already asking if we can have you back next week!!
Again, thank you so very much for all that you brought today. It was truly a memorable experience, one which we will always cherish!

David Legge - MET School, Oatlands Campus, Sydney, June, 2014.

Thanks for a truly fabulous CCLC in 2012.
We were so thrilled with the response to your sessions and so grateful for all the energy and passion you devoted to each of the workshops you conducted.

David Legge - Curtis Coast Literary Carnival, Gladstone, July, 2012