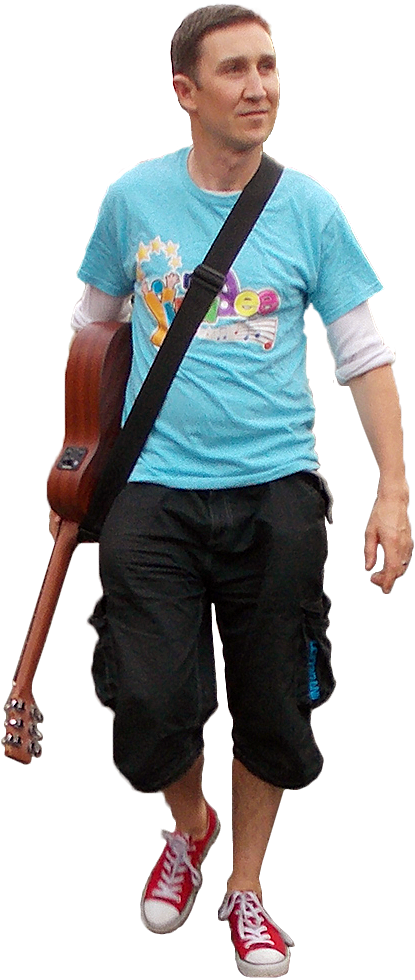 Speaker type
Author
Storyteller / Performer
Deano Yipadee (Mr Yipadee) rocketed onto the Australian scene with the release of his debut book JBRS. It quickly sold out of two print runs before Christmas and shot straight to the Number One spot on the Best Sellers Childrens Book Charts in NZ. It was the 5th best selling children's book in 2016 for the entire year, even though it was out for only the last three months! The hit song accompanying the book originated from his Christmas album that climbed to Number One in the UK album charts in 2015, beating out Disney's Now That's What I Call Disney and Cbeebies The Album.
Deano brings years of professional experience with him. He's worked with writers from Bob The Builder, Thomas The Tank Engine, headlined the famous 'Kidz Field' at the Glastonbury Music Festival in the UK, and worked with international TV stars. Having spent the last few years touring with some of the presenters from CBeebies TV Channel, Mr Yipadee topped the best sellers charts in the UK on numerous occasions and also worked alongside some of the biggest names in the industry. He recently completed a second tour with Best Selling Children's Author and Wonky Donkey creator Craig Smith. During his 'Happy I'm Me' Tour, Deano performed in front of more than 60,000 children in schools and festivals across Aussie and New Zealand. With performances on prime time for both TV1 and TV3, Deano's second book, Nee Naw The Little Fire Engine, landed at the top of the best sellers list since its launch in the first week of February 2017. His third book Stink-o-saurus is due out in October, 2017.
A compelling, energetic, world class performer, Deano presents his highly interactive shows and presentations at festivals, libraries, schools, early learning centres, day care facilities, special schools, business groups, public events and literary festivals including Voices on the Coast. His mission and purpose is inspiring children to Laugh, Love, and Believe in themselves and he does this through fun music, hilarious best selling books, chart topping apps, and high energy performances and workshops.
Deano currently resides on the sunny Sunshine Coast with his two little girls and wife.
SHOW
Deano offers a unique opportunity to engage and captivate the full school aged from preschool up until age 10, in a high energy hilarious live stage show. His performances include interactive props and instruments for some of the kids to join the performance. There is singing, dancing, musical comedy and of course a chance for the children to laugh, read, and sing along to Deano's best selling books and songs. Nee Naw The Little Fire Engine (Scholastic) tells the tale of acceptance and love for yourself—inspiring kids to be happy 'just the way they are.' The show is suitable for full school performances or can be broken down into classes or year groups.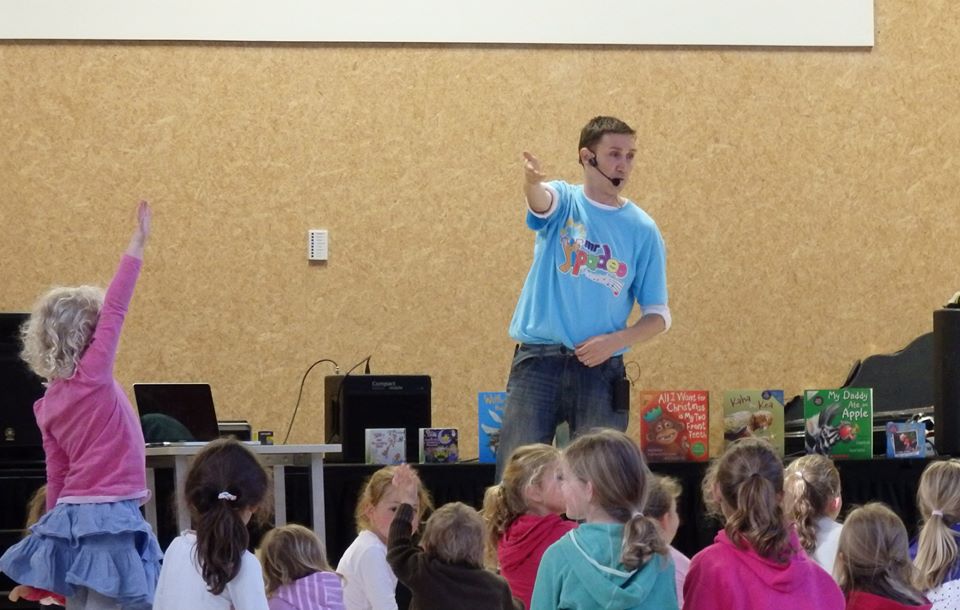 CREATIVE WRITING WORKSHOP
Deano also offers a fun creative writing workshop where, working together with groups of approximately 25 children, they produce a fun story in just 30 minutes. Using the suggestions of the kids, they create a rough draft of a story and also (in a surprise twist) show the kids how they have also written a song! It's very fast-paced, very silly, and highly engaging and entertaining for the kids. The workshops prove fully interactive, and the story is created by their suggestions. We cover many of the fundamental elements of creative writing and turning it into a published book including:
The 'purpose' behind a story
Finding inspiration
Creative mindset
Getting started
Rough draft
On-going development/expansion
Testing your work/asking for help
Editorial
Putting words to music.
This can also be linked to your existing creative writing curriculum requirements should you have special requirements.

Learn with laughter as best-selling Scholastic author Deano Yipadee captivates all of your classes simultaneously during his compelling and groundbreaking Live Digi-Show. Children sing, bounce and laugh along with his collection of chart-topping books while guiding the direction of the show via live interactive chat. But which class will convince Deano that their class is, in-fact, 'the most awesome class in the whole school??'
The show hilariously demonstrates several fundamentals of Creative Writing, including chat around where ideas and inspiration come from. The show also encourages kids to realise that anyone who has an idea can turn it into a book! Exploring both making and learning from mistakes, Deano highlights the process of creativity used by the illustrator, including storyboarding.
With over 70 Live Virtual Shows performed in the past few months, here's a taste of what schools rave about:
Digi Show Testimonials:
"Just pure fun, totally engaged children and loved the banter between Deano and their class teachers. His style means great interaction with children - singing, movement, loud noises, silliness and all those things kids love." - St Francis Catholic School
"A wonderful way to expose our children to authors...highly recommend!! Thank you!"
- St Mary's Catholic School Tauranga
"The children loved hearing Deano calling out their names and the names of their friends and teachers, and having their ideas responded to...on the TV! So personalised and interactive! Deano's rhythm, rhyme, music and humour made for a brilliant show" - Remarkables Primary School
"Our students were so excited to have a new on-line experience with the author and to hear the names of our teachers and their schoolmates used throughout the presentation. They loved the humour of the stories and the songs." - Rata Street School
"Deano Yipadee was absolutely fantastic! Everyone had the best time and we all had smiles on our faces. He made us laugh and have a good boogie. We can't wait to have him back again!" - Halswell School
"Hilarious show! Gave us all a lift. The kids were really engaged. It was a great idea to move this experience online and to make it [as] interactive." - Abbotsford School
"It was amazing! The kids and teachers were buzzing and were so engaged!" - Rāwhiti School
"The show was fantastic. It was like Mr Yipadee was in our school. Being involved in a show via Youtube was a first for us, but was so personal." - Port Chalmers School
"Even our year 7&8 students really enjoyed the performance!" - Waikaka School
"Fully engaged students of all ages. Incredible!" - St Anne's School Woolston
"This was a fantastic virtual visit and we would definitely be keen to do it again." - Paroa School
"Thank you for the great show. The children loved it. It was different and exciting to have the online show."
- Ohaeawai School
"The students and teachers loved hearing their names! We never would have thought of having a virtual visit at our school, being so central, but it was a huge success and actually brought a nice dimension to the interaction." - Sylvia Park School
"It was very well done. We would love to have such a rich experience again." - Mokoia School
"Hearing the whole school involved, the buzz echoed around the school [as we were] all watching the virtual visit at same time. Children loved hearing teachers names, and the interactiveness of adding the chat as response at the time was awesome." - Awapuni School
"We loved how Deano interacted with the children via the chat function.
The teachers loved how he explained that it was alright to make mistakes and that he and his illustrator do that all the time, the key is to keep trying." - Mellons Bay School
"Just loved it! It was fun, it was interactive, and fast moving. The kids had an absolute ball watching the session and joining in with all the dancing and singing." - Greymouth Main School
"High energy and a really fun show with great messages around reading and writing."
- Panama Road School
"It was all fab...so professional and perfectly pitched. The kids loved it…" - Southwell School
"So engaging for all ages!" - Hedgehope School
"All children and adults were thoroughly entertained. It was heart-warming to see our year 5/6 pupils so engaged with a picture book and the entertainment it can provide." - Linwood Avenue School
"The students and staff all absolutely loved Dean's show. It was fantastic how he integrates the teachers online comments in to the show." - St Joseph's School
Testimonials
Very engaging and entertaining. Children loved him!

John Paul College - September 2021

Fantastic show, very engaging considering it is virtual. I sent him the names of the teachers – they were very surprised when they heard him comment. We were also able to tell him what different students were doing through the chat window. The students loved hearing their names and could not work out how he could see them! It was very easy to connect – just clicked on the link he sent and we were on.

Islamic College of Brisbane - September 2020

Deano Yipadee provided a thoroughly energetic, engaging and entertaining performance. Students enjoyed the combination of music with story telling and joined in readily. Teachers were impressed with student engagement for all the prep to year 6 classes.

Caloundra State School - August 2018

Dean performed to our Preps, Year 1 and Year 2 students. His love of performing and his exuberance were very obvious. He related so well to the students and they loved him. His level of energy was infectious. A thoroughly enjoyable and entertaining visit.

St Edward's Catholic Primary School - August 2018

The speaker was very engaging, very age appropriate for the children, involving them in the session. Dean provided a combination of formats, from singing, having the book on the screen. It was a very enjoyable experience for all the children and staff. The feedback from the teachers was that the children loved it.

St John's Anglican College - June 2018