Dimity Powell is an award-winning children's author and Kids' Lit reviewer who has been around the world a couple of times, or maybe more.
Her words appear in school magazines, anthologies for children, online, as immersive digital narrative, in junior novels, in picture books and as creative content for children's apps, one of which, Circus School features in Virgin Australia's inflight kids' entertainment program.
Her choose-your-own-adventure styled digital narrative for the Story City app. The Chapel of Unlove was Shortlisted in the Western Australian Premier's Book Awards 2016. Her short story, Concrete Boots won First Prize in the 2016 Charlotte Duncan Award. You can view more of her notable achievements here.
Dimity's debut junior novel PS Who Stole Santa's Mail? unashamedly celebrates the magic of Christmas. Her poignant picture book, The Fix-It Man graced bookshops across the planet in 2017. Comprehensive teachers' notes for The Fix-It Man can be found, here.
Dimity's second picture book At The End of Holyrood Lane has been announced the winner of The Society of Children's Book Writers and Illustrators Members Choice Award for 2019!
At The End of Holyrood Lane is a poignant yet uplifting picture book that deals with domestic violence in a way that provides understanding and offers hope to young children. Visually arresting and emotionally incisive, this beautifully crafted picture book provides a sensitive glimpse into one aspect of domestic violence and how it can affect young lives without the use of overt explicitness or didactic overtones.
Pippa (2019) is a fun, uplifting picture book that has won the hearts of school children everywhere. This plucky little pigeon has even appeared (with Dimity) on national TV as part of the 2020 learning@home initiative.
Oswald Messweather (March 2021) is Dimity's forth picture and is about a young boy's struggle in acknowledging details, letting go and moving on from the abyss of OCD, illustrated by Siobhan McVey. Continuing her winning partnership with Nicky Johnston and EK Books.
Dimity released her latest picture in 2022. This Is My Dad is a tender story about Leo, whose normal love of show and tell turns to dread when he is asked to talk about his father, who he has never known. Leo's solution is ingenious and proves that families come in many shapes and sizes.
Pippa and the Troublesome Twins - illustrated by Andrew Plant, is due for release in June 2023. Pippa loves her new twin baby brothers, Pepi and Penn. But their constant mess and cries for attention are driving her batty! She yearns to take off on her own but she has to babysit instead. For more details, see Pippa and the Troublesome Twins in the Links section.
Dimity believes kids and great stories are life-essentials, like ice-cream. She fills her spare time reviewing the ones she loves (stories that is, not ice-cream flavours) at DIM'S re VIEWS and Kids Book Review for whom she is the Managing Editor. She is also a Books in Homes Role Model, an accredited Write Like an Author facilitator and online presenter for G.A.T.E.WAYS Education.
Dimity lives on the Gold Coast where dreams sparkle. Discover more at Dimity's Website
NEW ONLINE INITIATIVES:
See Dimity's YouTube Channel which includes Free Stories
Dimity is also willing and able to conduct online meet and greet hook-ups, one on one discussions, Q & A sessions, story readings or group presentations and workshops.
Her virtual presentation Having Fun and Being Brave is now available on Powerpoint (see run sheet in Links)
Dimity features with a book reading of, Pippa in Episode 2 of the Qld Department of Education's Reading at Home TV Show - below.
Read about the experience at:
Dimity is an experienced and enthusiastic presenter who would be thrilled to visit your school, library, bookshop, or any literary event celebrating reading and writing. Encouraging little kids and big kids to challenge their imaginations and unleash the writer within whilst illustrating the significance of the art of story lies at the heart of all of Dimity's presentations.
Her experience in creating children's content for a variety of multi-media story telling platforms (and its relationship to core curricula) ensures that she can adapt and tailor workshops and presentations to suit tech savvy Gen Z youngsters and adults keen to flex their writing muscle, alike.
Dimity is adept at:
Writing Workshops for Adults & Children
Presenting at Literary Festivals (Australia and overseas)
Book Week appearances
Authors in School presentations
Book shop story time sessions and signings
Presentations and seminars for professional foundations and organisations: Probus, Rotary, Writers' Groups
Workshops and Talks can cover:
For adults
All aspects of writing for children, including flash fiction, short story, and choose-your-own-adventure style genres
Getting kids to read and write – keeping them hooked
The benefits of picture books – a look between the lines and behind the pictures
The art of story - How to build, promote and sell your work – How to birth a book
The keys to creating successful picture books
Cross platform multi-media content– Exploring Digital narratives and how to write them
Pathways to publication – revealing truths and myths – Getting real with dreams
Biblio therapy - its place in children's literature and the benefits of diversity
For Kids: (5 – 13 years)
Tools, Tips, and Tricks of the trade – covering the nuts and bolts components of good story telling with Interactive kids' writing workshops
Metamorphosis – transforming ideas into stories, connecting characters with readers, discovering dialogue, and creating worlds
Pathways to publication – revealing truths and myths – Getting real with dreams
Be your own hero! - Cross platform multi-media content – Exploring Digital narratives and how to write them
The birth of a picture book – using her own as examples – a behind the scenes look
The benefits of picture books (upper primary and older teens)
For a full list of the author engagements that Dimity can offer please click on the
Dimity's Presentations tab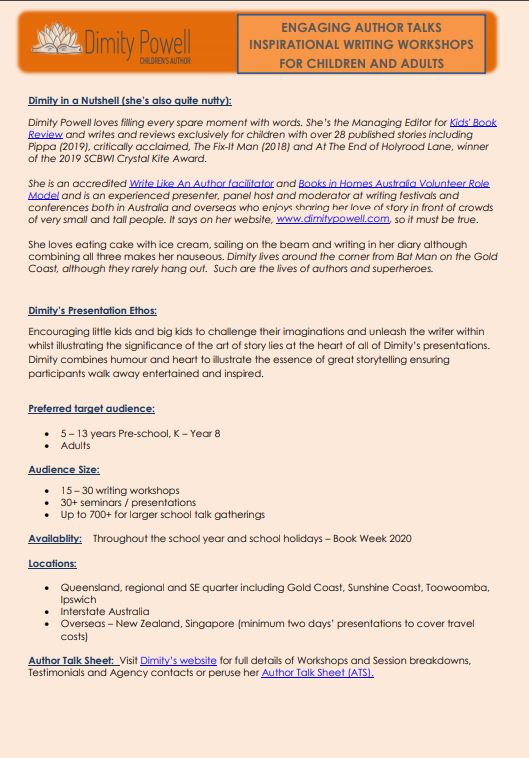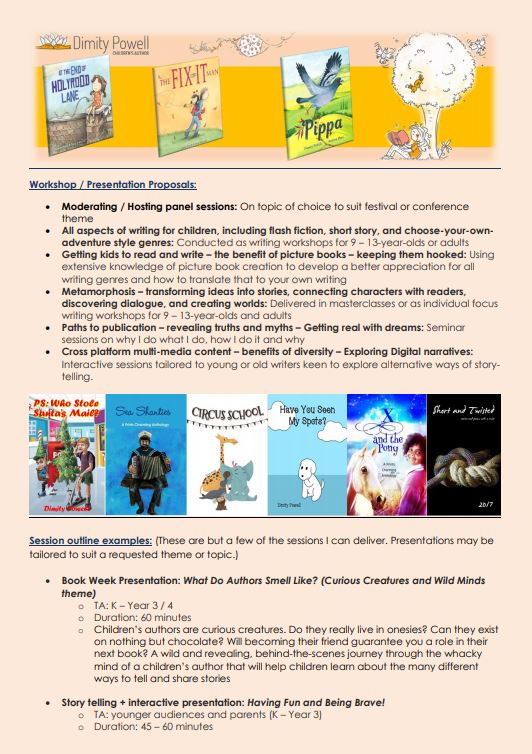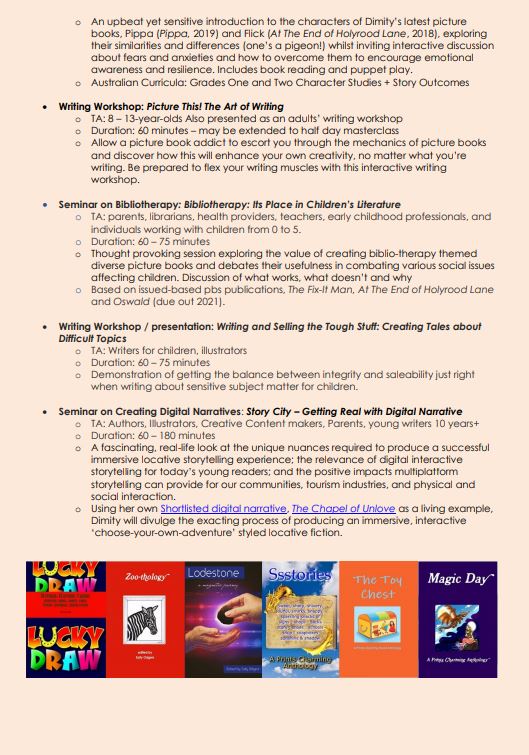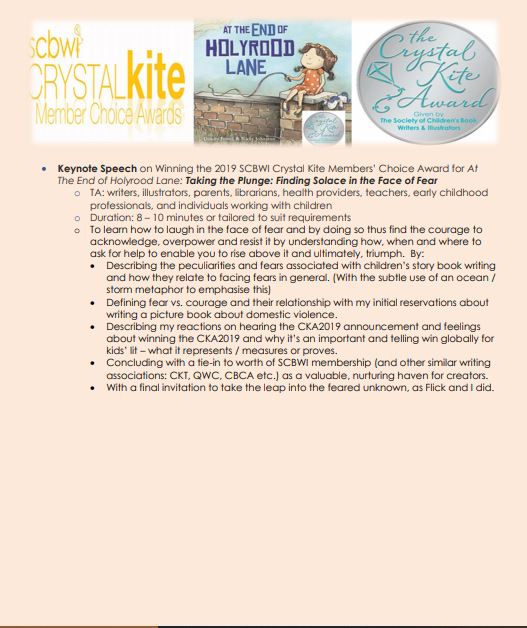 Testimonials
Dimity did a great job off the cusp with filling in at the last minute. Next time we would probably have her writing workshop talk about mythical creatures and dragons to tie in with Marc's drawing of the dragons from Deltora Quest. This way the writing group that went first would have a link to use when they went to the drawing workshop.

Everton Park State School - August, 2023

Dimity was very engaging and enthusiastic in her presentation to the students. I heard positive feedback from teachers that they had gone back to their classrooms and worked on activities which were based on what she had spoken about. That is the highest compliment in my view.

Warrigal Road School - August 2020

Dimity was very entertaining, lots of valuable information. I would love to attend more of Dimity's workshops

Creative Writing (Adult) Workshop - November 2017

Some of our littlest learners enjoyed listening to a real-life author talking about how she writes books. Our Year 1 students learnt about what it means to be a author, where she gets her ideas from, her real life experiences and how these relate to her stories and many other things. They also asked some very good questions

John Paul College - August 2017

The Meanjin writers' camp hosted Dimity Powell recently. Dimity was fabulous and positive feedback was received. The students were very happy.

Griffith University Meanjin Writers' Camp - April, 2017