Speaker type
Author
Illustrator / Designer
Non-fiction
Emma Damon lives with her family (including Wilbur the cocker spaniel) in the Bayside of Melbourne, Australia. After gaining a First class B.A (Hons) and an M.A in Illustration in the U.K, she worked in a curatorial capacity in museums and galleries including: the Museum of Modern Art in San Francisco and the Victoria & Albert Museum in London. Using mixed media: pen and ink watercolour and cut paper, Emma has created several best-selling children's books published internationally by Walker Books, Penguin Books USA and Harper Collins to name but a few.
Her children's books are written in many languages and include The Sherlock Hound series for younger readers, as well as The Frog Princess, in addition to the bestselling All Kinds of... series. Many of Emma's books have a multi-cultural theme which translate well to arts-based projects in schools and libraries and festivals.
Her most recent book is The Wonderful World of Clothes, published in Australia, Walker Books in 2019, exploring the wide variety of clothing around the world.
A trained teacher with current VIT card and WWC clearance, having taught art for over twenty years, Emma is confident working with children from Prep to VCE level and beyond. She enjoys undertaking arts-based workshops with both children and adults using a range of art materials including collage, paint, fabrics and digital media. Over the past few years Emma has taken part in the Big Draw in London.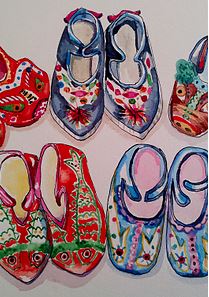 Every level of learner catered for, from complete beginners to students/adults wishing to develop artwork for portfolios
PICTURE BOOK BLAST OFF! - Illustration for Picture Books
• Come and learn how to develop characters and plan the sequence of a children's picture book
• Explore how images and words interact: Create initial drawings, develop characters, make a storyboard and create a short dummy book
• Plus Artwork demonstration – View Emma drawing and painting a picture book image
• Students take home their own character development drawings and dummy book.
Age Group: Year 5+ to Adult
Duration: ½ day or all day session depending on requirements
ART & CLOTHING WORKSHOP
• Explore Emma's book 'The Wonderful World of Clothes' (Walker Books, 2019).
• Working on shop mannequins (mannequins provided by Emma) learn how to make a paper-mache corset and decorate the corset using paint beads and fabrics
• Style and photograph the mannequin
• Book available to buy and get signed at the end of the session and one book donated free to the venue's library
Age Group: Year 5+ to Adult
Duration: ½ day to a 2-day session depending on requirements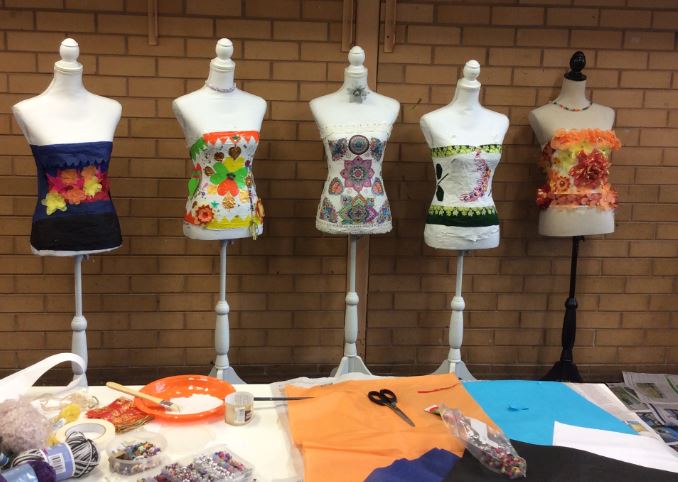 FASHION DRAWING AND MANNEQUIN STYLING WORKSHOP
• Ever wondered what it's like to be a fashion artist or stylist?
• Developing a workshop from Emma's extensive experience of teaching fashion and art, this workshop involves styling a mannequin (mannequins provided by Emma).
• Then we will draw from the mannequins and explore various art materials and techniques
• Students will leave with photographs and drawings of their styled mannequins.
• Great for portfolio development too.
Age Group: Year 5+ to Adult
Duration: ½ day to a 2-day session depending on requirements