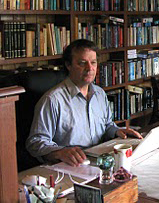 Grim and Grimmer 1: The Headless Highwayman

Grim and Grimmer 4: The Calamitous Queen

Legends of Australian Fantasy
Ian Irvine is a marine scientist who has developed some of Australia's national guidelines for the protection of the oceanic environment, and still works in this field. He has written 27 novels to date, including the international bestselling 11-book fantasy sequence, The Three Worlds, an eco-thriller trilogy about catastrophic climate change, and 12 books for children and young adults.
Ian lives with his family in the mountains of northern NSW. He is completing Vengeance, the first book in his new fantasy trilogy, The Tainted Realm, and working on the final book in his Grim and Grimmer series for children, The Calamitous Queen.