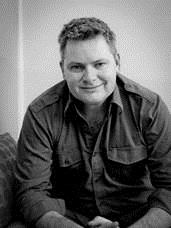 James Roy is the award-winning author of twenty incredibly successful books for children and young adults. James has always had a strong desire to write for teens believing that while young adult readers can be tough critics, they respond very positively to sincerity, authenticity, and quality stories featuring strong, well-constructed characters.
Testimonials
James Roy is a fabulous story teller. He had our year 7 & 8's enthralled. Staff and students enjoyed the day and we would welcome James back any time.

St Stephens Catholic College - March 2020

I was very happy with Deborah Abela and James Roy's presentations. They related well to all the students from the young grade sixers through to the senior year twelves. Students found them humorous and very engaging. I would definitely recommend them to any school.

James Roy - Trinity Bay State High School, August, 2016

James's visit was very well received by the students, and he brought new and real perspectives to the English group of teachers as well.

James Roy - John Paul College, August, 2014.

Both authors were great for their target age groups (James Roy and Phil Kettle). Very easy to deal with – no difficult request and amiable to students and staff.
Would certainly recommend them.
Here are some of the student's comments:
"The author visit was the best I've seen yet. The author was funny….and also taught us a lot of stuff". (Chris 7C)
"James Roy made the whole of Year Seven laugh so hard. At the end I even got to speak to him. I think it was a good experience not only for me but for the rest of Year Seven too". (Caitlin 7A)

James Roy - Calvary Christian College, August 2013

James' visit met expectations and beyond. Everything James had to share was greatly received by staff and students. I would definitely recommend him.

James Roy - Rainworth State School August, 2013.