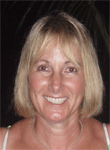 Jeni Mawter, sometimes known as J.A. Mawter to disguise her true identity, is the popular author of the So! series. So Gross!, So Feral!, So Sick!, So Festy!, So Grotty! and So Stinky!, These books are full of cheeky stories that are particularly aimed at reluctant boy readers, but have proven to have a very wide general appeal. Also published is the exciting new adventure/mystery Freewheelers series about a group of bike-riding city kids Unleashed!, Launched! and Extreme! (HarperCollins).
Unleashed! shortlisted for WAYRBA AWARD 2009 for Older Readers.
Also published are 3 texts for Macmillan Education: Critical Thinking, Humour and Text: Ages 5 -- 8; Critical Thinking, Humour and Text: Ages 8 -- 10 and Critical Thinking, Humour and Text: Ages 10+
Other trade fiction titles include a picture book There's a Sun Fairy in Our Garden and a tween novel Team Dream: 'An inspiring story of overcoming barriers and reaching for your dreams …' Nick Farr-Jones, former Wallabies' Captain.
Other published works include junior readers: Maisie's Race; Go the Mobile!; The Most Unusual Pet and Turkey Pox as well as a YA verse narrative Slow Swimming and a prose narrative, The Kiss, in the anthology Alive and Kicking and the verse narrative, Pear Legs, Hello! in Alive and Winking. Non-fiction books for teacher-resource material include Special Days; Natural Disasters; Feelings; Families and Homes; Food; The Snowy Mountain Scheme; The Changing face of Xmas in Australia and The Human Body.
Jeni has also written some children's education Apps for Flying Books Publishers and for the second year running Jeni is a judge for the NSW Premier's Literary Award for the Ethel Turner Prize for Young Adult Literature. She is also currently teaching Writing for Young Adults for the Master's program at Macquarie University, Sydney.
Jeni was originally a speech pathologist, but decided a few years ago that she would much rather be an author. She completed a Masters' Degree in Children's Literature at Macquarie University, and has a Diploma in Book Editing and Publishing from Macleay College, and now is a full-time writer and teacher. Jeni has a special interest in the discovery of interesting and unusual words, and researching all sorts of unusual information that provides the background to her stories. She is eager to share her love of words and her love of writing with school groups and to share the funny experiences that have inspired her stories.
Testimonials
Mawter's stories have the uncouth humour reminiscent of Roald Dahl and Paul Jennings and therefore children will find them absolutely delightful.

Jeni Mawter - Reviewed in Good Reading Magazine, May 2005

Thank you for single-handedly bringing my 10 year old son back to reading.

Jeni Mawter - Email from Jill