Speaker type
Storyteller / Performer
Educational consultant
Interstate
Jenni Cargill-Strong is regarded as one of Australia's foremost storytellers. She employs a wide repertoire of dramatic skills such as character voices, mime, vocal sound effects, audience participation and a beautiful singing voice to hold her audience.
Her large collection of award-winning albums grow more popular each year. With over twenty years professional experience performing in pre-schools, primary schools, high schools, university settings, festivals and libraries, Jenni's repertoire includes original tales and sung ballads as well as ancestral stories from around the globe. She combines dynamic, participative stories and songs with games to stimulate imagination.
As a part-time academic and trained secondary English teacher with classroom experience, Jenni can not only tailor a show for your school on almost any theme, but she can also design a workshop series or an in-service for your students on request. Jenni is experienced in online teaching and is also available for professional staff development training days.
Jenni's training includes a Bachelor of Arts in English Literature and Sociology from the University of Queensland, a Diploma of Education (Secondary English) from Southern Cross University, classical singing training, therapeutic storytelling training with Susan Perrow and Nancy Mellon and a Diploma from the Drama Action Centre in Sydney. At Drama Action Jenni studied clowning, improvisation, dance, singing, mask, mummers, percussion and workshop facilitation, specialising in storytelling.
Her extensive professional performance experience was gained in over twelve hundred schools in Australia and New Zealand, both solo and as member of the Musica Viva ensemble 'Pastance'. She has performed at corporate events, for ABC Radio National as well as ABC TV's '7.30 Report'. She has performed and presented workshops for the Jung Society Brisbane, the National Storytelling Conference, the Woodford Folk Festival since 1993, The Townsville May Month of Learning, Byron Bay Adult Community Education and The Byron Bay Writers Festival.
Jenni lives near Byron Bay in the vibrant Northern Rivers NSW town of Mullumbimby, with her family, their Collie Harry, four chickens, two rabbits, six guinea pigs and a resident tree frog. Watch Jenni tell in a school here.
Why storytelling?
'Sometimes a person needs a story more than food to stay alive. That is why we put these stories in each other's memory. This is how people care for themselves.' Barry Lopez
Since humans first learned to speak, we have told stories: to help us make sense of the world, to entertain, stories to reassure and to offer moral guidance. We have told them in words, in gestures, through song, dance and art.
Quality stories well told can nourish the soul while fostering imagination, emotional resilience, moral values and critical thinking. The level of concentration required to follow a story is very high, yet the magic of stories with a folktale structure is such that modern children can still sink deeply and effortlessly into them. Even very exciting stories can generate a feeling of relaxation, because they create such an intensity of focus or 'entrainment'.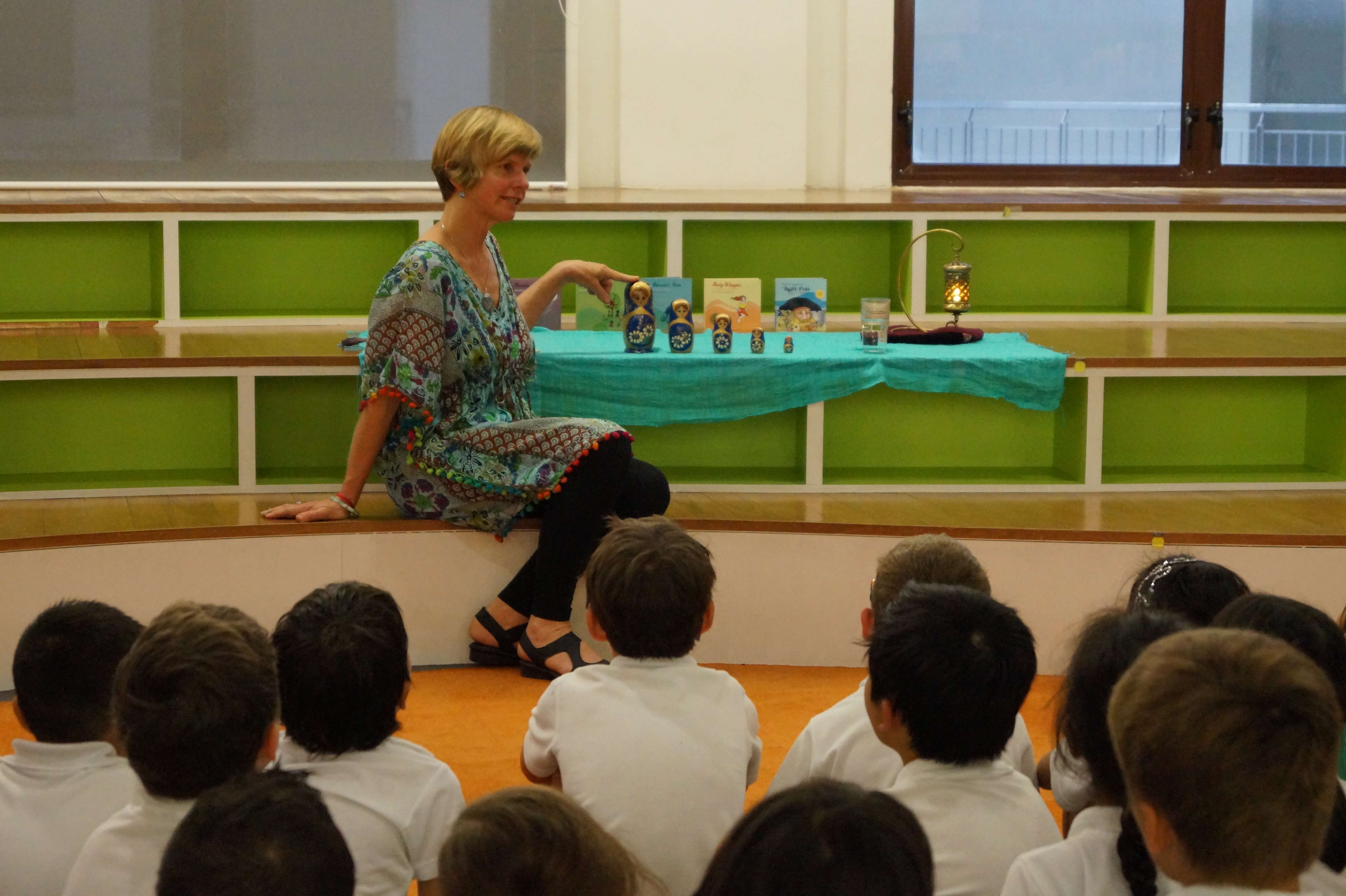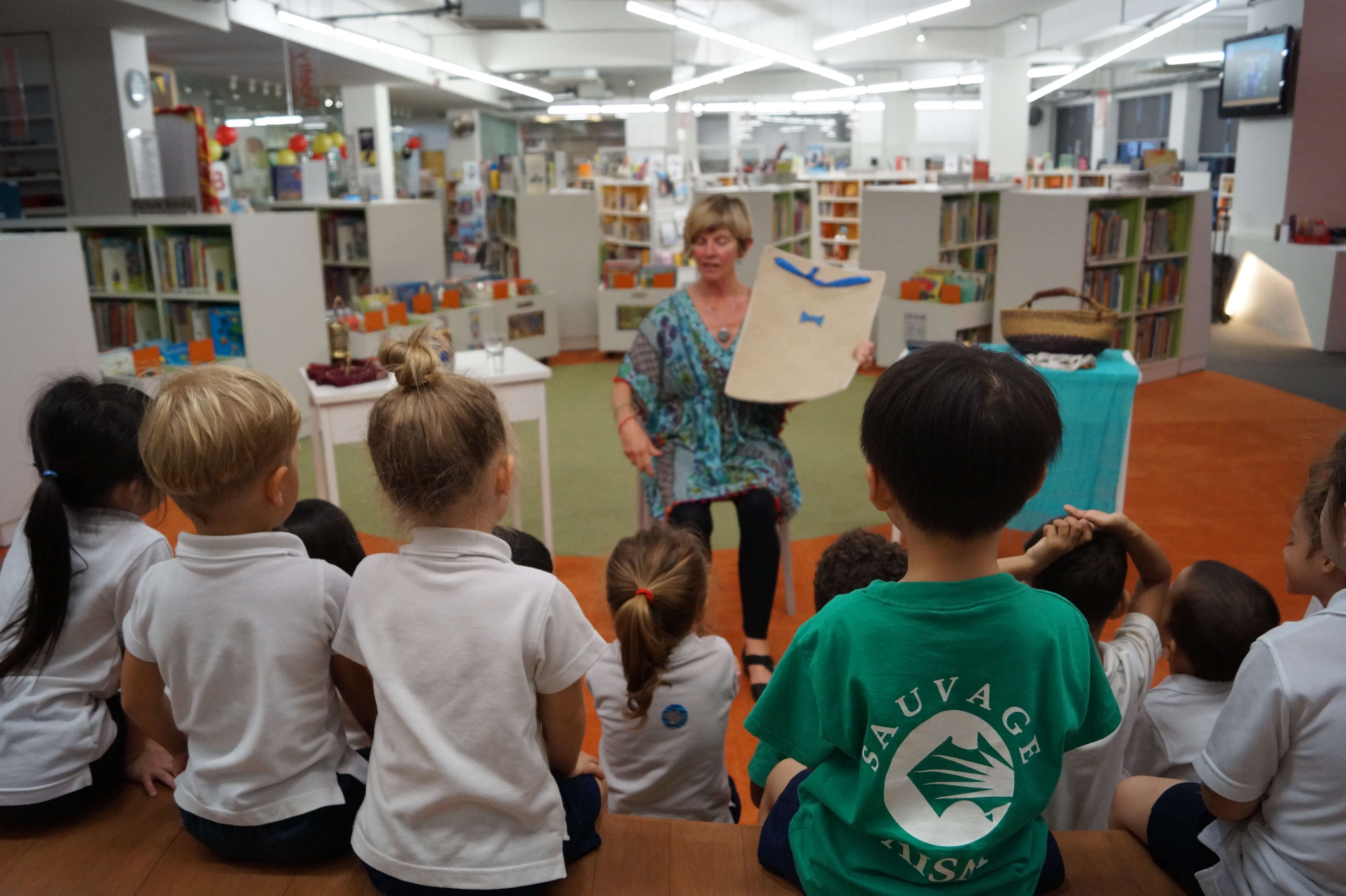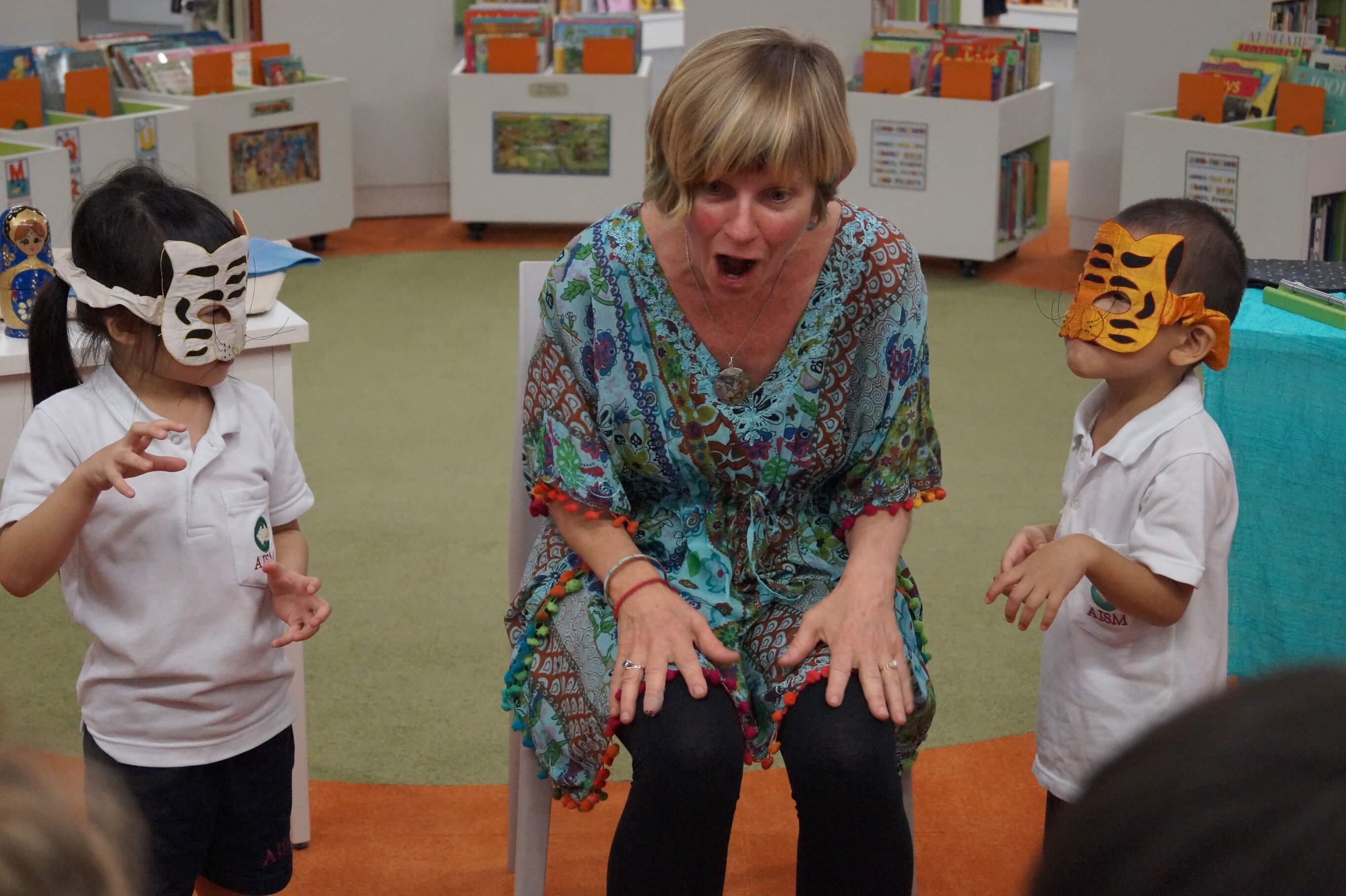 Teachers regularly comment to Jenni that students who can't usually sit still to listen, do become deeply absorbed in her stories. They are also sometimes surprised at how much they enjoy the stories themselves!
Australian Curriculum
Jenni's oral storytelling performance, featuring original and ancestral wisdom tales and fables from around the world covers the following aspects of the Australian curriculum.
General Capabilities

Cross Curriculum Priorities

English outcomes
HSIE outcomes

Literacy

Aboriginal and Torres Strait Islander histories and cultures

Understand that texts can take many forms, and that stories and informative texts have different purposes (ACELA1430)

Who we are, who came before us, and traditions and values that have shaped societies

Critical and creative thinking

Asia and Australia´s engagement with Asia

Understand that some language in written texts is unlike everyday spoken language (ACELA1431)

Students explore their own identity, Australia's heritage and cultural diversity, and Australia's identity as a nation in the world.

Personal and social capability

Sustainability

Understand the use of vocabulary in familiar contexts related to everyday experiences, personal interests and topics taught at school (ACELA1437)

How societies and economies operate and how they are changing over time.

Ethical understanding

Sound and letter knowledge

Recognise rhymes, syllables and sounds (phonemes) in spoken words (ACELA1439)

Students learn about Australian society and other societies in the world, both past and present; and how they function socially, culturally, economically, and politically.

Intercultural understanding

Use comprehension strategies to understand and discuss texts listened to, viewed or read independently (ACELY1650)

The ways people, places, ideas and events are perceived and connected.

Literature and context

Recognise that texts are created by authors who tell stories and share experiences that may be similar or different to students' own experiences(ACELT1575)

Students are provided with opportunities to explore different perceptions of people, places, ideas and events.

Interacting with others

Listen to and respond orally to texts and to the communication of others in informal and structured classroom situations (ACELY1646)

Use interaction skills including listening while others speak, using appropriate voice levels, articulation and body language, gestures and eye contact (ACELY1784)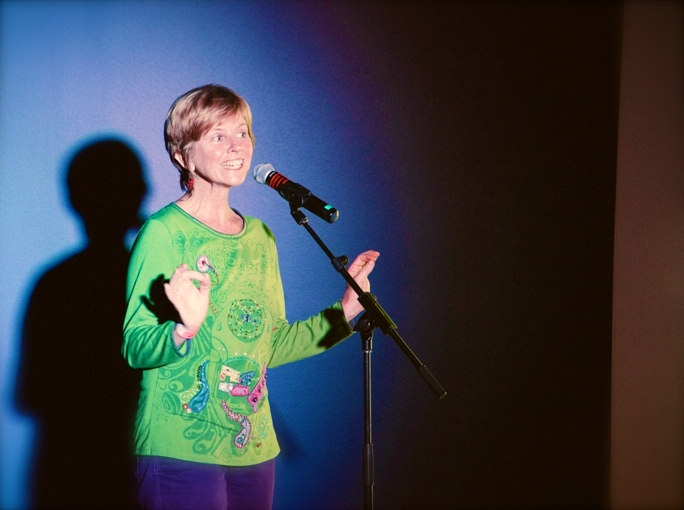 Workshops
Storytelling can be used in ways which address all the elements of the Quality Teaching Model. Jenni offers a range of workshops for students, teachers, librarians and parents which can be specifically tailored for your school.
Jenni's trainers at the Drama Action Centre used a very hands-on approach and Jenni teaches in a similar way, but has adapted the exercises for those without a background in drama. She uses simple, fun games, group work and pair work. Her aim is to make storytelling in it's many applications accessible and fun to the wider community. Her workshops are dynamic, highly interactive and incorporate many playful team building experiences.
Skills offered include:
creative writing
storytelling and dramatic skills
developing skills and confidence for public speaking
reweaving folk tales for a modern audience
crafting original tales
crafting environmental tales
tricks to learn your story
Group Size and Workshop length for students
Ideal group size is one class at a time
Workshop length can vary from 45 mins to 90 mins.

Group Size and Workshop length for teachers and parents
Max participants: 30
Workshop length 2 hours to a 6 hours
Platform Speaker + International Women's DAY
Classic Fairytales: food for the soul or sexist tripe?
Hear of the historic origins of the story of Little Red Riding Hood, Sleeping Beauty and Cinderella. How did the portrayal of female characters in folktales change with the advent of the printing press? What part did Walt Disney play in making fairytale heroines more passive? Is it possible to reclaim these tales or do we need to just start afresh?
The myth of the great Goddess Inanna
Jenni Cargill-Strong's dramatic, sexy and humourous rendition of the oldest written myth was edited and directed by Neal Cameron, Director of the Woodford Folk Festival Fire Event until 2002. Jenni brings to life the ancient myth cycles of the bold Sumerian Goddess of fertility, Inanna. Hear the story of her courtship by the virile young shepherd Dumuzi, her Descent to the Underworld and her victorious Return. Jenni has adapted the myth further for modern audiences, weaving in humourous references to the current social and political milieu.
'I loved Jenni Cargill's performance of Inanna's story. It was rich and funny and tragic and wonderfully vivid. In moments I felt as if I'd been magically drawn into the heart of an ancient rite, as if the goddess herself was speaking.'
The Original Red Riding Hood: 'Le Histoire du Grandmere'
In 1697, Charles Perrault published "La Petit Chaperone Rouge". It was retold in Germany as "Rotkäppchen" and in England became "Little Red Riding Hood". But long, long before Perrault, a far richer version was told in the French countryside. In 'Le Histoire du Grandmere' or 'The Grandmother's Tale', the heroine outsmarts the wolf and escapes unhurt with the help of three laundresses.
Jenni Cargill-Strong is an award-winning, professional storyteller, feminist and academic with a fascination for folktales and stories of the feminine. She has dusted off this earlier tale, breathed new life into it, and left the original sexy and grisly parts in. Come and listen, if you dare!
Testimonials
Jenni was great with the children - very interactive. She was also a wonderful person to host at our school. I received lots of positive feedback from staff & students.

Jenni Cargill-Strong - Australian International School Malaysia (AISM) - September, 2016

A very big thank you for organising a wonderful speaker, Jenni Cargill. Our students and teachers were enthralled. Her props and ability to keep her audience entertained was amazing. I would recommend Jenni to other schools.

Jenni Cargill-Strong - St. Ignatius School, August 2016

The visit from Jenni, met the expectation of giving the children the experience of a storyteller. The children were very engaged, and she was very good at encouraging audience participation. I was able to observe two of her sessions, and found that each session was adjusted to the group of children at the time. She used different stories with the two groups and even had two of the children act out the main characters of the story.
I think the sessions were very good, and could not suggest any improvements.

Jenni Cargill-Strong - St John's Anglican College - June, 2016

'Jenni came to the Waikiki Storytelling Conference here. I plugged her into the Summer Fun program, and I distinctly recall Manoa's new gym (huge space with horrible acoustics) where 200 sweaty elementary school kids fell under her spell, completely hushed, caught in the web of story on her voice. It repeated in several small and medium sized tellings in that conference, and again this past tour, when we stayed at her house, went on her 'walking tour', and to several gigs. She just charms them. And she tells wonderful tales.
Her style is eloquent, with a quiet beauty coloured by that Aussie Brit accent. Yes, voices and body movement, but it has a contained easy way of cozying unto the audience. She is friendly, contained within herself, and confident. Audiences know they are in good hands. It's my pleasure to introduce you to one of our favorite talents from Australia, JENNI CARGILL STRONG!'

Jenni Cargill-Strong - Talk Story Festival - 2015

Thank you so much for your time in honing my skills as a storyteller and hints at making storytelling at rest time much more fun for the 4-5 year olds I work with.
Thank you for sharing your vast and entertaining knowledge on story telling. I look forward to increasing my skills in storytelling through practice with eager participants, namely the children at the centre in which I work, and sharing the joy with the other staff at work.

Jenni Cargill-Strong - Teacher Sessions - North Queensland - 2015