Speaker type
Author
Storyteller / Performer
Educational consultant
Motivational
Award-winning author, and teacher Karen Tyrrell presents interactive pantomimes, inspirational talks and engaging writing workshops, empowering kids and adults to live STRONG through humour and self-belief. As a survivor of workplace bullying, Karen shares bully prevention, resilience, self-care and coping skills at teacher's conferences, conventions, schools, hospitals and corporate workplaces.
Karen has won an Arts Queensland grant for picture book Ready Set Discover Logan.
Her acclaimed books: Song Bird series Song Bird Superhero, The Battle of Bug World, Rainforest Rescue, Great Barrier Reef Rescue (2019) STOP the Bully, Bailey Beats the Blah, Harry Helps Grandpa Remember and Super Space Kids series share messages regarding bully prevention, resilience and caring for the environment. Karen has won 3 mental health awards, 4 literary grants, 3 book sponsorships and a mentorship through the Society of Editors (QLD).
Her husband Steve guest authored the Song Bird Series. Together, they perform interactive story telling in fun costumes, utilising props, music and humour to schools, kindies and libraries. She provides imaginative writing workshops for Meanjin Writing Camps, Brisbane City Libraries, Queensland Writers Centre and writing festivals.
Karen presents empowerment presentations to all ages from kindy to adults, tailor making her talks to specific needs. She has judged writing competitions, co-ordinated a writer's collective, organized a writer's festival and presented Book Marketing Masterclasses. She speaks on radio and TV about bullies, resilience, and eco issues.
Karen's book Rainforest Rescue was Highly Recommended by Reading Time - Children's Book Council of Australia on 14 December, 2018.
When Sir David Attenborough implored 'The Great Barrier Reef is in grave danger. It's time to step up'. Karen took his challenge to heart, writing Great Barrier Reef Rescue to educate and empower kids to care for the reef. See the congratulatory letter from Sir David Attenborough below and listen the to podcast of her interview on ABC Brisbane Radio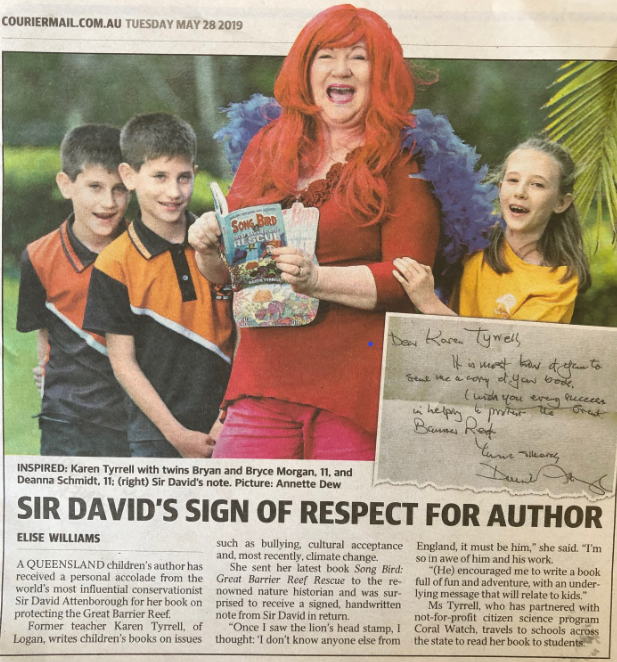 To view more examples from Karen's multifaceted career, follow the links to her Website and YouTube Channel
Workshops and Talks by Karen Tyrrell
Great Barrier Reef Eco Talk ( available from May, 2019)
Karen aka Song Bird Superhero and co-author Steve, aka Reef Man teach kids practical ways to defend the Great Barrier Reef. Their powerful interactive author talk includes a Power Point show, costumes, props, role play, and Q&A interactivity with participants. Karen & Steve present author talks, dramatic book readings, pantomimes, Adventure writing workshops and children's activities.
Karen's talk is centred around Great Barrier Reef Rescue - Song Bird, supported by Australian Marine Conservation Society who provide free resources for school visits. Karen penned the Song Bird series to empower kids to live sustainable lives and help protect the environment, the bees, the rainforests and the reef against climate change.
Bully Prevention Talk
Karen speaks from lived experience sharing strategies for bully prevention, highlighting coping skills. Her powerful interactive author talk includes PowerPoint, costumes, props, role play, and Q&A interactivity with participants.
Song Bird Series Author Talk
Karen dressed as Song Bird Superhero and Steve playing Destructo, Super Bee and Tree Man present an interactive fun author talk. They take the audience on an author journey through the Songbird series addressing themes of bully prevention, teamwork, resilience, caring for bees, rainforests and the writing process.
Superhero Writing Workshop
Karen dressed as Song Bird Superhero and Steve as Super Bee and Tree Man present an interactive writing workshop, boosting children's creativity and writing skills. Children learn how to write a superhero story with SUPER characters, SUPER villains and SUPER powers. Tailored to suit any age, writing ability and timeslot.
Well-Being, Self-Care, Coping skills and Resilience Talk
Karen shares her true story of recovering from bullying and mental health issues. She presents her interactive talk adressing self-care, resilience and bully prevention highlighting practical coping strategies to manage stress, anxiety and depression.
Bailey Beats the Blah Pantomime – Self-care & Friendship skills
Karen dressed as Bailey and Steve as fuzzy dog, bring to life picture book Bailey Beats the Blah as an interactive pantomime with fun costumes, props, songs, role play, Q&A and activities.
Harry Helps Grandpa Pantomime – Memory skills & Grandparents
Karen dressed as Harry and Steve as Grandpa, bring to life picture book Harry Helps Grandpa Remember as an interactive pantomime with fun costumes, props, music, role play, Q&A and activities. Children learn pro-active wellbeing coping strategies and the value of communication.
Teen /Adult Workshops
Create a Picture Book
Immerse into a specialist genre: themes, story arc structure, Rule of 3, book length, storyboarding, characterisation and voice.
Structure your Book
Hero's journey. How I structured my Song Bird series. Develop an engaging story to hook in the reader using story arc, character goals and conflict.
World Building
Create a unique fantasy world using a variety of structures, questions, brainstorming, maps and research.
Create a Hero Character
Create a memorable character with hero traits, flaws, quirks, goals and fears. Learn how to strengthen your character.
Write your First Chapter
Using visualizing and questioning techniques. Create setting, Point of View character, description, narrative and action.
Adult Workshops
Write a Memoir
How to create your life story on paper, hook in readers. Develop your memoir structure, plan your chapters and complete writing activities.
Book Marketing Masterclass
Learn how to publish, sell and distribute your book Includes author platform, social media, author income and a pro-active marketing plan.
Grant Writing Workshop
Maximize your chances of winning literary grants by using pro-active successful techniques to write professional applications for grants.
Testimonials
Karen linked her presentation with current school initiatives. She was enthusiastic about working with our students. She had costumes, props and a few giveaways.

Guardian Angels School - 2017

Karen is a dynamic visiting author. Children were inspired and engaged throughout her sessions which focused on developing their own creative writing.

Meanjin Writing Camps, USQ - 2018

The children were excited to be part of the interactive puppet show, whilst our secondary students made real life connections to the story. A fantastic, age appropriate experience

Logan City Special School - August 2018

Our students were engaged in the entertaining pantomime and drawn in by the author's character portrayals in the book readings

Norfolk Village State School - August 2018

Engaged, enthralled and enraptured with Karen and Steve who got dressed up as book characters. They captured their audience who asked a load of questions.

Brisbane Independent School - August 2018