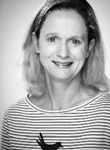 Kate Hunter has been writing since she was very small. She was originally keen on journalism, but her inclination to embellish the truth got in the way of a credible journalistic career.
After twenty years as a copywriter, Kate still writes ads but prefers writing novels. Her debut novel is Mosquito Advertising: The Parfizz Pitch, a middle-reader adventure about a modern neighbourhood gang - with all the charm of the Famous Five.
She lives in Brisbane with her family and enjoys writing at her desk overlooking the sausage tree in their back yard.
Testimonials
We were really pleased with Kate Hunter's presentations. She met the needs of our Year 8s and Year 11s very well.
The students enjoyed her presentations, and really appreciated her real world experience in advertising, journalism and media.
We would be very happy to engage Kate again next year.

Kate Hunter - Cannon Hill Anglican College, October, 2013.

Thank you for yesterday - it was a wonderfully fun and informative hour.

Kate was really great and seemed to have a real connection with the students.

Kate Hunter - Good Shepherd Catholic Community School, Townsville, May, 2011

Thanks for organizing the author talk yesterday. Our girls had a lovely time and left feeling quite inspired about writing.

I really appreciated the opportunity to attend.

Kate Hunter - St Patrick's College, Townsville, May, 2011