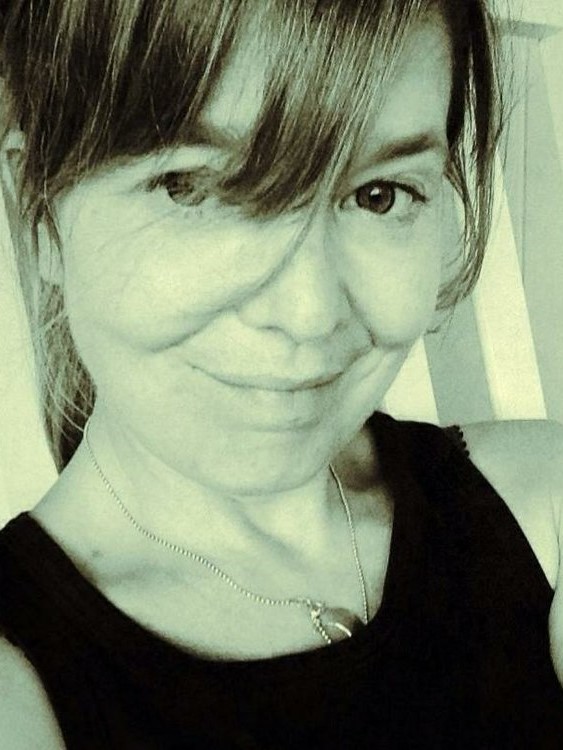 Speaker type
Author
Illustrator / Designer
Katrin is German born and raised but moved to Australia with her husband and three children. Now she lives in a wooden house on stilts next to a creek filled with snakes, strange sounding birds and poisonous toads and keeps hoping to spot a Koala one day.
She is self-taught and creates quirky illustrations that feature different media, texture and techniques that children are familiar with and speak to them. Katrin's first picture book "The World's Worst Pirate" has been awarded "Notable Book 2018" by the Children's Book Council of Australia, short-listed for the 2018 Speech Pathology Australia Award and the Society of Women Writers NSW Biennial Awards 2018 and she also delivered illustrations for a highly successful video animation production on YouTube.
July 2021 will see the release of her two new picture books A Perfect Pig (Scholastic) and If You Ever Meet A Skeleton (Page Street Kids). A Perfect Pig tells the story of Anton, a lovable new character who likes his life to be in perfect order - just like his perfect side-part. But what happens when his PERFECT party plans twist and tumble into a terrible tangle?! (see teachers notes in links).
Katrin also teaches art to children and bribes them with lollies to clean up afterwards. Additionally she conducts workshops for both adults and children. In her free time Katrin enjoys walking her big Golden Retriever Loki who loves to eat and watch Marvel movies just as much as her.
Illustrating Workshops for adults, beginners and emerging

Quirk it up!
Sometimes when we have established a certain illustrating style we can feel caught in a rut after a while. This workshop is aimed at aspiring but also any illustrators who would like to "quirk things up" a little. I will show how participants can add certain quirky elements to their work by demonstrating some of my own techniques and giving insight to my European background, group exercises and the final creation of their very own quirky character.

Participants will
- gain insight into my techniques and material
- learn ways to loosen their own style
- learn about European kidlit art- create a quirky character together in a group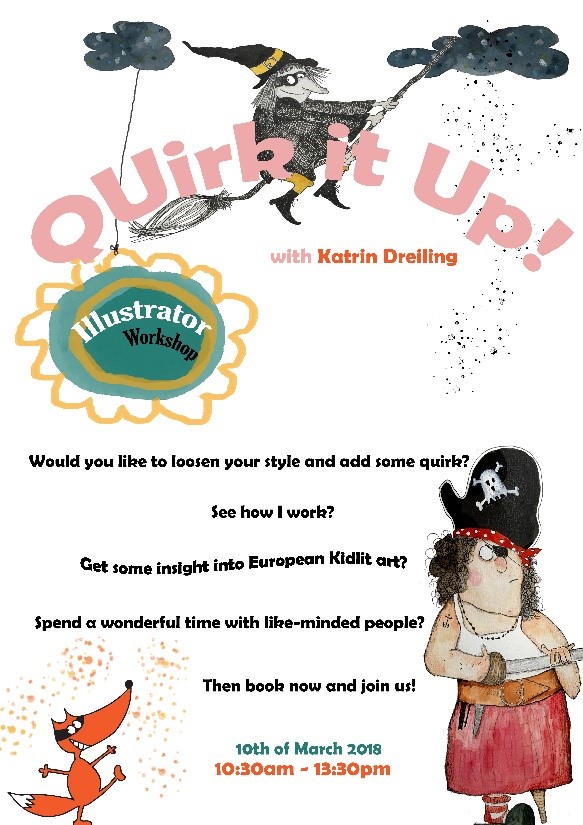 Quirky Illustrations Workshop for Children
Create Your Own Worst Pirate
A 60 minute illustrating workshop aimed at children aged 5-10.
We will read "The World's Worst Pirate" together. If I can get some brave volunteers, I will let the children act out parts of what is been read aloud (otherwise I will just read the story to them).
Then I will show the children my usual illustrating process (How do I come up with characters and develop them? What are the usual attributes of pirates? Brainstorming together and showing how these attributes can be drawn. Storyboarding, sketching) and then introduce the children to some of my techniques that have been used in the book (watercolour/ coloured pencils for characters – splatters, salt crystals for background).
Inspired by this, the children will lastly come up with their own quirky pirate characters and put them to paper with my help.
There is also the alternative or additional option (depending on children's age and time at disposal) to craft little cupcakes (as they appear in the book) and a cardboard pirate character (instead of drawing on paper).
Material to bring for the children (optional): Pen and sketchbook (for developing their pirate character)
Testimonials
The workshop was engaging and the boys were immediately hands-on.

St Joseph's College Gregory Terrace - May 2019