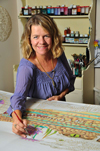 Speaker type
Author
Illustrator / Designer
Educational consultant
Kim Toft is a full time marine artist, author, illustrator and publisher of environmental children's books. She has always lived by the sea and been a keen marine environmentalist. Her books portray vibrant underwater worlds and ecological coastal habitats depicted on hand-painted silk. Through her painting and award winning books, she highlights the importance of conservation of our fragile oceans and the coastal habitats which support them. You can view her amazing silks here.
Kim is an experienced presenter of both workshops and talks and regularly demonstrates her amazing silk painting technique to students of all ages.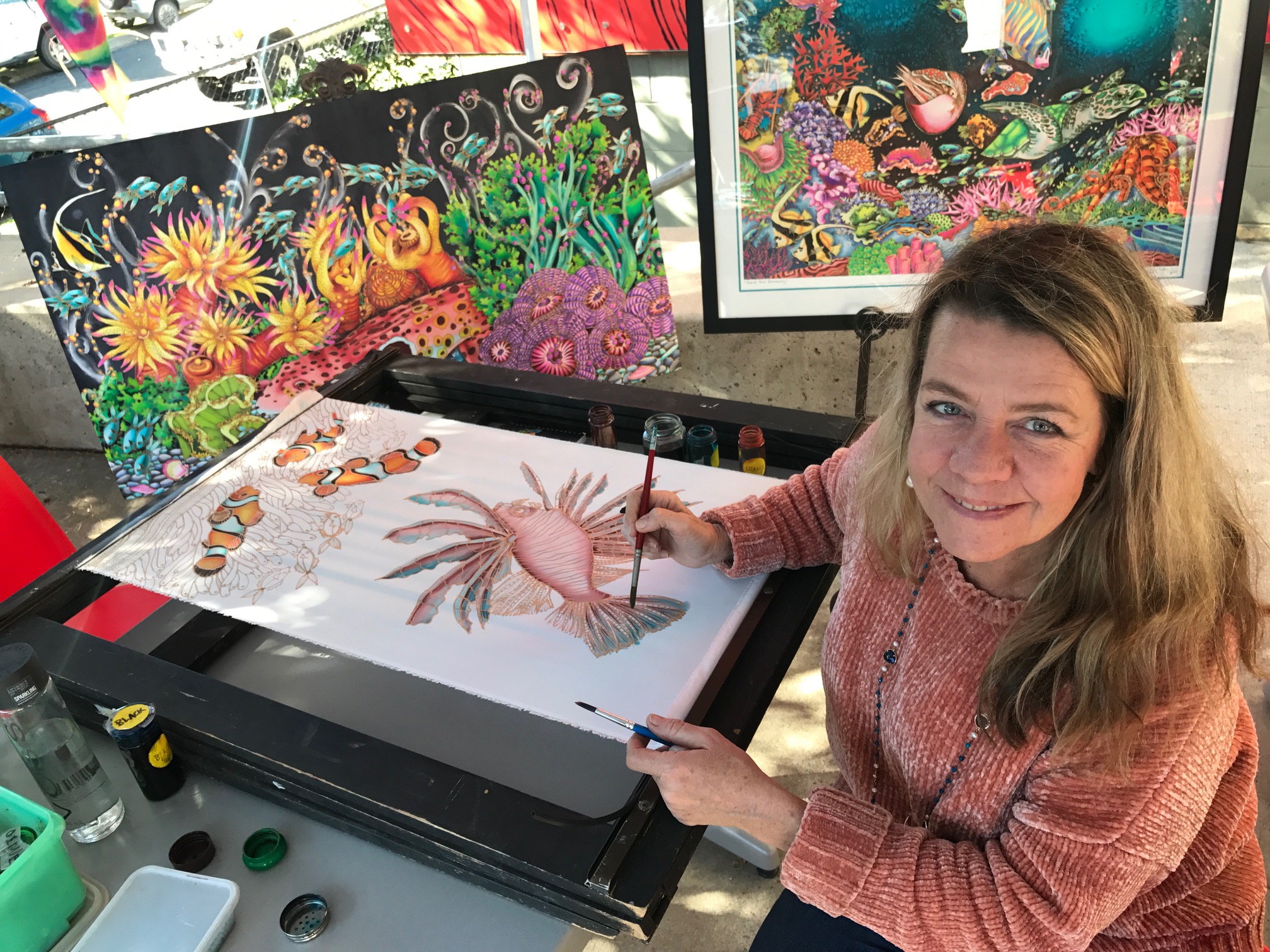 One of Kim's earlier books called Recipe For Perfect Planet Pie includes a glossary at the back and a list of suggestions that we can all easily follow to help us reduce, re-use and recycle. The detail in each painting is incredible and the colours are truly breath-taking. Recipe for Perfect Planet Pie is a beautiful book with a very important message.
Tic Tock, What's Up Croc?
Tick Tock, What's Up Croc is a stunning 40 page picture information book by this multi award winning illustrator and author. Illustrated with hand painted silks, the effect is truly amazing with its jewelled texture giving a 3D appearance. Written in two parts, the book begins as a poem that also appears on a wall chart and ends with 10 pages of crocodile facts. Spend a day in the life of a prehistoric predator — the saltwater crocodile. Meander through poetic text to find out why this resilient reptile has withstood the test of time and truly is the last of the mighty dinosaurs.
Features
stunning hand painted silk illustrations
text is written as a poem and features on the wall chart
full colour wall chart 225mm x 750mm
10 pages of child friendly information in the back of the book
Coral Sea Dreaming
Kim's latest book Coral Sea Dreaming was the winner of 'Best Non-fiction Children's Book' in the Australian Wilderness Society Awards 2018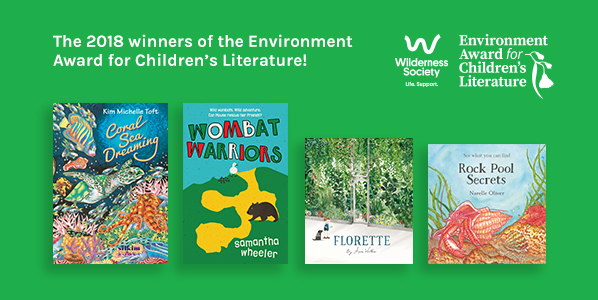 Kim's skills have also been sought after by the Ubud Writers Festival in Bali at which she was invited to present in 2018. (see link)
One Less Fish Re-released
Kym has recently re-released her first book One Less Fish under her own imprint - Silkim Books.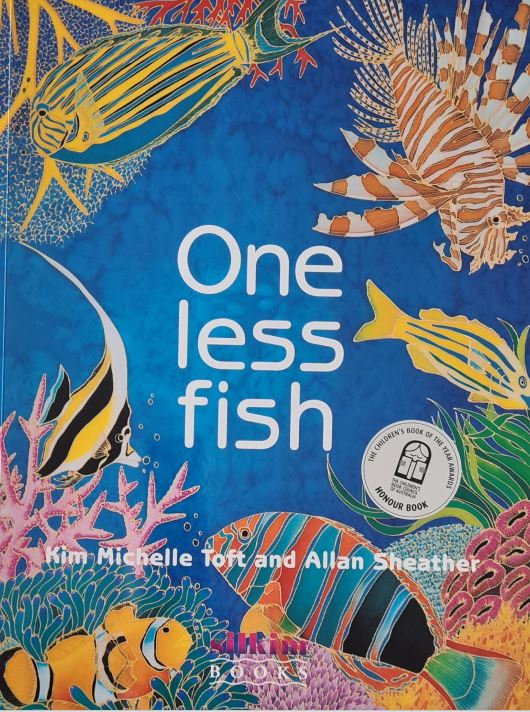 Kym has also recently received an Australia Post Local Business Hero Award:
ONLINE ISOLATION INITIATIVE:
Every Wednesday at 4:00pm (NSW time) Kim will read one of her books on her Facebook Live page here:
Each week she features one of her books and then draws and paints an animal from that book, using felt pen and acrylic paint, which are easy for kids to access.
For information about Kim's new 'How To Paint on Silk For Beginners' video, follow this link:
https://kimmichelletoft.com/how-to-paint-on-silk-for-beginners/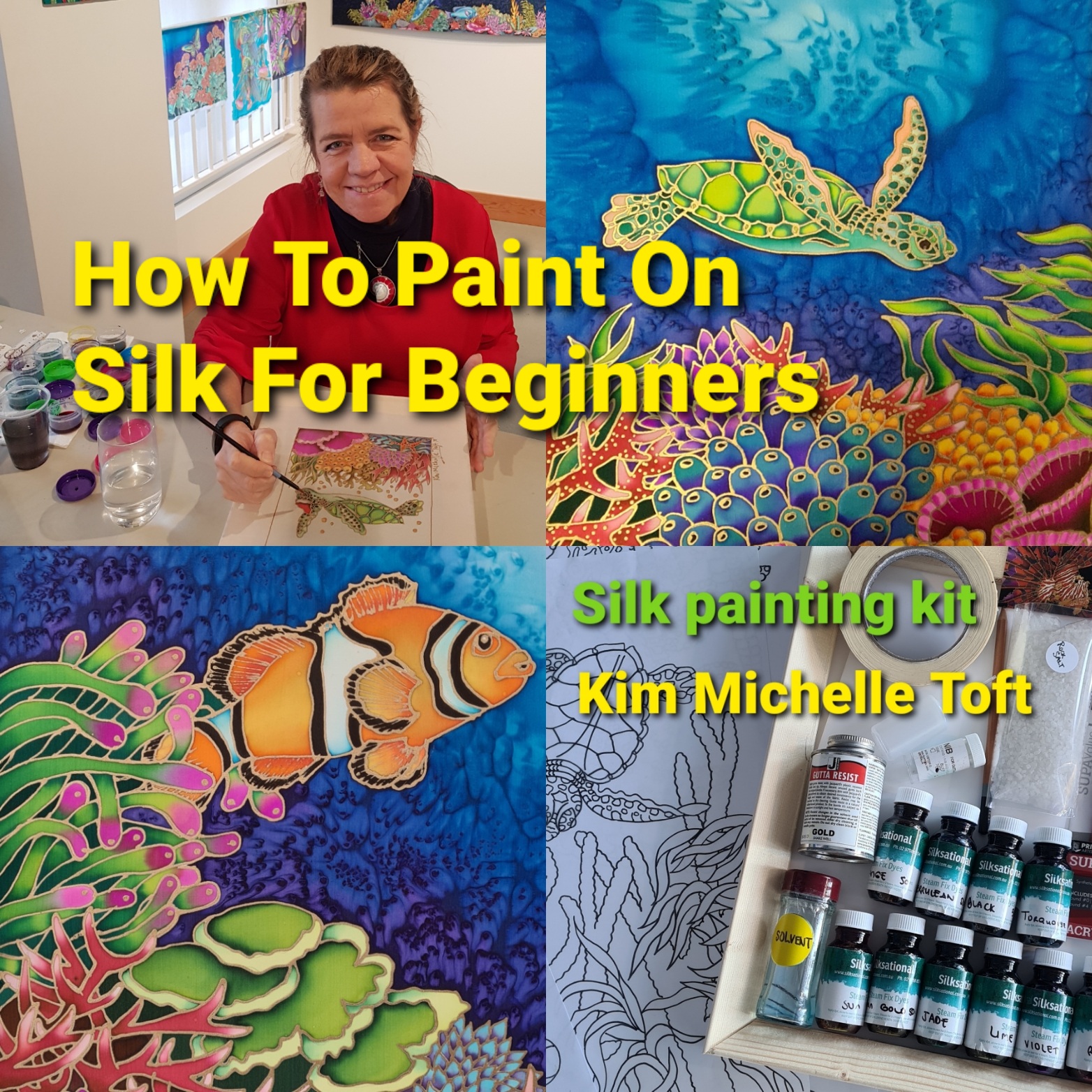 I have silk painting kits available to go with tutorial How To Paint on Silk For Beginners photo attached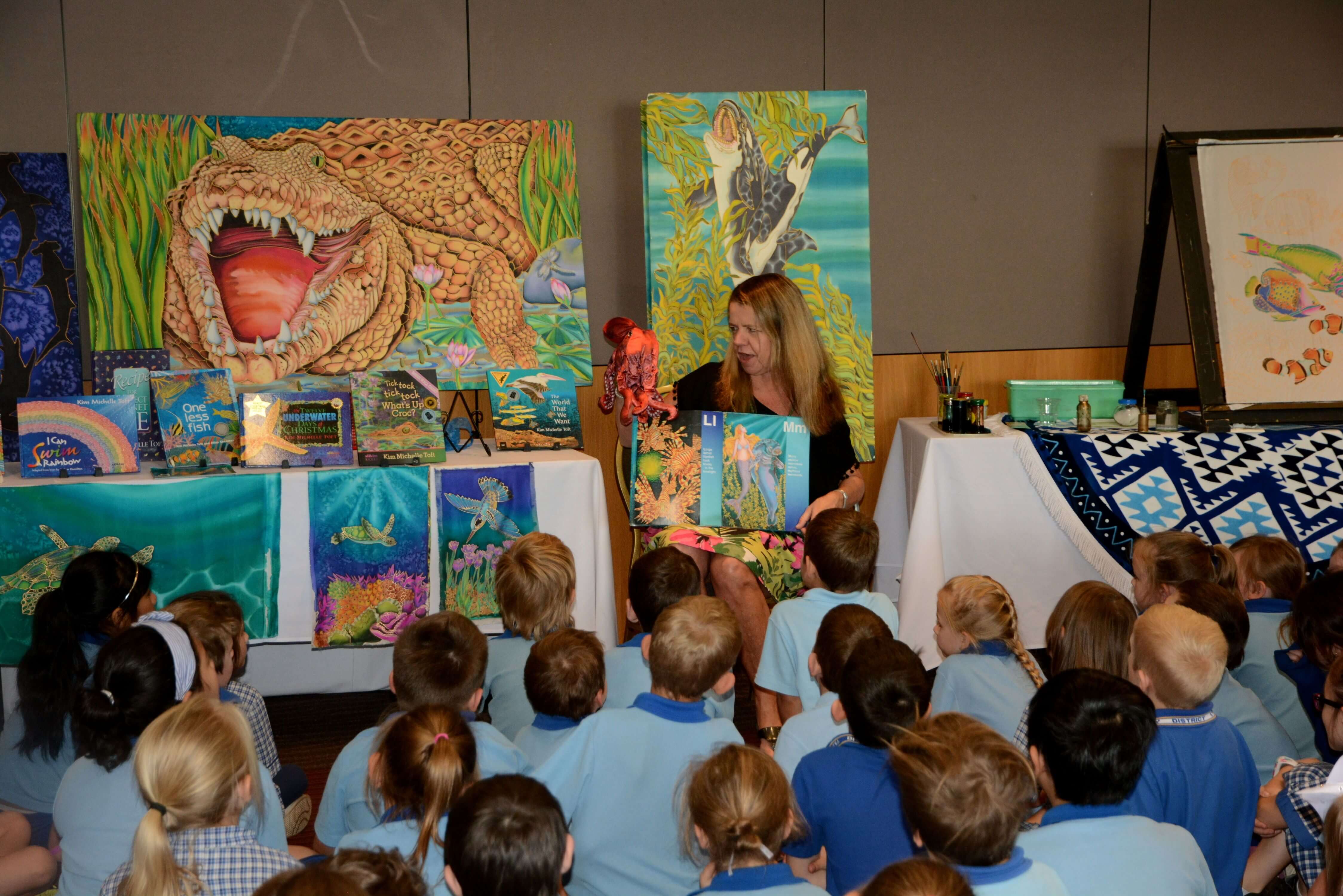 School Visits/Orders
There are three options for School Workshops.
You can have a combination of options on each day with a maximum of three sessions, except Option 3 *see note.
Option 2 and 3 also incur additional costs for materials
Option 1 - DEMONSTRATION AND BOOK ACTIVITIES

SUITABLE: K- Year 7
DOUBLE CLASS SIZE: (approximately 75 children)
DURATION: 1 hour session. Maximum of 3 x 1 hour sessions per day.
CONTENT: I do a series of 5–10 minute activities around each book, including; drama, reciting, quick question and answer re environment and story reading. I bring a dozen original silk paintings/ illustrations with me. I also demonstrate how silk painting is done by painting one fish per group of students. The school has the option to buy this original 70 x 90 cm silk for cost price. Each child receives colouring in stencils at the end of the session.
Option 2 - ONE BIG COLLABORATIVE PAINTING

SUITABLE: Years 5-7
ONE CLASS SIZE: (approximately 30 children) Children are divided into three groups of 10. I provide a creative writing/illustration activity with the two groups that are not directly painting on the silk. Each group rotates each ½ hour.
DURATION: 1½ hour session
CONTENT: The children work on one piece of silk approx 1.5m x 1m, which the school keeps. As outlined above, each group of 30 is divided into 3 groups and teachers work with the other two groups with a creative writing activity, while one group works with me on the silk.
Option 3 - INDIVIDUAL PAINTING
SUITABLE: Years 5, 6 & 7 only
CLASS SIZE: Maximum 12 students
DURATION: 2½ hours* If this session is chosen I can only do one of these sessions plus one Option 1.
CONTENT: Each student produces their own individual painting, (approximately 45cm squared) which they get to keep.
Testimonials
Kim Michelle Toft delighted our Year Three students during her recent visit. Kim is a vibrant and entertaining speaker who not only shared her experiences as an author but also entertained the audience with book reading, singing and dancing. One of the highlights was watching her paint in 'real-time' - what a talented person! The school has purchased her silk painting as a beautiful momento of her amazing visit.

Marymount Primary School - November 2021

Kim enthralled our cohort of Year 2s with a deeply engaging presentation that related closely to some of the curriculum foci they have been exploring. The Year 5 and 6 students who participated in the collaborative workshop were overjoyed at their results. Overall, Kim was an outstanding visitor to our school, with great skill, content, and ability to manage large groups of students effortlessly. Students and staff alike were very impressed!

Forest Lake State School - June 2018

This is the third time we have had Kim visit our school and she did not disappoint. She is engaging and informative and was a big hit with both students and teachers.

Emmanuel College - May 2018

Kim created a wonderful atmosphere, surrounding the children with her original silk paintings and books. The children were genuinely captivated by her presentation and were keen to question her about her work.

St Pius X Catholic Primary School - August, 2017

Your visit was wonderful.
The students are continually borrowing/reading your books.
They are looking forward to receiving your finished painting.

Kim Michelle Toft - Australian International School, Malaysia, May, 2016