Originally from the U.K., I emigrated to Australia with my family in 2000. My background is in educational publishing. The first book I illustrated was' France and French' which was published in 1992. Since then I have produced illustrations for over 50 children's books and have contributed 100's of illustrations to educational magazines. My most recent title is Gang-O Kids by Hazel Edwards which was published a few months ago.
At the moment I am currently working with a Tasmanian author on a series of board books for pre-school children.
Apart from my illustration work I have also been involved in many public art projects around Brisbane and in the U.K. I recently completed a series of paintings of all the Chinese astrological animals in the China Street Mall, Fortitude Valley.
Having conducted workshops for children over the last few years I have become increasingly involved in teaching, which I now do on a regular basis. I started working at Illustration House as a tutor and now teach children drawing and painting techniques 3 afternoons a week at a local school. At the end of last year I also took on the role of Artist in Residence at Sherwood State School. Now in it's second year, I work with children from prep to grade 7 on a variety of projects from drawing and painting exercises to making 3 dimensional objects, which is great fun.
I am happy showing my work and talking about the whole creative process but am also experienced at running workshops for children.
Kim's latest books are the series Dale and Friends, published at the end of 2009. The titles in this series are: Dale the Duck, Lillie the Lamb, Penny the Piglet, Sammy the Sheepdog and Let's Count with Dale the Duck.
Kim has worked on a bright and colourful community art mural at Sherwood railway station which was completed in the summer of 2010. Her latest installation project is a big, outdoor mosaic completed with Grade 11 and 12 students at Corinda State High School.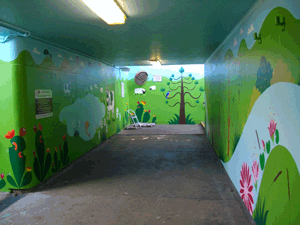 Image: Sherwood Station mural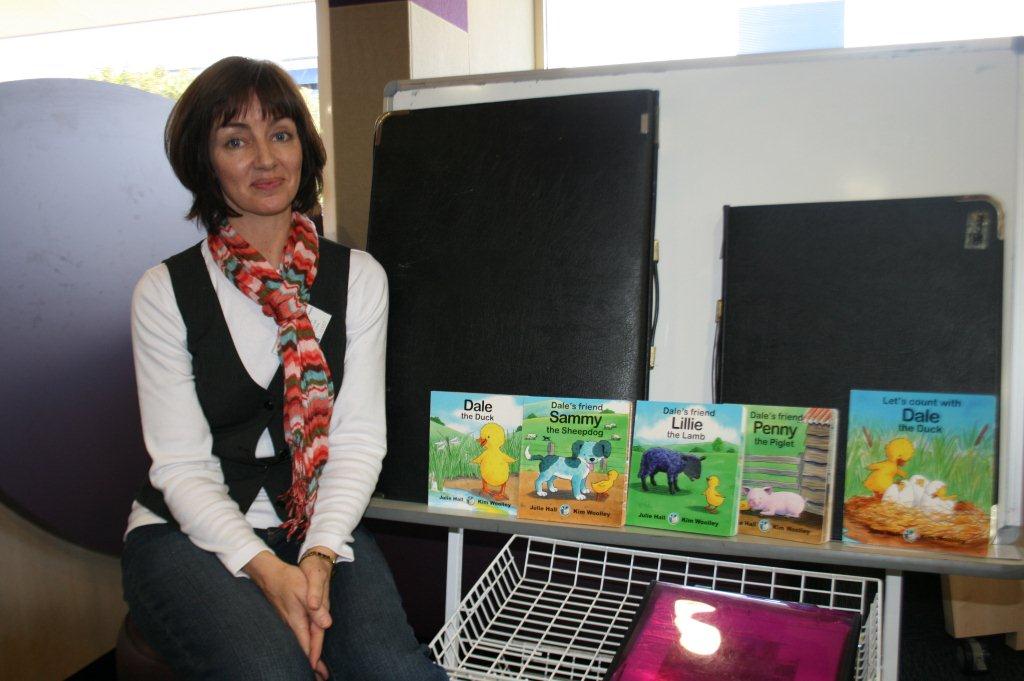 Image: Two multicultural murals completed at Darra Station in February, 2011 based on the theme of migration.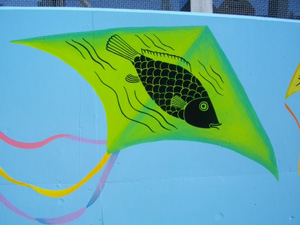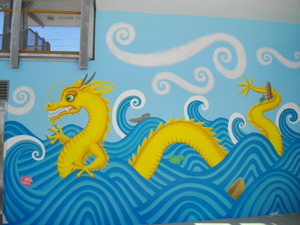 List of Publications
2008
Gang-O Kids (Omotivo)
2007
Families in Focus -- Big Ideas Book (Harcourt Education)Machines -- Big Ideas Book (Harcourt Education)Natural Maths Strategies -- beginning level (Blake Education)Story-writing Scaffolds -- upper primary book 1 (Blake Education)Story-writing Scaffolds -- upper primary book 2 (Blake Education)Story-writing Scaffolds -- middle primary book 1 (Blake Education)Story-writing Scaffolds -- middle primary book 2 (Blake Education)
2003
Persuasive Writing (Scholastic)
2001
Tongue Twisters (Scholastic)Yellow Jelly (Scholastic) Bertha's Birthday Bath (Scholastic)The Animals Are Comin' (Scholastic)
2000
Belair Active Science 3 (Folens)
1998
I Can Help -- Save Water (Franklin Watts)I Can Help - Weather Watch (Franklin Watts)I Can Help - Clean Our Air (Franklin Watts) I Can Help -- Protect Nature (Franklin Watts)I Can Help -- Recycle Rubbish (Franklin Watts)Christmas (Scholastic)Jingle Jangle Santa Claus (Pinwheel Publishing)Jingle Jangle Christmas Tree (Pinwheel Publishing)
1997
A Day in the Life of a Vet (Franklin Watts)A Day in the Life of a Farmer (Franklin Watts) A Day in the Life of a Dentist (Franklin Watts)A Day in the Life of a Teacher (Franklin Watts)A Day in the Life of a Bus Driver (Franklin Watts)A Day in the Life of a Hairdresser (Franklin Watts)Busy Places -- Supermarket (Franklin Watts)Busy Places -- School (Franklin Watts) Busy Places -- Station (Franklin Watts)Busy Places -- Football Stadium (Franklin Watts)Non-fiction Writing Skills (Scholastic) Spring and Summer Festivals (Scholastic)Autumn and Winter Festivals (Scholastic)Literacy Hour Units -- The Snow Lambs (Scholastic)Home and School Writing Skills -- Book A (Folens) Home and School Writing Skills -- Book B (Folens)Home and School Writing Skills -- Book C (Folens)
1996
Spring (Franklin Watts)Summer (Franklin Watts)Autumn (Franklin Watts)Winter (Franklin Watts)Let's Learn French (Zigzag Publishing)Let's Learn Spanish (Zigzag Publishing) Birds Activity Book (Zigzag Publishing
1995
Bravo Picture Dictionary (Heinemann)Shapes (Scholastic)
1994
The History of the World (Zigzag Publishing)Bible Stories (Zigzag Publishing)Five Minute Art Ideas -- Build (Zigzag Publishing)
1993
First Dictionary (Zigzag Publishing)Britain (Zigzag Publishing)
1992
France and French (Zigzag Publishing)Germany and German (Zigzag Publishing)Spain and Spanish (Zigzag Publishing)Italy and Italian (Zigzag Publishing)
Testimonials
Thank you so much for the wonderful work you did with our girls yesterday and for sharing your work with us!

Kim Woolley - St. Aidan