Speaker type
Author
Storyteller / Performer
Aboriginal people have been telling stories for tens of thousands of years. Larry shares his Wiradjuri culture with people of all ages through performance and storytelling. Larry comes from Condobolin in the centre of New South Wales and now lives in Canberra.
Larry has been invited to perform in Alaska, Canada, Indonesia and New Caledonia. He has been awarded an ACT children's week award and a Churchill medal, which was presented to him by the Governor General.
Larry has produced two books for children. W is for Wiradjuri which is an A to Z colouring-in book which introduces children to Australian plants and animals and the Wiradjuri language. His other book is called Yalbilinya which means to learn. It introduces children to Aboriginal science in a fun, interactive way.
Wiradjuri is the second largest Aboriginal Nation in Australia (after the Pitjanjatjara Nation), it takes up a large part of New South Wales, taking in the three rivers, the Lachlan (Galari), the Macquarie (Wambool) and the Murrumbidgee (Murrumbidya).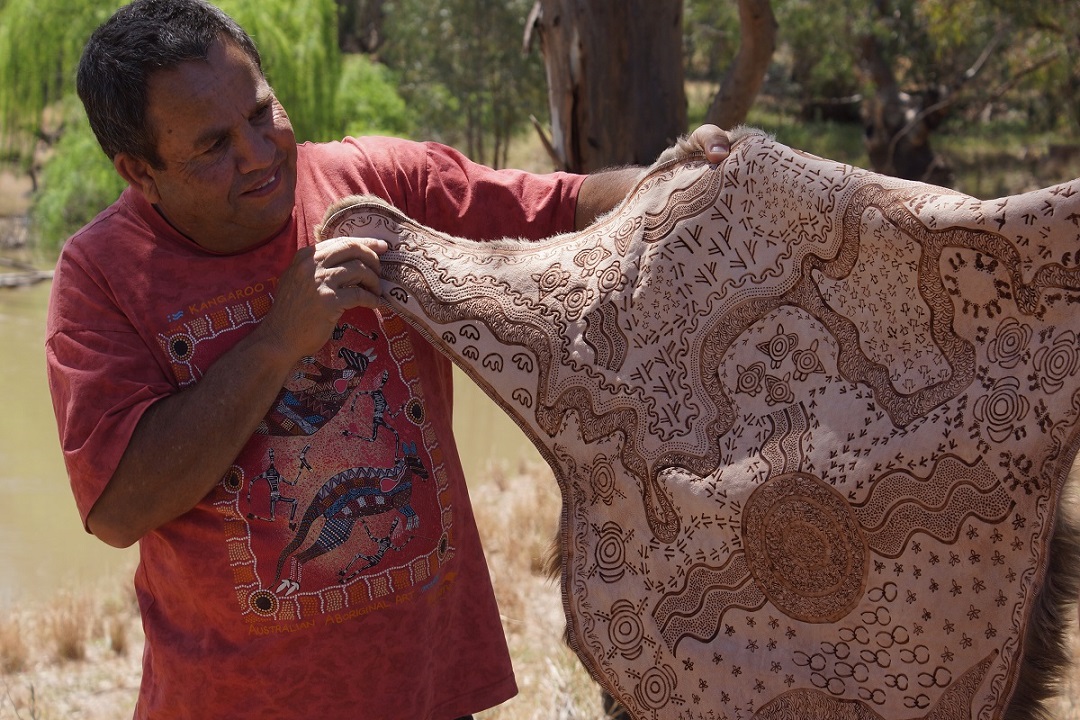 Introduction to Aboriginal Culture
Length of time: 1 hour
Suitable: preschool and primary students
How many: any number
One way that Aboriginal people shared stories was through performance. In this performance students become kangaroos, emus and hunters as they learn how Aboriginal people hunted and found food in traditional times. Larry uses animal masks and real artefacts as students are introduced to his Aboriginal culture.
At the end of the session the students participate in a short corroboree using clapping sticks, boomerangs and ochre.
Larry will use his W is for Wiradjuri book to introduce students to some Wiradjuri words. Many of us can say hello in French, German or Chinese but how many of us know any Aboriginal words?
My Story your Story
Length of time: 1 hour
Suitable: primary school students
How many: class size
Another way that Aboriginal people shared stories was through art. In this session Larry will show his kangaroo skin cloak which an artist has illustrated to tell his story.
Larry will use his kangaroo skin cloak to tell his story. He will then work with the students to show how they can tell their story using symbols, paint, texta or colouring pencils. He will also have some ochre available if students want to use it.
Larry will use his Yalbilinya book to introduce students to his kangaroo skin cloak and some of the symbols Aboriginal people use to tell stories.