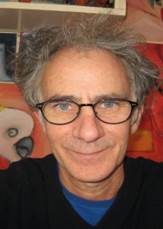 Speaker type
Author
Illustrator / Designer
Interstate
Leigh Hobbs was born in Melbourne Australia in 1953 but grew up in a country town called Bairnsdale.
From a very early age all Leigh ever wanted to 'be' was an artist and drawing was always what he was best at.
As well as art, at school Leigh also enjoyed history and writing stories. However, science and maths were always completely beyond his comprehension.
And sport too. In summer he was terrified of cricket balls and in winter mystified as to where he should stand or what he should actually do on the football field.
After art School, Leigh worked in the mid 1970's at Sydney's Luna Park where he was employed at the age of 21 to supervise the restoration of and design the colour scheme for a magnificent early 1900's Carousel.
Just Some of my Illustrations: