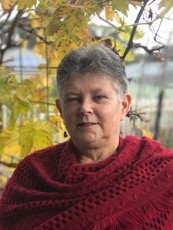 Speaker type
Author
Poet
Educational consultant
Interstate
Lorraine Marwood is both an accomplished literary and children's poet and children's / YA author.
She also writes strategies to teach poetry writing to children and adults. She has five collections of poems published for children, the latest being Guinea Pig town and Other Poems About Animals in 2013.
Lorraine is based in Bendigo, Victoria and writes from a rural and regional background. She has a passion for the history of the goldfields as reflected in Ratwhiskers and Me. Her work was recognised with her verse novel Star Jumps winning the 2010 Prime Minister's award, children's section.
Her poems have appeared in many anthologies and regularly appear in the School Magazine New South Wales.
In July 2018 Lorraine's opinion piece Lord Will I Die? appeared in The Guardian Australia (see attached link). It describes how her own journey through cancer inspired her to write her latest book Leave Taking. Leave Taking tells the story of out a boy called Toby whose family are packing up and leaving their family farm after the death of Toby's younger sister, Leah.
Listen to Lorraine's interview on ABC Radio Brisbane which describes this journey:
Leave Taking has been shortlisted in the NSW Premier's literary awards for 2019 and also shortlisted the CBCA awards 2019.
It also received a glowing review in Children's Books Daily - Book People: Lorraine Marwood
"The very best verse novels are fine examples of paring back words, until only the very heart of the story and raw emotion remain."
Testimonials
Wonderful, warm and engaging.
Well done Lorraine - looking forward to having you back again!

Black Rock Primary School - August, 2020

I have been very lucky to have Lorraine come to 6 of my little regional schools to take poetry workshops. As a mobile library teacher my role is to teach students the many wonders of literature and hopefully as a consequence instil a love of reading. Lorraine has been a wonderful addition to my program.

Lorraine comes with a lifetime of knowledge and several bags of resources! She shares her own wonderful work with classes and has a myriad of simple, achievable poetry techniques to inspire the students to write their own pieces.

Lorraine understands student's needs and takes a lot of care to plan appropriate lessons. She has a variety of activities within one lesson, keeping students interested and on task.

I highly recommend Lorraine's workshops. She makes poetry real and achievable. Students can see that wonderful things can be achieved if you have the tools to do so.

Thank you for your planning, time and beautiful words!

Bendigo/Marong - Mobile Area Resource Centre Van - May 2019

Lorraine was a fantastic speaker. She gave the students ideas of how poets work and ran a workshop to practise the skills, so there was a good balance between the theory and the practise which is better for primary students. Her introductory session was also informative and her reading of the poems was good. Just having the opportunity to meet a writer and poet is an experience too.

Lorraine Marwood - Lowther Hall Anglican School, October, 2013.