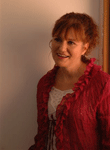 Speaker type
Author
Educational consultant
Motivational
Louise Cusack has been creating stories for 15 years. She began her career trying to write romance novels and through that genre found publishing success with short stories. In 2001 she switched to fantasy and her first novella won the International PRISM short story award. In 2003 her Shadow Through Time fantasy trilogy with Simon & Schuster Australia was selected by the Doubleday "Quest" Book Club as their Editor's Choice.
Louise has been the Writer in Residence at the Queensland Writers Centre, Logan City Libraries & Redland City Libraries. In 2006 Louise travelled to the US to present the Queensland Government's Qld Writing Showcase to New York publishers and agents. She is currently working on a new young adult fantasy series entitled Foldworld for her Masters thesis with QUT and will be taking part in the 2009 creative think tank Crossover sponsored by the South Australian Film Corporation. Louise has also been a key regional tutor for the Queensland Writers Centre for the past three years.
An experienced manuscript assessor, mentor, public speaker, workshop facilitator, panelist and tutor, Louise is passionate about writing and keen to inspire others to follow their own dreams and explore their creativity and imagination through fiction.
Louisa offers workshops, panel and speech topics and inspirational talks - see the workshops tab.
Publications
Goddess and the Geek a novella in the Harper Collins anthology "Mystery, Magic, Voodoo and the Holy Grail"
Destiny of The Light book #1 of the Shadow Through Time trilogy with Simon and Schuster Australia
Daughter of The Dark book # 2
Glimmer in the Maelstrom book #3
Louise has also recently published her Husband Box Set of four books of erotic romance fiction and is a finalist in the 2016 Romance Readers Awards - see link on the right.
Louise's workshops are fun. There is a small lecture component, but the majority of the learning comes from the writers participating in individual and group activities to learn the skills 'hands on' and explore their creativity in a non-judgemental atmosphere. Some topics are listed below, but as an experienced tutor, there isn't much Louise can't teach when it comes to fiction.
"World-building - Fantasy Worlds from the inside out."
"How to create emotional punch."
"Characterisation."
"Anatomy of a fiction plot." (participants need to watch Romeo & Juliet first)
"What is conflict and why do I need it in my story?"
"Suspense - creating a page-turning novel in any genre."
"Self editing – how to take a draft story and improve it."
"Getting Published - tips from a professional writer."
Most Popular Workshop
From Characters to Plot: Creating page turning fiction novels from the characters up
In this full day, hands-on masterclass, International award-winning author Louise Cusack will lead fiction novelists through the vital steps of developing strong, believable characterisation and tight plots that test a character's virtues and highlight their flaws. Bring a draft synopsis of your planned novel as well as rough notes on your characters. Exercises during the day will clarify and strengthen characterisation and help you construct a plot that draws the most emotion and conflict from your characters, while ensuring all subplots mesh together seamlessly to create a cohesive, page-turning novel. You'll leave the workshop with a clear plotline to follow, ensuring a satisfying character arc trajectory which will make writing the draft of your novel so much easier.
Sample timeline:
| | |
| --- | --- |
| 9:00 – 9:30am | Writers arrive and settle in with coffee (30 min) |
| 9:30 – 9:45am | Intro & housekeeping (15 min) |
| 9:45 – 10:45am | Session One - CHARACTER (60 min) |
| 10:45 – 11am | Morning Tea (15 mins) |
| 11 – 12noon | Session Two - CONFLICT (60 min) |
| 12noon– 1pm | Lunch (60 mins) |
| 1– 1:45pm | Session Three – PLOT PART ONE (45 min) |
| 1:45 – 2pm | Afternoon Tea (15 mins) |
| 2– 2:45pm | Session Four – PLOT PART TWO (45 min) |
| 2:45 – 3pm | Overview & Question time (15 mins) |
Other Panel or Speech Topics
"Writing fantasy, romance or horror."
"Why you should follow your dream" (inspirational)
"Manuscript assessment & mentoring."
"What publishers are really looking for."
"What happens once you're published."
"How to keep your motivation up while you're working towards being published."
"Setting up writers support groups."
Inspirational Talks
Louise can also offer a selection of one-hour inspirational talks (with power point presentations). These sessions are ideal for those curious about how writers work, but also wannabe writers who need inspiration and confidence to begin…
Unlocking Creativity
Explore what we mean by "creative writing". How do we do it? How can you get started?
Research and Development of ideas
Learn how Louise develops ideas and researches for her award winning novels.
Promoting yourself
Sharing your novels with readers is only the beginning. Blogging, Tweeting and Facebooking are now mandatory promotion tools, so how do writers retain their sensitivity to create, alongside the thick skin required to weather criticism?
Once Upon a Time
Appreciate the power of story. Learn the secret to creating characters and plotlines that remain vivid in the reader's imagination.
Different Strokes
Each genre (crime, romance, fantasy) has different requirements. Learn which best suits your writing style and story ideas.
Stranger than Fiction
Can you use your own experiences to create a story? When to embellish and when to stick with the facts.
Testimonials
Ms Cusack was a fine addition to our presenter lineup at our Festival. Her workshop/sessions were highly spoken of, attendees saying that they took away a lot of good information. Ms Cusack attended the main dinner and was a delightful dinner companion. We would love to have her back as a presenter in the future.

Boonah Writers Festival - April 2018

Thank you again for a fantastic Writers' Block on Saturday.

Of the 70 who attended, 55 took the time to fill in a feedback form for us, which was great! All of them rated the event as 'excellent' (76%) or 'good' (24%).
I thought you'd be interested to read a selection of the comments we received:

"I really enjoyed this and learnt a lot"
"learnt so much"
"helped me focus"
"instructive, interesting, very helpful and thought provoking"
"could have stayed 3 days, four days, five days…"
"very interactive"
"Louise helped to focus my writing and identify areas for improvement"
"well organised"
"professional but relaxed, entertaining and very educational"
"well paced and relevant… good advice and examples"
"well organised (breaks, activities, material)… interaction (small groups providing good and rich discussions"
"great speaker, easy to talk to and learn from"
"so helpful and motivational. Really good structure"
"Louise was marvellous. Really opening my eyes! And mind!"
"great workshop. I learned heaps! Now I'm inspired to edit all my drafts"
"loved it. Productive. Relaxed"
"brilliant workshop"

Look forward to working with you again at some point soon.

City of Gold Coast - May, 2016

Just want to say thanks for liaising with Louise for our visit today. She was excellent and the kids loved her. We would like to use Louise again next year.

Louise Cusack - Sunshine Coast Grammar School

I am in Grade 9 this year, and I just wanted you to know that I thought you spoke very well. I came home and went straight onto your website and printed out your writing tips. I hope to get down to the library soon to borrow Destiny of the Light. So thanks very much for coming to speak to us today. I know you had a big impact on some of my friends. Good luck for the future.

Louise Cusack - Laura Voices on the Range (Toowoomba)