Speaker type
Poet
Storyteller / Performer
Marco Gliori is one of Australia's most highly regarded Poets and Story Tellers. A unique spoken word artist and multi-award winning Poet, Marco writes and performs his original verse, anecdotes, and stand-up comedy routines, engaging and inspiring audiences across Australia.
Marco's authentic working class background, his sense of community and empathy for the characters that inspire him, complimented by a wicked and sometimes warped sense of humour, allow him to create an atmosphere of mateship accompanied by a big slice of respect for those who have gone before us.
Whether hosting a corporate event, providing hilarious after-dinner entertainment, co-ordinating festival shows or working with students of all ages through school performances and workshops, Marco is as versatile as a Rugby League playing former Queensland Detective of Italian heritage can be!
"The funniest and most inspirational people I have met will never grace a stage, what a privilege it is to write about them, to share their stories"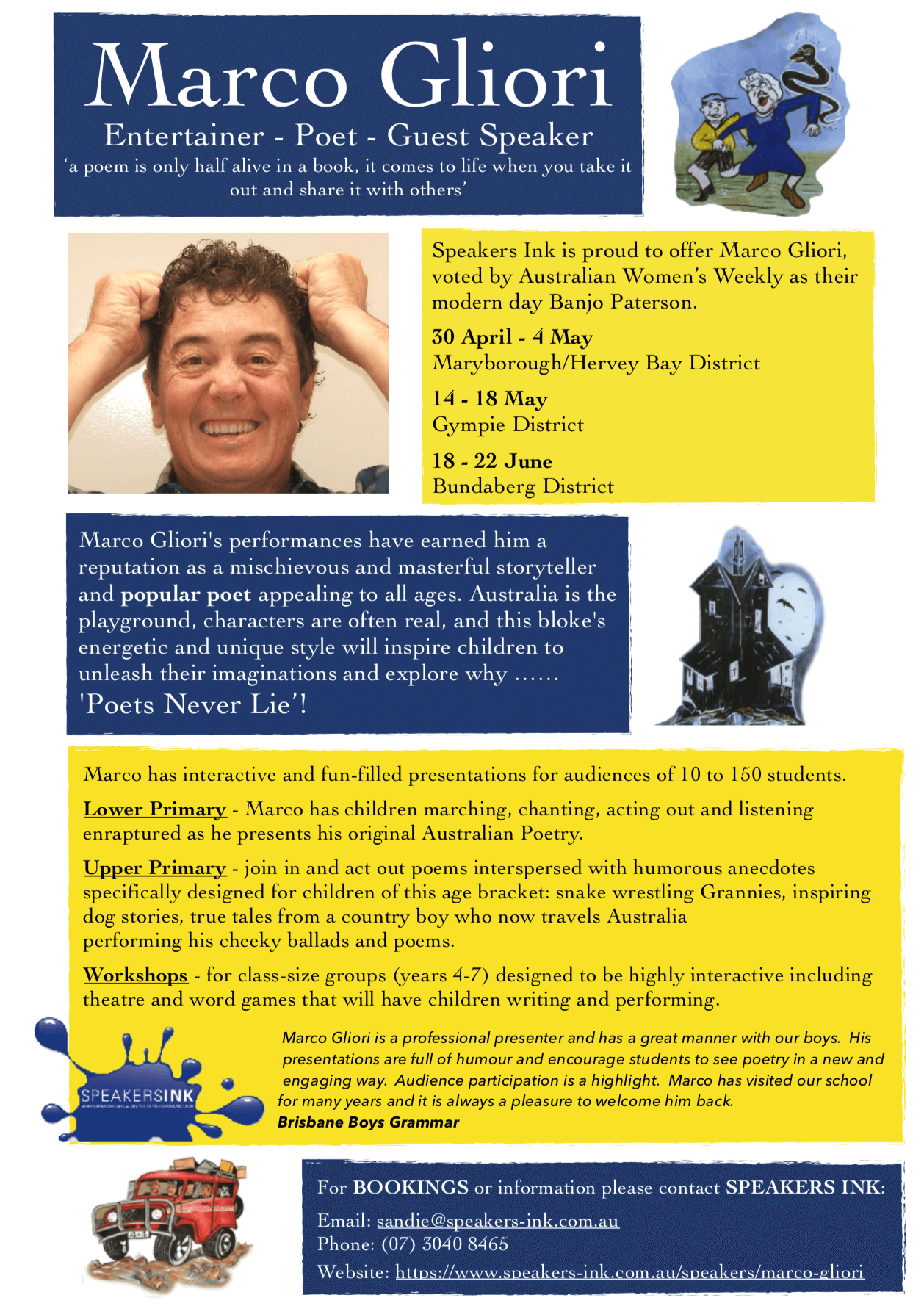 Testimonials
Marco's performance was fantastic. A combination of heartfelt and comedy entertainment met and exceeded all expectations. Also Marco provided free theatre and poetry workshops for the primary school children.

Bulloo Shire Council - May 2018

It is always a delight to have Marco along to present to our youngest students. He brings wit and wisdom, and his love of poetry is clearly on display. Marco gets the boys involved, by asking them questions, asking them for their own stories, or acting out a famous poem. We look forward to seeing Marco again next year!

Brisbane Grammar School - October, 2017

Marco's visit to Terrace was very successful. He engaged and entertained the boys at a voluntary lunchtime workshop, sharing stories and delivering poems. He then spoke to all of the Year 5 and 6 boys during class. This was very well received by the boys and they were enthralled with his poetry performances. The interactive poetry performance, where students were involved, was a highlight.

These sessions with Marco gave the boys a positive attitude towards poetry.

Marco Gliori - St. Joseph's College (Terrace), August, 2016

Marco was, as always, fantastic. I would totally recommend him to other schools. His manner with the boys is great and they thoroughly enjoyed the show.

Marco Gliori - Brisbane Grammar School, October, 2015

Marco engaged the students, worked well with all age groups and balanced his presentations well with performance and student participation. Not only did he meet expectations, he was even better!!

Marco Gliori - Crows Nest State School, February, 2015.