Speaker type
Author
Non-fiction
Educational consultant
Interstate
Maria Gill trained as a teacher and journalist and now writes full-time in a seaside village north of Auckland, New Zealand. Her ancestors came from Australia; she attended High School on the Gold Coast, and many of her relatives live in Brisbane. Australia is her second home. Since being a teacher at primary and intermediate schools, Maria has been a full-time author for the past fifteen years and had an impressive 55 children's books published over that time both for the trade market and the international educational market.
Her latest illustrated non-fiction book ANZAC Heroes (Scholastic, 2016) showcases the exciting tales of 30 Australian and New Zealand heroes during WW1 and WW2. It won the 2016 Best Non-fiction Book Award and the Book of the Year Award at the New Zealand Book Awards for Children & Young Adults.
Her latest books include: Abel Tasman: Mapping the Southern Lands (Scholastic, 2017); Toroa's Journey (Potton & Burton, 2017); Anzac Animals (Scholastic, 2018); and Earthquakes! Shaking New Zealand (New Holland, May 2018).
She has been conducting talks in schools for the last 14 years as an author and another 10 years as a teacher. Maria uses props (puppets, artefacts,posters), PowerPoint, and gets students interacting during her sessions: role-plays, question and answer, quizzes, and puppet performances. Maria also teaches workshops about writing biographies, researching, creative non-fiction, journalism, and short stories.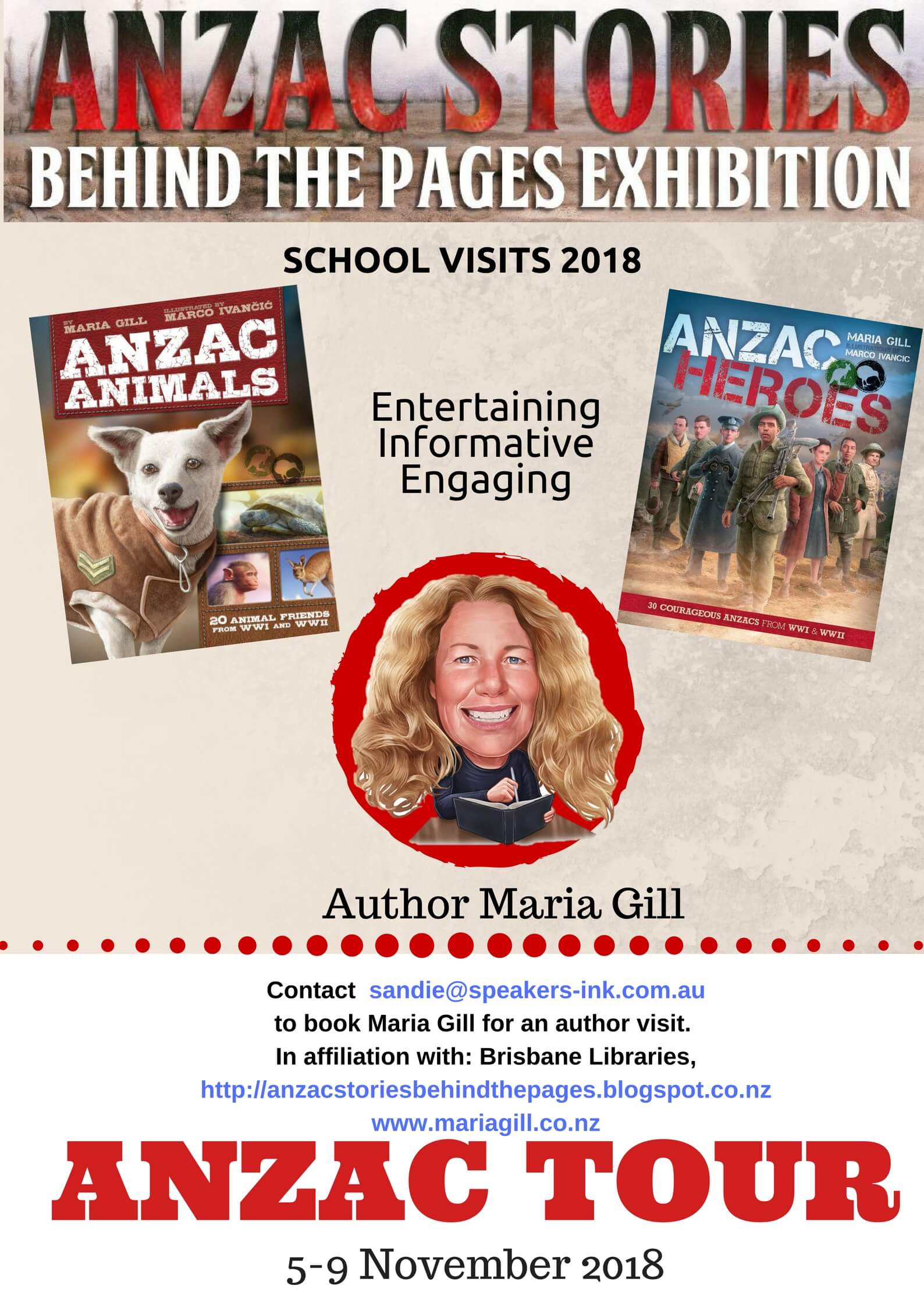 Testimonials
We appreciated Maria's presentation because the children, and the teachers, not only found her engaging and inspiring, but it was refreshing to gain an author's perspective of non-fiction writing.

Mongawai Primary

Just a quick note to let you know how much we as a school appreciated the workshops and author talk last week. The students got so much from the opportunity, and were so excited by having met you.

Riccarton Primary School

We thoroughly enjoyed Maria Gill visiting Hebron Christ College. She gave an excellent presentation, engaging our students in the closer examination of non-fiction books, and giving them new ideas for their own writing and research.

Hebron Christian College

We had a wonderful time with you - thanks. I bragged you up on the Library Listserve - every school should have you visit!

Southwell Library

I highly recommend Maria as a speaker. Our students found her presentation interesting and engaging, and I was impressed with the way Maria held their attention throughout.

Pinehurst School