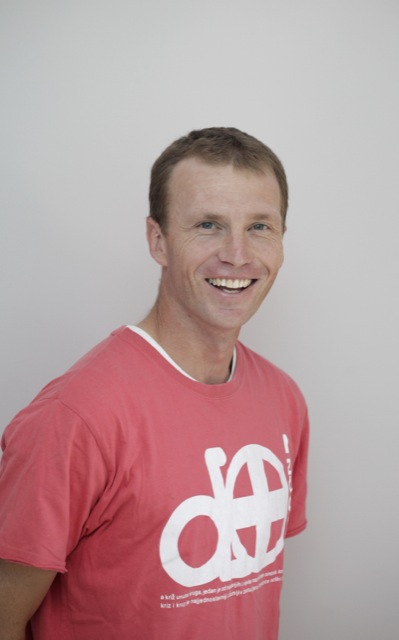 Speaker type
Author
Educational consultant
Interstate
Philosopher, lecturer and intellectual … just some of the things Matt Porter definitely is not! He is however, an author of hilarious children's books and a primary school teacher. As a primary school student in the south-west of Victoria, Matt loved sport and writing. Trying to combine the two lead to messy writing and several collisions so he put his publishing ambitions on hold until he received his pen licence and could spell tricky words like 'unconscious'. Matt's first books, My Country and Picture Perfect, were published in 2010. He has since published stories in Challenge magazine, an article in Runners' World, several teacher resource/student activity books and two books in his Crazy Relief Teachers series.
Matt is passionate about sharing writing tips and activities with students, teachers and adults. You won't just hear him talking about himself during school visits, Matt wants to be a positive role model to show writing can be enjoyed by everyone. He uses his teaching experience to relate to students and employs strategies to allow all students to write a piece they'll be extremely proud of. Matt is keen to visit any school interested in him taking a:
writing workshop
author talk
grade/class/year for a writing lesson
group of talented writers from various grade levels
professional development session for teacher and parents
Book Week activity
book reading

anything else book or writing related!
As a writer learning the craft (after his career as an intellectual somehow failed), Matt received help from many generous writers. He enjoys helping others in the same position and enthusiastically gives tips on further improving writing and achieving publication.
Matt's natural tendency to look at the funny side and to always ask 'what if?' comes out in his lifestyle and writing. He's travelled the Nullarbor to play golf on the world's longest course and plans to attend a day of stunt school in Queensland. Matt is thorough and meticulous when researching his books. He selflessly hurled dodgeballs at unsuspecting students when writing Mr Sergeant and the Dodgeballs of Doom and plans to win millions while preparing for his next gameshow host-inspired title in the Crazy Relief Teacher series.
Matt plans to write many more entertaining children's books. He also intends to write for adults, however children's writing will always be his number one passion. Matt relishes his time spent on writing, whether it is writing his own books, visiting schools, festivals or writing groups and hopes to dedicate even more time to his passion in the future.
Stephanie Chiocci and the Cooper's Hill Cheese Chase
Stephanie Chiocci and the Cooper's Hill Cheese Chase is a hilarious adventure featuring the mighty Collingwood AFLW captain Stephanie Chiocci. Stephanie must call upon her elite football abilities to save a family's cheese-making business by taking on a local bully in the world-famous Gloucester Cheese-Rolling Race.
The Greatest Book in the World
A laugh-out loud read where the narrator speaks directly to readers while attempting to create The Greatest Book in the World! Rudolf Wordsmith requests that readers finish his rhyming couplets and admonishes them when they're tricked into supplying a 'rude' rhyme. This trickery is achieved through clever text and the lively illustrations created by Dave Atze. As the readers' 'rude' rhymes cause the illustrator to draw Rudolf in humiliating predicaments he becomes increasingly frustrated. This culminates in a surprising and hilarious ending that will have children howling with laughter.
Matt is passionate about teaching writing and sharing his skills. He uses his 12 years of teaching experience to ensure every session is planned in detail, engaging for students and teaches skills that can make an immediate difference to students' writing.
Ms Law and the Corn-fusing Case of the Broken Window
Oh no! A student has dressed up as a teacher, marched into their classroom and made their classmates complete their homework. The session begins with a student being accused of impersonating a teacher, charged and sent to trial. The session revolves around preparing the court case.
Students will learn how to:
Write detailed descriptions by describing the evidence
Write character descriptions, using 'show, don't tell', by describing the accused in teachers' clothes
Create an action-packed eye-witness account
Re-write the yard duty teacher's account of the incident by replacing dull words with exciting ones
Develop interesting characters by creating positive and negative references for the accused
Use word lists to describe body parts and to use these when writing descriptions
The session finishes with students dressing up and becoming members of the court as the trial is played out. The trial also gives all students the opportunity to share their writing from the session.
This session runs for one hour and is best suited to Year 3 - 6 students
Mr Jackpot and the Stash of Cash
Come on down! One lucky student is selected to don a golden jacket and perform the role of Mr or Mrs Jackpot for the session. The student host displays their gameshow moves while a voiceover plays and recreates a gameshow entrance to theme music. Co-hosting the session with Matt is the student's next role as the rest of the group play a variety of entertaining and educational gameshows.
Students will learn how to:
Write interesting character openings that reveal personality
Identify examples of 'show, don't tell' after playing Who Wants to be a Millionaire
Use 'show, don't tell' to show a character's emotion
Identify dull words and choose the more interesting replacements through The Word Is Right
Write similes after watching a classmate play A Minute to Win It
This session runs for one hour and is best suited to Year 3 - 6 students
Developing a Narrative
Want to teach your students the elements of a narrative and how to plan their own stories? Well, this is the session for you! Students act out the main events of Mr Sergeant and the Dodgeballs of Doom and then identify the setting, characters, problem, action to solve the problem, ending and theme. Together the class are then presented with the task of planning a narrative, with the help of Matt. The narrative is set in the students' school and the problem? The Mischief Man has sprung characters to life from books in the school library. With the help of their main character (a student dressed as a superhero) the group plan what mischief the characters will cause and how to finish the narrative and defeat the Mischief Man.
Students will learn how to:
Identify the elements of a narrative
Learn that all stories have a setting
Choose words to describe the qualities of a main character
Invent interesting problems for narratives
Brainstorm solutions for a problem in a narrative
Name a story
This session runs for one hour and is best suited to Prep - Year 6 students
Creating Captivating Characters
Students don't want to simply hear about inventing interesting characters, they want to see their peers dress up and be the characters! This session takes students through the creative process of creating a captivating character. Each step is demonstrated by a student dressing up as one of Matt's Crazy Relief Teachers.
Students will learn how to:
Create a character profile from Ms Law
Develop a 'deep' character with personality from Mr Sergeant
Write individual dialogue for characters from Mr Crikey
Describe character movement and use body language to show emotion from Mr Jackpot
Students will then be given an overview of creating captivating characters and then placing that character into the perfect plot.
This session can run from 1 to 1 ½ hours and is best suited to Year 3 - 8 students
Advanced Author Skills
A writing workshop that teaches advanced writing skills to students. Students will be taught the steps to create a captivating character and then develop a plot. The session also covers many writing skills used by authors. The workshop allows time for students to practise each skill in fun and engaging activities. When the session finishes each student will have a well-developed character and the plot for a narrative.
Students will learn how to:
Identify what makes a narrative interesting
Generate story ideas
Test the interest level of a narrative before writing
Create a captivating character and describe them using 'show, don't tell'
Get to know their character and how they would react in different situations
Write individual dialogue for their character
Develop a list of mannerisms for their character
Understand how to convey emotion and personality through symbolism such as belongings
Form mental images in readers' minds and use the senses
Cut the word count without cutting the action
This session can run from 1 - 2 hours and is best suited to Year 7 - 10 students or extension writing groups at primary schools
Staff Professional Development
Matt will take your staff through a variety of fun and interactive ways to teach writing. He will demonstrate skills that are easily taught and can make an immediate difference to your students' writing. Sessions can be tailored to suit your staff's needs or can cover a wide range of topics such as dialogue, creating captivating characters, planning a narrative, engaging reluctant writers and many other areas.
A Tailored Session
Matt loves making new activities to teach skills. Let him know what you want taught and he's happy to develop a session tailored to your students' needs.
Testimonials
Matt Porter presented an engaging and entertaining writers workshop for my Grade five and six students at Bannockburn Primary School. He gave the students some excellent strategies for extending their creative writing, building character profiles and writing with greater expression. His Interactive Whiteboard presentation was very professional and gave students a humorous glimpse of Matt's writing process.

Matt Porter - Bannockburn PS - 2016

Matt's passion for writing and teaching was evident in his entertaining and informative session. The students were enthralled and totally engaged during the entire session which catered to all abilities. His activities and tips achieved immediate results and the kids were soon writing far more descriptive and exciting stories. I highly recommend the sessions.

Matt Porter - Bannockburn PS - 2016

Thank you Matt for a wonderful author visit – your informative, engaging and entertaining presentation was a Book Week Highlight for our students. They will be looking forward to future Crazy Relief Teacher instalments.

Matt Porter - Our Lady of Mt Carmel School, Coorparoo - 2016

Thanks for last night's Professional Development. It was the best writing PD I've ever been to! Beforehand I was thinking I would go lots of writing programs before I taught an older grade, but your PD was very comprehensive.

Matt Porter - Merrivale Primary School - 2016

On behalf of all of the staff at Sacred Heart School and the students who were in attendance yesterday, we would like to say a big thank you for your very engaging and interactive workshops. They were absolutely fantastic. The students are raving about you and are already drafting and re-drafting their writing pieces. There was a real buzz at our school during and after your session. We look forward to reading more of your work and practising the writing skills you taught us.

Matt Porter - Sacred Heart Fitzroy PS - 2016