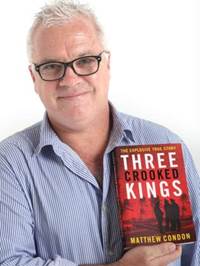 Speaker type
Author
Media personality
Non-fiction
Journalist / Feature writer
Educational consultant
Matthew Condon is a prize-winning Australian novelist and journalist. Brisbane-born, he has lived in Australia, the United Kingdom, Germany and France. He was educated at The University of Queensland and undertook further studies at the Goethe Institute, Bremen, Germany. Condon began his journalism career with the Gold Coast Bulletin in 1982 and subsequently worked for leading newspapers and journals including Brisbane's Courier-Mail, the Sydney Morning Herald and Melbourne's Sunday Age.
Now the author of over 10 acclaimed books, his first book, The Motorcycle Cafe, was widely reviewed and praised. Usher and The Ancient Guild of Tycoons were both shortlisted for the NBC Banjo Award for Fiction. A Night at the Pink Poodle and The Lulu Magnet won back-to-back Steele Rudd Awards for Short Fiction and his bestseller, The Trout Opera was shortlisted for the Qld Premier's Prize for Fiction.
His latest book, bestseller Three Crooked Kings, is based on unprecedented interviews with Terry Lewis and access to his personal papers, Three Crooked Kings is the missing piece in the puzzle of the story of Queensland's endemic generational corruption. It is a searing story of greed, crime and corruption. Matthew Condon has crafted the definitive account of an era that changed Queensland society; an impact that reverberates across the country to this day.
Testimonials
Matt was easy to work with in the preparation phase for the conference and was very accommodating about changes in arrangements regarding our switch to fully virtual. His presentation was fascinating and highly relevant for the audience and his engagement in the Q&A was entertaining and informative.

Australian Society of Archivists - 2021

Matthew was a pleasure to work with and wowed those present with his knowledge and insights

Redland City Council Libraries - July 2021

Oh, we always love Matt - he does just what we need him to: introduce our students to a generous professional who reads and writes for a living - someone who'll show them what storytelling means in the media, and be kind in listening to their ideas and demonstrating how a pro can think them through.

Corinda State High School - 2018

Matthew was the perfect edition to our event. He was so diligent in taking my calls and responding to emails in the lead up to the event. On the day of the event, Matthew showed up on time and was flexible. He was an absolute hit and was so completely inundated during the book signing that we had no time to get him on stage for a presentation.; perhaps next time!

TriCare - February, 2018

Matthew Condon was an incredibly interesting speaker and engaged the audience very well through an interesting and thought provoking topic. Would recommend to others.

Ipswich Libraries - June, 2017