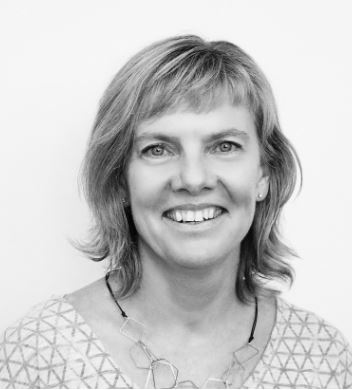 Speaker type
Poet
Storyteller / Performer
Educational consultant
Motivational
Virtual visits

Michelle tells young people that poetry is like "making magic with words" and her sessions typically involve audience participation, enacting of poems and a lot of interaction.
She is passionate about poetry and its potential to bring some magic into our lives. She believes that poetry can allow both young and old to express themselves more fully, and to appreciate themselves and the world around them with new wonder. "I want those I work with to go away feeling two things - firstly energised, and secondly, empowered by words and their endless possibilities in our lives".
Michelle's books include:
100 Ways to Fly (Children's Poetry) UQP, 2019. To see fun resources and teachers notes click here: 100 Ways to Fly - Resources
If The World Belonged To Dogs (Children's poetry) UQP, 2007
If Bees Rode Shiny Bicycles (Children's poetry) UQP, 2003
Renovating (Poetry) Picaro Press, 2002
The Angel Of Barbican High (YA Verse novel) UQP, 2001
Bloom (Poetry), Vagabond Press, 2001
Word For Word (An inspirational workbook for writers and teachers of writing), Queensland Writers Centre, 2000
First Language (Poetry), Five Islands Press, 1999
Awards Received Include:
If Bees Rode Shiny Bicycles voted one of the Top Titles for 2003 by The Australian Centre for Youth Literature
Australian Family Therapists Award for The Angel Of Barbican High as a book useful for therapists
Harri Jones Memorial Prize (for an Australian poet 35 years or under whose work in the field of poetry is judged to be outstanding)
Michelle was born in Brisbane in 1968, and grew up in Darwin and Brisbane. She has lived in Suffolk, Glasgow, London and the island of Madeira in Portugal. She has been writing and publishing for over twenty years. Michelle particularly enjoys taking poetry to young audiences and is a popular choice as a performer and workshop leader in schools and at literary festivals. Michelle has a degree in occupational therapy with many years experience working with those with mental and emotional health problems. She also has a Master of Arts in which she researched the role of monsters in stories to empower children and manage fears.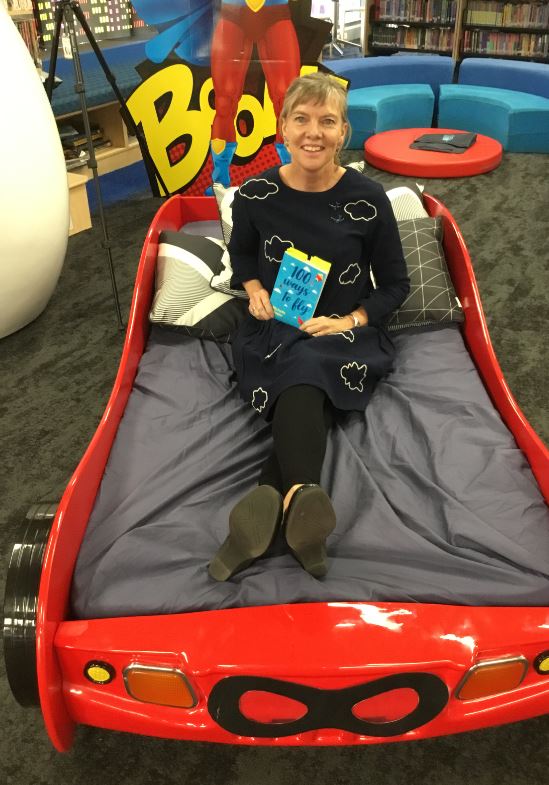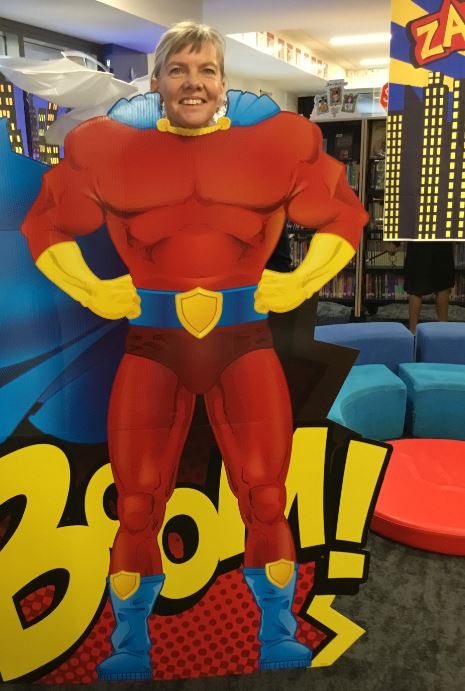 Reading is my Super Power!!!!
NEW COVID CONTENT!
Check out Michelle's 'Classroom During Covid-19' poem below and her free Activity Blogs in the links section of this page.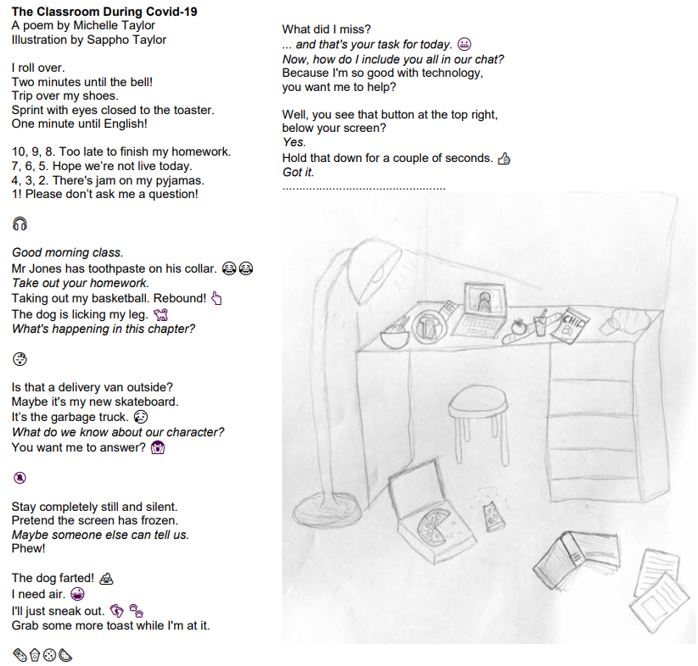 Michelle specialises in several areas including:
Performance poetry, for preschool through to primary
Poetry workshops for primary, high school and adults
Workshops using creative writing to promote self awareness and self-confidence
100 Ways to Fly
Ready for take-off? Come along and make your own mobile. Choose some poems, create some of your own then transfer these on to stencilled outlines. Decorate them, cut them out then hang them to make your mobile.
Duration: 1 hour
Ideal for: children aged 8-12 years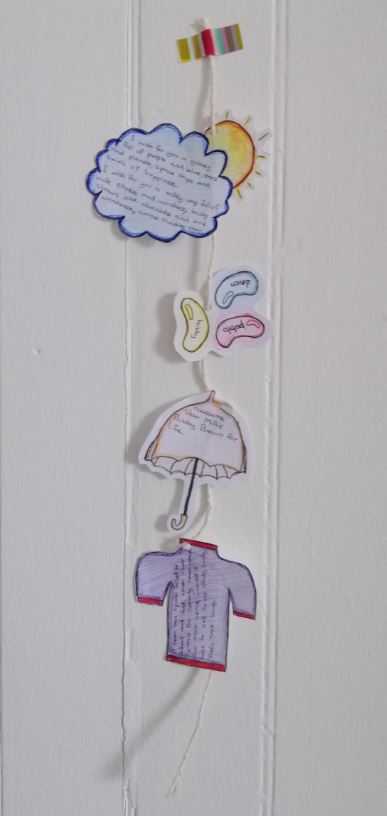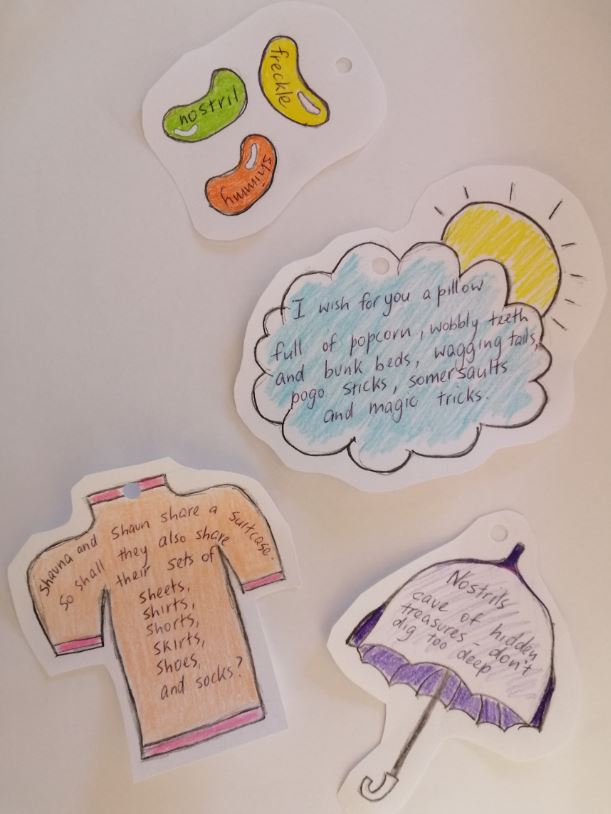 Emoji Activity
We use poems from my book 100 Ways to Fly to kick start us. Poems like Limerick for a Lousy Day, I Wish For You, and 10 Syllables For All Sorts of Things provide a framework for writing our own poems about hope, our favourite and least favourite feelings, and things we care about. Of course we match these to emojis and even draw some of our own!
Suitable for ages 7 and upward.
For younger ages we can omit some of the writing component and have more time for performance, discussion and drawing, and finding our favourite words!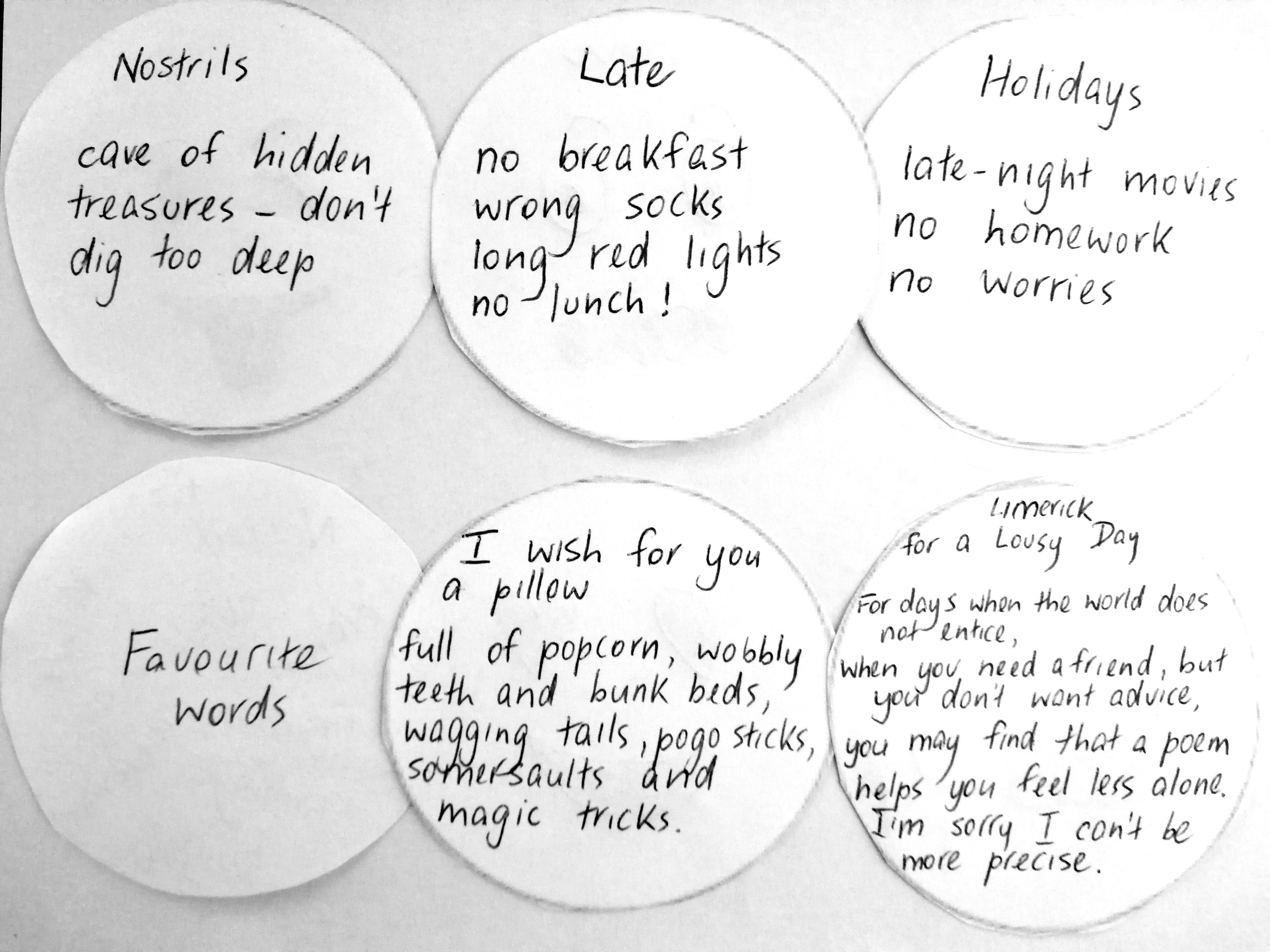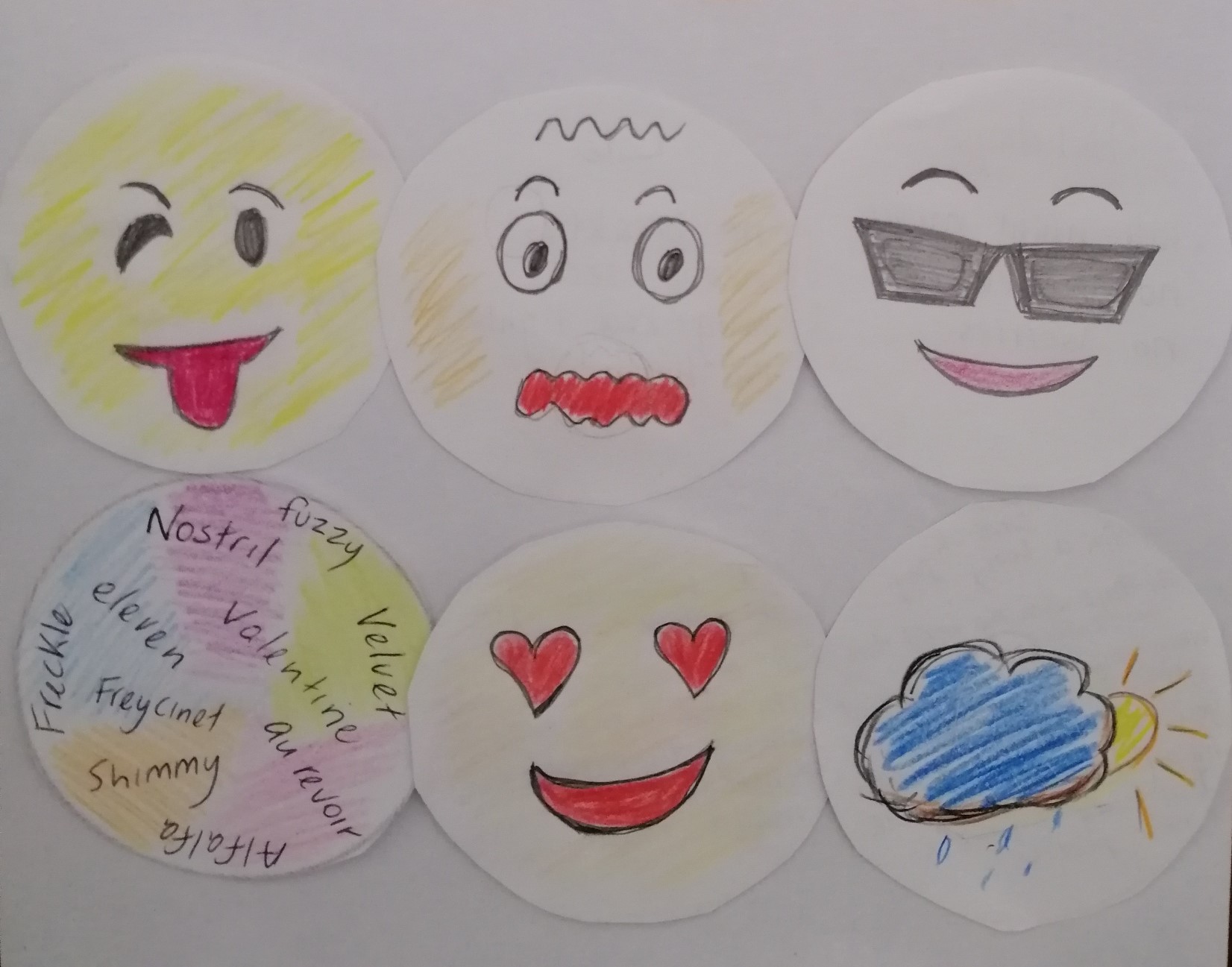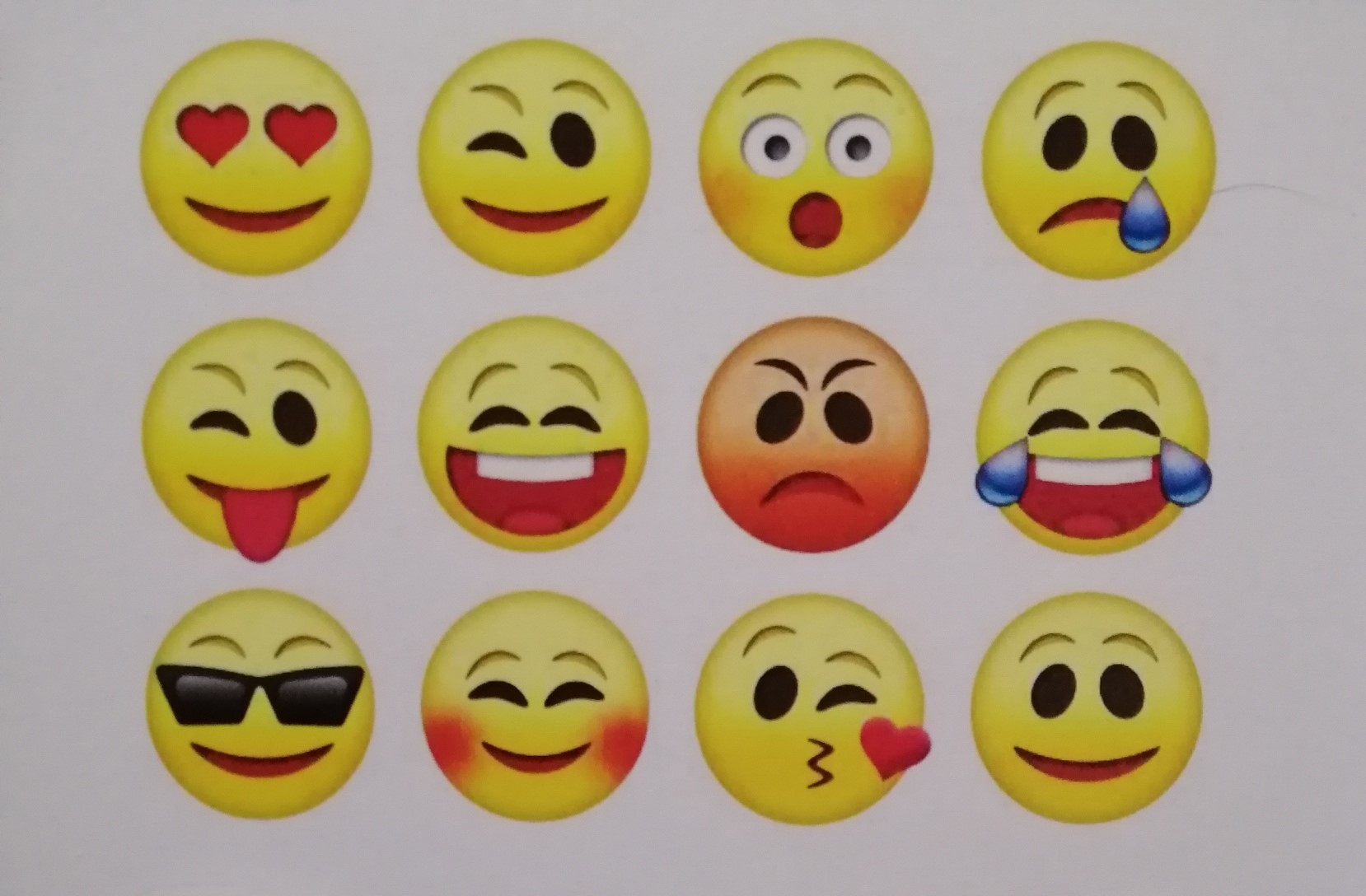 Testimonials
Year 5 students and teachers gained so much from Michelle's presentation. The teachers took many notes to enhance their poetry unit for next year.

Islamic College of Brisbane - September 2020

Michelle Taylor was delightful and well-received by students and teachers who loved her presentation.

Kelvin Grove State College - September 2020

I just wanted to say a big thank you for your wonderful poetry writing workshop last week. It was exactly what we were hoping for and more. Your delivery of information and ideas around poetry really helped the children understand the importance of authorship, creative writing and in particular the possible structure of poems. The students also gained a lot of insight in to how they themselves could become little poets/writers. By giving them the opportunity to put pen to paper, the workshop was so successful, and the feedback from both the teachers and students has been extremely positive.

Our literacy focus and writing journey for the year now has so much more significant material to build on and we feel the students will benefit greatly from your expertise as an experienced poet.

Best of luck with your future writing endeavours, please feel free to send through any additional information about any of your upcoming works. And the students are so looking forward to your new poetry collections book.

Graceville State School - March 2019

Staff & students were very happy with Michelle's presentation. She was also very generous with sharing her ideas and presentation resources. The workshop was very well conducted as she did pitch her presentation to suit the audience.

Michelle Taylor - Grace Lutheran Primary School, August, 2013.

Just wanted to email you to let you know how much the students enjoyed your visit during Enrichment Day. Their comments were overwhelmingly positive.
Thanks for all your preparation and effort in creating the workshops that the children enjoyed.

Michelle Taylor - Robertson State School, 2012