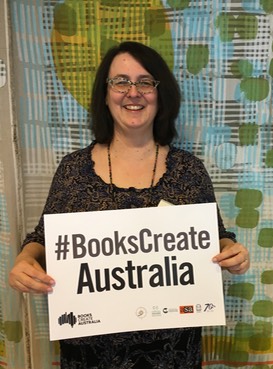 Natalie Jane Prior was born in Brisbane, Australia, in November, 1963, a momentous month in which President Kennedy was shot, C.S. Lewis died, and Doctor Who started on British television. Her father cherished vain hopes that she would grow up to take over his engineering business, but at a tender age she apparently told him that she did not want to be "a dumb old engineer", and decided that she wanted to be a writer instead. She has never seriously wanted to be anything else, and considers herself extremely blessed that she has been able to turn her childhood dream into a reality.
Natalie is the author of numerous books for children and young adults. Her work includes the classic picture book The Paw and its sequels (illustrated by Terry Denton), the internationally successful fantasy series Lily Quench, which has well over half a million copies in print, and which was broadcast on BBC Radio in 2006, and The Minivers, a four book series published by Penguin Australia and Scholastic UK. Natalie has collaborated many times with Sydney based illustrator, Cheryl Orsini, most recently on the picture book PomPom (Penguin, 2013) and story books The Fairy Dancers (ABC Books, 2015), and The Tales of Mrs Mancini (ABC Books, 2016). In 2017, she and Cheryl will publish a picture book, Lucy's Book (Lothian) and a sequel to The Fairy Dancers, Dancing Days (ABC Books)
Natalie's books have won the Aurealis Award (for fantasy and science fiction), the Davitt Awards (for crime writing), and have been Honour, shortlisted and Notable Books in the Children's Book Council of Australia Awards. She lives in suburban Brisbane with her husband, teenaged daughter and two long-haired red miniature dachshunds called Theo and Jasmine. When not writing she likes reading, gardening, knitting and sewing.
Makerspace (Kids)
Kids love making things. I know I did, and I still have some of the more precious bits and pieces I made when I was small (including, unsurprisingly, huge numbers of miniature books).
Children's creativity should be supported and celebrated as much as possible. On this page, you will find all sorts of downloadable activities connected with my books, including paper toys, colouring sheets, puzzles, scraps and party favours, which can be used at home, in schools or libraries, and even by adults.
These activity sheets are FREE, and Cheryl Orsini and I would be delighted for you to share them in the spirit in which they were created, in their original format, with copyright information intact. A link back to our websites (www.nataliejaneprior.com and www.cherylorsini.com) would be greatly appreciated.
Activities based on The Fairy Dancers &The Fairy Dancers: Dancing Days
Activities based on Lucy's Book
Activities based on The Tales of Mrs Mancini
© Natalie Jane Prior 2017