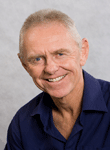 Speaker type
Author
Media personality
Motivational
Non-fiction
Peter Meares has been one of Queensland's leading sports commentators for the past 40 years. Best known for his hosting of the immensely popular Brisbane Commonwealth Games in 1982 with the ABC, Peter has been a familiar face on television throughout Australia. He's as busy as ever, after moving to the Gold Coast, covering sport on radio station 94.1FM and has written six books.
At Channel 7, Peter presented sport for 12 years, covered the Barcelona Olympics in 1992 and two Commonwealth Games, as well as calling network Basketball and Tennis. Peter has won many media awards, and was made an Advance Australia Ambassador for services to sport in 1983. He's called almost every popular sport, and a few exotic ones, like Korfball and Sepak Takraw, as well!
Peter has many tales to tell of life in front of the cameras, and behind the scenes in the grandstand or dressing-room. A guest lecturer at the University of Queensland, he loves talking to youngsters about Journalism and the media industry.
Peter is currently writing his 7th book with his more recent titles being:
Legends of Australian Sport -- the Inside Story. (UQP 2004)

Wallaby Legends (Lothian Books 2005)

Treading Water -- the Life Story of Tracey Wickham" (Random House 2010 )

Back to the Studio" (Harper Collins 2011)

The First 100 Years -- the History of the University of Queensland Rugby Club" (Self published 2011).
Peter also covered the Delhi Commonwealth Games, which were his fifth as a presenter and commentator and called Athletics and Canoeing at the London Olympics in 2012.
Testimonials
Peter successfully 'reached' and entertained his audience, with a suitably fitting topic. Student,. parents and teachers informed me how much they enjoyed his speeches.

Peter Meares - Gary Prickett, Mountain Creek SHS

Peter Meares provided the after-dinner address to the fathers [at a Father & Son Literacy Weekend] by reflecting upon his literary and broadcasting experiences throughout his varied professional life. The range of experiences addressed, humour and humility enabled Peter to connect very well with his audience. The fathers were intensely interested in his stories, observations and encounters with sportspeople around the World and the developments that resulted in the authoring of his books.The connections between sport, commentary, broadcasting and literature were well established and served to inspire the fathers to share reading and discussion of sprorting events or achievements with their sons.

Peter Meares - Peter Collin, Anglican Chruch Grammar School